Freedom Stocks – On the occasion of 72nd Independence Day 15th Aug 2018, CNBC Awaaz has released Top 9 Freedom stocks for 2019. All these are freedom stocks can release your financial tension and help you in becoming financially independent. You can generate good returns from these stocks. In short, these freedom stock will fill color of independence in your stock portfolio.
Stock market experts like Mayuresh Joshi (Angel Broking), Gaurang Shah (Geojit Finance) and Vikas Sethi (Sethi Finmart) have given a recommendation about these stocks.
Last year on the Independence Day similar recommendation of 6 stocks was given by the experts out of which two stocks could reach the mentioned target. Please check it out last year Top Freedom Stocks for 2018.
These stock are selected based on valuation, sustainability & growth potential. These stocks are likely to outperform the market in next one year. These stocks are for one-year perspective. So, let's check out Top Freedom Stocks for 2019 by CNBC Awaaz.
Independence Day – 9 Freedom Stocks for 2019 by CNBC Awaaz
Blue Star
Blue Star is first stock pick by Mayuresh Joshi. Blue star is India's largest air conditioning product supply company. As per Mayuresh Blue Star Sales Volume will grow in the days to come. Blue Star is planning to launch new products which will help them to increase earning. The balance sheet of the company is in good condition. It is recommend stock for investment with potential upside of 25% in next one year.
Dabur
Dabur is recommended stock by Gaurang Shah. Dabur is famous FMCG stock dealing in more than 250 Ayurveda and herbal products. Looking at growing demand in local as well as global sector a business of Dabur is likely to do well. Dabur has potential upside of 25%.
Mahindra CIE  
Mahindra CIE is recommended stock by Mayuresh Joshi. It is auto ancillary sector stock dealing in forging and castings. Mahindra CIE has diversified product range and customers. This stock is likely to deliver better returns in the future.
Motherson Sumi  
Motherson Sumi is next freedom stock recommended by Gaurang Shah. This stock is also from Auto Ancillary sector. Motherson Sumi is on expansion side and they are acquiring various new businesses. It is market leader in wiring of two-wheeler and making of various castings. Looking at long-term growth potential it is good stock for investment.
Amber Enterprise
Amber Enterprise is contract manufacturer of Air Conditioner system. This stock is recommended by Mayuresh Joshi. All subsidiary companies of Amber Enterprise is doing well. A recent acquisition will help company in growing client base. This will create good order backlog.
Reliance Industries  
Reliance Industries is recommended stock by Vikash Sethi. Reliance Industries is a leader in oil and gas segment. In addition to that reliance is also doing well in retail and telecom sector. Looking at current growth and financial result company is likely to do better in the future. A valuation of this stock is attractive and stock has potential upside of 25%.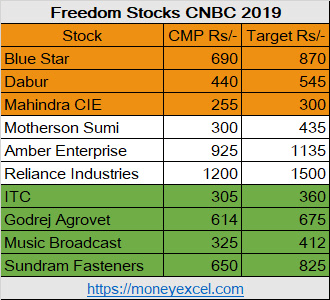 ITC
ITC is leading company in FMGC segment. ITC has wide product range in Agri, FMCG, Food, Personal Care, hotel, paper etc. Financial result of ITC is very good. Valuation of the stock is attractive compared to other companies in the same sector. If you have long term prospective you can earn multibagger returns from ITC.
Godrej Agrovet
Godrej Agrovet is next FMCG stock in the list of freedom stock. Godrej Agrovet is diversified animal feed and agri-business company. Agriculture sector is evergreen sector and expected to grow multifold. The product line of this company in agri sector will surely give positive boost to the balance sheet of the company. It is recommended stock with potential upside of 25%.
Next two stock in the freedom stock are Music Broadcast and Sundram Fasteners.
Do you think these Top freedom stocks of 2019 will give a better return in future?
Do share your thoughts in the comment section.
Happy Independence Day to all the readers!
You can go through video of Freedom stocks at Youtube.
(The views content and recommendations expressed in this post are of leading stock market experts and do not represent those of Moneyexcel.com. Please consult your financial adviser before taking any position in the stocks mentioned)