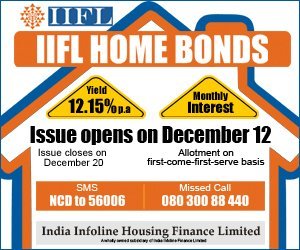 IIFL one of the largest financial service company in India plans to open IIFL home bonds NCD on Dec 12, 2013.  The NCD issue is 250 Cr with option to retain over subscription of additional 250 Cr aggregating to a total up to 500 cr. Let's checkout features of IILF Home Bond.
IIFL Home Bond details-
Face value of NCD – 1000 Rs/-
Minimum application size is 10,000 Rs/-; Allotment on a first-come-first-served basis;
12.15% p.a. yield; 11.52 coupon with monthly income
Bonds are secured and carry maturity 5 years
No TDS on interest if held in DEMAT Form
Bonds will be listed on NSE and BSE
Minor through guardian can apply
Rated AA- by CARE and CRISIL
Monthly interest payment option to enable regular cash flows to investors
No Call & Put Option available, which means company Cannot prematurely redeem the bonds
Offer opens on December 12, 2013 and closes on December 20, 2013
Allotment will be done on first come first serve basis
This is the fourth issue from IIFL Group in the last 3 years.
Looking at first glance with 12.15% yield & 11.52% coupon is very lucrative offer but we should look at return on a post-tax basis.
For someone in highest tax bracket 30% this coupon rate of 11.52% will reduce to 8.12% post tax. For tax bracket of 20% it will reduce to 9.6% post tax and to 10.36% for 10% tax bracket.
Post tax return is slightly higher compare to FD. We recommend you to invest in this NCD only if you are falling under lower tax bracket (10% slab) and happy with return of 10.36%.
If you enjoy reading this post, do share with your friends on facebook and twitter!