The facility to add, and change nominees in the Demat Account is available online on the NSDL site. You can modify or give a nomination online with a click of a button.
Covid came as a rude shock to most of us. Almost all of us saw some near and dear one going to the hospital and not returning. Unfortunately, many people struggled not only with the loss of life but also with their financial situation in the event of the absence of a will or nomination by the bread owner which meant a tortuous journey of visits to various offices to be able to withdraw the Investments made by the family member.
A Demat account is required to hold your shares in the Demat format. 
Nomination is a facility that a depository provides to every Demat account holder. When you open a Demat account you can nominate any individual to receive the shares, debentures, mutual funds, and others that are in your Demat account. On your death, on giving proof of the death the Investments are transferred seamlessly into the nominee's account. While this facility has been available for many years its true importance has been realized during the past three years of Covid.
SEBI released a circular that, all Demat account holder needs to update the nominee in their Demat as well on Mutual Fund Portfolios by 31st March 2023. If the nomination is not made Demat account will be frozen for any debits.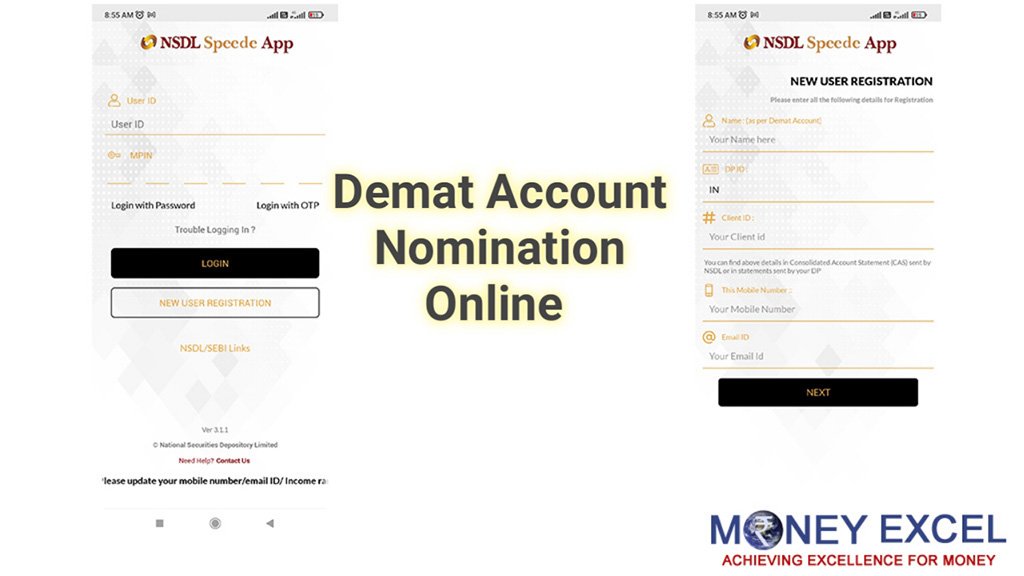 There are three ways to add or change your account nominee.
(1) Visit your DP and fill up the physical form to add or make the changes in the demat account.
(2) Make changes online at the NSDL DP website.
(3) Use Mobile App 
In this post, I will share methods to add and change nominees in the Demat Account Online.
How to Add, and Change Nominee in the Demat account Online? – NSDL Speede App
NSDL Website
Step 1 – Visit NSDL Online Nomination Update Facility – https://eservices.nsdl.com/instademat-kyc-nomination/#/login
Step 2 – Input your DP ID, Client ID, and PAN Card Number.
Step 3 – Update nomination details on the next page and click the Save tab and submit
Step 4 – Enter OTP which will be set to the registered mobile number
Step 5: Click on ' eSign and download', note the service charges, and click the 'Proceed' tab
Step 6 – Enter VID or Aadhaar number and click on ' Verify OTP'
YOU will receive a modification successful message along with an acknowledgment number
Step 7 – Click on Download eSign
Step 8 – Now, go back to update the personal details page and tick the radio button 'eSign download (Nomination modification)
Step 9 – Enter the acknowledgment number select the request type and click the 'eSign download' tab
NSDL Speede App 
Step 1 – Download & Install NSDL Speede App from Playstore.
Step 2 – Click on New User Registration button.
Step 3 – Enter your Name, DP ID, Client ID, Mobile Number, and E-mail ID, and press the Next button.
Step 4 – OTP would be generated to verify your details and for authentication. 
Step 5 – Update nomination details on the next page and click the Save tab and submit.
Step 6 – eSign and proceed for submission.
If you have yet not filed a nomination in Demat you should do it today.
In addition to the nomination, you can also opt for the following facilities at NSDL.
NSDL Facilities 
Dematerialization i.e., converting physical certificates to electronic form.

 Facilitating repurchase/redemption of units of mutual funds.

Electronic settlement of trades in stock exchanges connected to NSDL.

Pledging/hypothecation of dematerialized securities against the loan.

Electronic credit of securities allotted in public issues, right issue.

Services related to change of address.

Other facilities viz. holding debt instruments in the same account, availing stock lending/borrowing facility, etc.
Over to you 
Nomination is extremely important because that saves time, energy, and the financial struggle of the death of the account holder. So, make sure you complete your nomination as soon as possible.