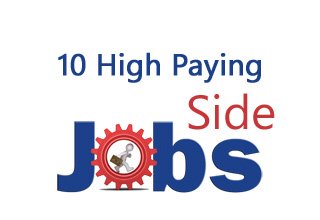 Making extra money is extremely important nowadays. Cost of living is skyrocketing and it is very difficult to survive with the single source of income. If you are also fed up of managing your expense from paycheck to paycheck here are 10 High Paying Side Jobs that will help you to ease out your burden by making extra money.
These side jobs can help you to make extra money by working only for a few hours. The list includes both online and offline part-time jobs. If you have knowledge of IT and the internet you can go for online jobs else, you can opt for offline jobs.
10 High Paying Side Jobs to Make Extra Money
Make Extra Money – Online Jobs
Blogging
Blogging is one of the best side job or business. You can earn a lot of money by doing blogging. There are many examples where people are living their life by doing blogging. Blogging means sharing useful content to the reader online on a website. You can select your own niche and start blogging. You can make money via advertising, affiliate marketing, info products and via other avenues.
YouTuber
YouTuber is next best side job which can help you to earn a lot of money. You have to be creative and technically sound in order to become YouTuber. As a YouTuber, you can earn money via YouTube Channel partner program of advertising. You just need to create unique videos and upload on YouTube.
Also Read – 40 Part Time Jobs from Home Online & Offline
Digital Marketer
Digital Marketer is a very good part-time career option. A task of a digital marketer is marketing of product or services via digital media. There are multiple companies looking for online digital marketer for product and services. It is recommended to do an online digital marketing course before opting for the digital marketer as a career option.
Social Media Specialist
Social Media Specialist is another very good side job option. Social media specialist makes very good money online. The job involves updating Facebook, Twitter and other social sites for companies. Many social media specialist charge per hour basis. So, if you have a couple of clients you can do very well in this part-time job. The key of success is your expertise and networking skills.
Affiliate Marketing
Affiliate marketing is very good side business/job option. In affiliate marketing, you need to become an affiliate of various online store or products to help them to sell their products. You will be paid commission on every sell. It is one of the highest paying side job or business idea.
Also Read – 250 Small Business Ideas with low investment
Make Extra Money – Offline Jobs
Real Estate Agent
Real Estate Agent is a very good part-time profession. It is an offline job. As a real estate agent, you can earn money for buy, sell and rent deal. The commission amount in this business is low. However, if you deal with high-value projects you can a lot of money.
Accountant
Accountant or bookkeeper is another lucrative side job. In this job, you need to manage accounts of the small and medium business. You should be holding commerce degree or holding experience as an accountant. You need to build multiple customers to get quick success.
MLM
MLM is among the topmost highest paid side jobs or business option. MLM is also known as network marketing. This job can be started anytime. The success of this job depends on your networking and convincing skills.
Insurance Agent
You can also make extra money by becoming Insurance Agent. There are many insurance agents that earn a lot of money just by working part-time. Like MLM networking and convincing skills are mandatory to become an insurance agent.
Home Tuition Teacher
If you are a master in teaching skills home tuition is a very good side job. As a tuition teacher, you can earn a lot of money. It is a quick and easy way to make extra money.
Over to You –
I hope the list of highest paying side jobs options will help you in selecting a right part-time job for you.Millions of people are already making extra money from one or more side job options mentioned above, so what are you waiting for start your side job now.
Do share your favourite side jobs in the comments.