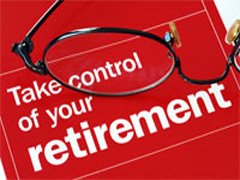 Life is full of uncertainty but few things are certain and retirement is one of them. Once you are tired, you leave your employment / business, we call this state as retirement.
Retirement is time to sit back and enjoy your life! You have lot of time to do what you want, when you want and how you want to, so we can say life begins at retirement.
In order to enjoy this life you require lot of money,you might be thinking that retirement is quite far away why we should think about this money requirement today, We have to because:-
"Our future tomorrow depends on the choices we make today."
Today, you are having comfortable life-style. There is regular income and your day-day expenses are taken care of. However, the future will not be same. Rising inflation will affect everything. A packet of bread that costs Rs.30 today could cost around Rs.100 twenty years later. This means on retirement your expenses will sky-rocket. Unless you have sufficient income after retirement, it may be very difficult to manage your expenses.
Therefore we need to plan for retirement today itself. It's something like "Working for not to work."
Download Free Retirement Planner This workout is very important, because your retirement income:
needs to last a long time.(Up to your life expectancy.)
needs to cover all your living expenses:
the necessities,
the things you want to do, and
any future health care costs.
will come from multiple income sources that will start and end at different times,possibly leaving gaps.

So, let's take small quiz to find out you are ready for retirement or not.
Have you planned your retirement?
1. How much of your income is predictable? a. 100% b. Up to 80% c. Up to 50%    d. Less than 50%
2. What are the sources of your retirement income? a. Pension b. Returns from investments c. Bank deposits    d.  All of these
3. How long will your retirement corpus last? a. Lifetime b. Five years after retirement c. 10 years after retirement   d.   I don't know
Key to quiz: –
If   you answered a. or b. to question 1, d. to question 2, and a. to the last   question, you have planned your retirement well. If you have answered   differently, than you must plan for your retirement.
So, if you are not ready for your retirement we will help you to figure out how much you will need in your sunset years.
Retirement corpus calculation is one of the most complex economic calculations.Most of the clients when thinking of retirement corpus have simple calculations in mind that they spend X amount every year & in future they need some X retirement corpus assuming a rate of 8% but they ignore many things including tax & inflation once they reached to retirement they don't have any choice but to adjust their lifestyle.
In order to avoid this type of situation we are here with five step guide to plan your retirement.
Step- 1 – Find out your Monthly Expense
In order to estimate your expense post retirement you must know your current expense. Based on your current monthly expense you can drive your total annual expense, just multiply it by 12.
Step -2 – Future Annual Expense
In order to calculate future annual expense you must decide following :- –          Assumption on Inflation rate –          Number of years left for your retirement –          Your life expectancy Based on above input we will calculate Future Value (Expenses required for First Year of Retirement) FV (Inflation Interest, Number of Year left for retirement, Present Expense) FV is excel function for more details visit FV= Future Value
Step-3 – Retirement Corpus
In order to calculate retirement corpus apart from above we have to assume – Inflation rate during retirement years – Return on your investment Based on this inputs we will calculate Net Returns and corpus required. PV( Net Returns, Retirement Years, Expense First year of retirement, Payment due =1) PV is excel function for more details visit =PV = Present Value
Step-4 – Utilization of Current Assets
In this step you have to make list of your current assets and its values (like equity, mutual funds, PPF or other). Based on this value we will come to know deficit (actual amount) for which investment is required (Corpus required – Current Assets).
Step-5 – Monthly Investment required
Once you know actual amount for which you need to invest your task will be quite easy. Based on investment options available in market you can select best suitable option for your needs, if required you can take advice from financial planner.
To make this process simpler we are herewith free retirement planner.
Download Free Retirement Planner
Please note: –
This retirement corpus calculator is made by using inbuilt functionality of excel FV= Future Value & PV = Present Value we have tested it repeatedly for accuracy of result.  Like every tool it provides estimated retirement corpus and monthly investment required.
For simplicity the inflation rates before and after retirement are taken to be the same 7%.  This inflation rate is assumption only it may fluctuate time to time.
Rate of return is taken constant it may change based on investment options.
Bugs, comments and suggestions are welcome.