Income Tax Department has started e-PAN allotment facility online. Anyone who don't have PAN card can apply for e-PAN online on income tax e-filing portal. This facility is near to real time and available at free of cost. Individuals (other than minors) with a valid Aadhaar number (with updated Mobile number) can avail the e-PAN allotment facility.
What is e-PAN?
e-PAN is digitally signed PAN card issued in electronic format  by Income Tax Department using Aadhaar e-KYC.  It is completely paper-less process and no-physical documents are required to be sent by PAN applicant. This facility is launched for limited time and it is currently in beta version. This facility is for valid Aadhaar card holders.
e-PAN is like PAN card allocated in electronic format. If e-PAN is issued, Income tax department will not issue physical PAN card. The PAN card issued in electronic format can be downloaded from Income tax website anytime.
The prerequisites to avail the facility of electronic PAN is given below.
Also Read – Apply and Verify PAN card details online
What are prerequisites to apply for e-PAN?
This facility is for issuance of new PAN card. Applicant already having PAN card should not reapply for e-PAN.
The e-PAN facility is ONLY for resident Individuals (Except Minors and others covered u/s 160 of Income Tax Act, 1961) and not for HUF, Firms, Trusts, and Companies etc.
Applicant should have valid Aadhaar card registered with Mobile number. One Time Password (OTP) will be sent to registered mobile number.
e-PAN is generated using the particulars available in Aadhaar. Details such as Name, Date of Birth, Gender, mobile number and address in Aadhaar is not correct or not updated, please update the same in UIDAI prior applying e-PAN.
How to get instant e-PAN Free of Cost?
A step by step process of applying e-PAN is given below.
Step 1
Visit Income tax e-filing portal. Under Quick Links you will find link for Instant e-PAN click on that. You will be directed to new page where prerequisite for application will be displayed. At the bottom you will find link "Apply Instant e-PAN" click on that.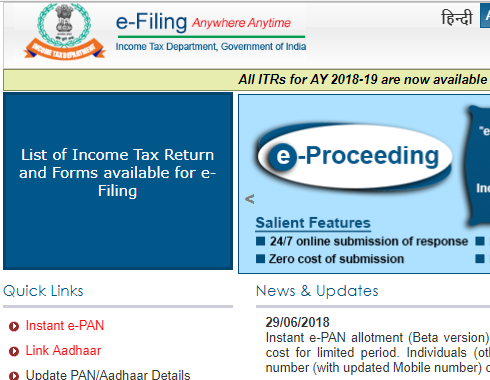 Step 2
A new page will display two different section (1) Guideline and (2) Aadhaar e-KYC. After going through guideline click on Aadhaar e-KYC.
Step 3
Enter Full name exactly matching with Aadhaar Name. Enter date of birth and Aadhaar Number. Select consent and click on submit. On click of submit, Applicant will receive OTP from Aadhaar on his registered mobile number. On successful validation of OTP, the Aadhaar data of the applicant will be pre-filled in PAN application form.
Now you need to upload scanned image of applicant signature with the following specifications.
Resolution – 200 DPI
Type – Color
File Type – JPEG
Size of the file – Maximum 10 KB
Dimension of Signature – 2 cm x 4.5 cm
It is not required to send any physical document. This process even does not require IPV (In person verification).
On successful submission of e-PAN application, a 15 digit acknowledgement number will be generated. This acknowledgement number can be used to check status in e-filing portal.
Also Read – PAN Card mandatory for these 20 Financial Transactions
Intimation of allotment of PAN will be given to PAN applicant via SMS and email. e-PAN will be issued in the shortest possible time after allotment of PAN, and can be downloaded through e-filing portal by providing the acknowledgment number and the OTP at "Check instant e-PAN status" section.
It is a wonderful facility which removes lengthy process of allocating physical PAN card. It is completely paper less and available at free of cost. If you are not holding valid PAN and planning to apply for PAN you should use this facility.