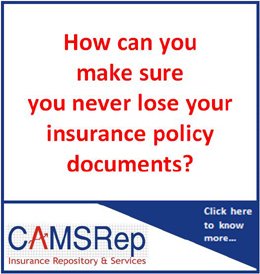 Day of safe keeping insurance policy document and interacting with multiple insurance companies are finally over. CAMSRep is providing Free Insurance repository service (Storing policy in electronic form) first time in India.
Why Electronic Policies?
There are multiple benefits in holding insurance policies in electronic form:-
Safety: No risk of loss or damage as may happen with paper policies
Convenience: You can access all your electronic policy details  anytime
Less Paper work:  For electronic policies you need to do much paper work
How to avail this facility?
You can avail this facility by opening free e Insurance Account (e IA) with CAMSRep. This account gives you facility to buy and hold all insurance policies in electronic form under single account.
In order to open e IA account you need following documents:-
ID Proof:
Address Proof:  A copy of any one of the following documents is required.
Ration Card
Passport
Driving License
Voter ID card
It will take 7 business days to open your account. Once your account is open you will get unique Login ID and Password.
 What Service can I Expect?
Converting your existing paper policy into electronic form – You just need to write out a request, addressed to the Insurer, for converting your existing paper policy to electronic mode. Request Forms for policy conversion are available in all offices of CAMSRep and CAMS.
Buy Insurance policy in electronic form – CAMSRep provide facility to buy insurance policy in electronic form.
Single Interface for interacting with multiple insurance companies.
Pay Premium on your existing and new policy online.
 Raise Service request including complaints.
Easy management as all insurance policies, be it life, pension, health or general, can be electronically held under a single eIA.
At year end you will get Annual Statement
Why I should go with CAMSRep?
CAMSRep – CAMS Repository Services Ltd.  is an Insurance Repository approved by IRDA. CAMSRep is promoted by CAMS, India's premier Registrar and Transfer Agent (RTA) for Mutual Funds.
That's not all!!  Opening an e IA and maintaining e-policies with CAMSRep is absolutely FREE.
So Go Green open your e IA account Now!
For More Information Visit – https://www.camsrepository.com/