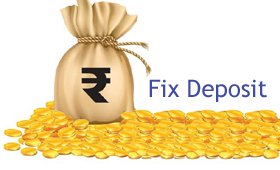 As an Individual where do you prefer to invest your money?  Equity, Mutual Funds, PPF, Gold, fixed deposit, Insurance or somewhere else? Well smart investors always prefer equity as asset class, as it gives decent returns in long run. However Recent Karvy's Annual Private Wealth Report for 2014 says something else.
As per this report fixed deposit is most preferred investment option of Indian. Fixed deposit investment is risk free. Investment in fixed deposit gives returns in range of 8-9% but, If you are in tax bracket of 30% this return will further reduce and you will get 5.6-6% return.
Second most preferred investment option of Indian is equity. Equity gives variable return usually two to three times higher compare to fixed deposit.
Karvey's Annual Private Report throws light on Individual wealth of Indian. This report gives break up of individual wealth invested in various assets. This report does not consider holding of government and institutional holdings. As per this report total Indian Individual wealth in Financial assets stands at 134.71 Lakh Crore in 2014, and  Indian individual Wealth in Physical Assets (Real Estate and Precious metals like Gold, Diamond, Silver and Platinum) stands at 122.70 Lakh Crore. Hence the total Indian Individual Wealth in 2014 is estimated to be 257.41 Lakh Crore.
Financial wealth contributes about 52.33% and Physical wealth contributes about 47.67% to the total Indian Individual Wealth.
Fixed deposit and bonds is hot favourite investment option of Indian. At second place we have direct equity with holding of 19.79% of total Individual wealth in financial assets. At third place we have Insurance with holding of 16.43%. Another investment option preferred by investor are saving deposit, provident fund, NRI deposit, Mutual Funds, Current deposit and Pension funds.
Individual wealth in Physical Assets stands at 1.22 Lakh Crore. The individual wealth in gold stands at a whopping 62.53 Lakh Crore showing India's affinity to yellow metal. Real estate is on second number with investment of 50.38 Lakh Crore.
Do share your views on above.