Quotes of Dhirubhai Ambani & Ratan Tata – The legend Dhirubhai Ambani & Ratan Tata are most popular industrialist in India. Both of them could make their dream true. They made a story of a dream so achievable in eyes of the common man. Many young people and aspiring entrepreneurs still follow Dhirubhai Ambani & Ratan Tata.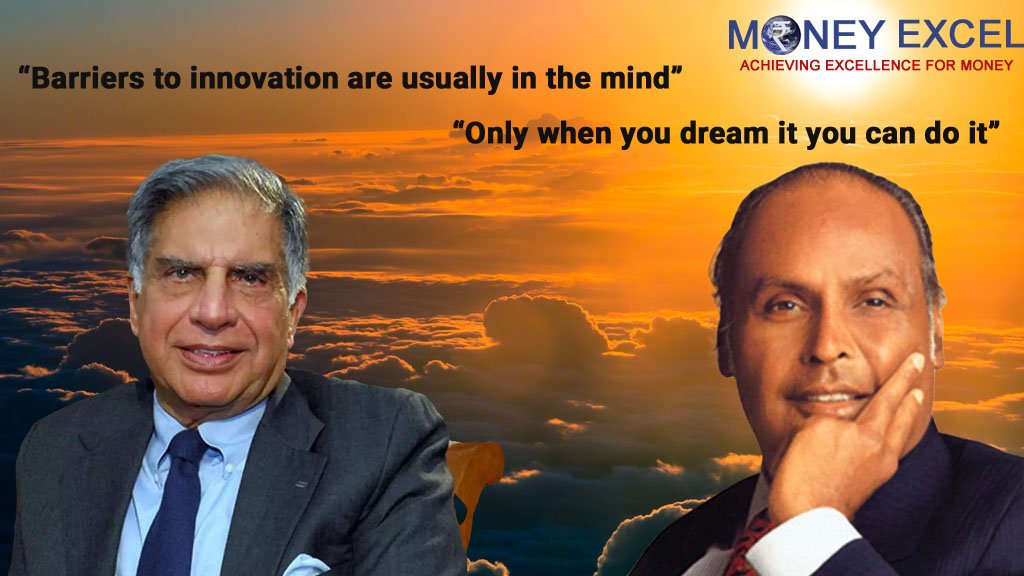 About Dhirubhai Ambani
Dhirubhai Ambani was a one-man show he has built "Reliance" the single largest private sector company. Dhirubhai Ambani was a strong believer of Growth has No limit and the same is true for Reliance. He was a real businessman & true capitalist of India.
About Ratan Tata
Ratan Tata is a true leader & visionary entrepreneur. He was chairman of Tata Group. Under his leadership, the Tata group has grown exponentially. Ratan Tata is a person who turns dreams into reality. Yes, I am talking about his dream project Tata Nano car in 1 lakh Rs/-. It reminds me famous dialog of movie Guru "Sapnay mat dekho, sapnay kabhi sach nahi hote.. mera baapu kehta tha..lekin maine sapna dekha.. aur kya hamara sapna sach hua?" 
In Tribute to Shri Dhirubhai Ambani & Shri Ratan Tata, we are herewith Famous Quotes of Dhirubhai Ambani & Ratan Tata.
Famous Quotes of Dhirubhai Ambani
"Only when you dream it you can do it."
Think big, think fast, think ahead. Ideas are no one's monopoly
"Growth has no limit at Reliance. I keep revising my vision. Only when you dream it you can do it."
"Our dreams have to be bigger. Our ambitions higher. Our commitment deeper. And our efforts greater. This is my dream for Reliance and for India."
"You do not require an invitation to make profits."
"If you work with determination and with perfection, success will follow."
"Pursue your goals even in the face of difficulties, and convert adversities into opportunities."
"Give the youth a proper environment. Motivate them. Extend them the support they need. Each one of them has infinite source of energy. They will deliver."
"Between my past, the present and the future, there is one common factor: Relationship and Trust. This is the foundation of our growth."
"Meeting the deadlines is not good enough, beating the deadlines is my expectation."
"Don't give up, courage is my conviction."
"Often people think opportunity is a matter of luck. I believe opportunities are all around us. Some seize it. Others stand and let it pass by."
Thanks Sir Dhirubhai Ambani you will always live in our hearts forever.
Famous Quotes of Ratan Tata
"I dont believe in taking right decisions..I take decisions & then make them right.." So always believe in ur ability & efforts… "
I admire people who are very successful. But if that success has been achieved through too much ruthlessness, then I may admire that person, but I can't respect him.
It is easy to become a number one player, but it is difficult to remain number one. So, we will have to fight with a view to remain number one.
All of us don't have equal talent. Yet all of us have an equal opportunity to develop our talents.
Barriers to innovation are usually in the mind.
Never Compromise on Ethics.
Ups and Downs in life are very important to keep us going, because a straight line in even in ECG means we are not live.
Thanks Sir Ratan Tata we wish you long and healthy life.
If you like reading this article, don't forget to share it with your friends on Facebook & Twitter.