Moving to Germany for higher education is an exciting adventure, filled with new opportunities and experiences. Along with this exhilaration, comes the necessity to handle financial matters, such as opening a Blocked Account. For many students, understanding the concept of a Blocked Account and the Germany Blocked Account amount can be overwhelming. This guide is designed to unravel the intricacies of a Blocked Account in Germany, providing you with all the information you need.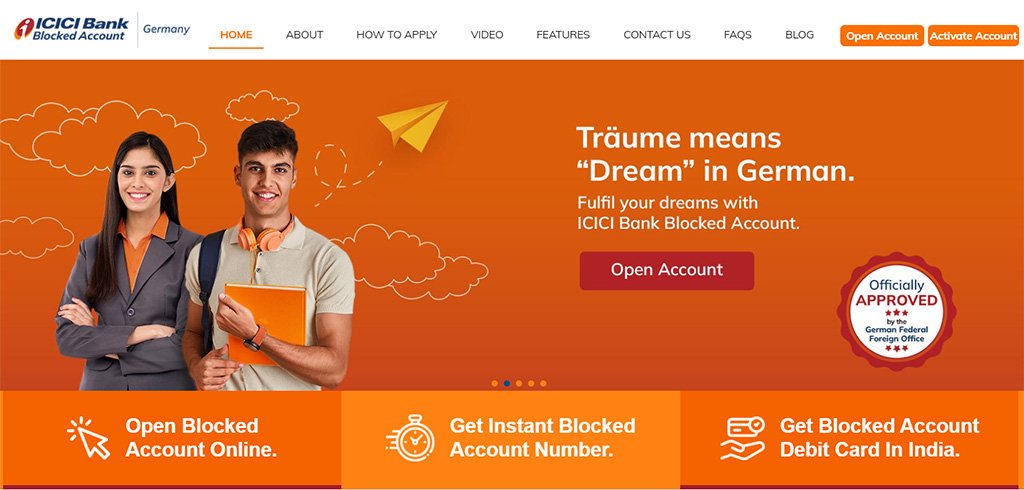 What is a Blocked Account?
A Blocked Account, also known as "Sperrkonto" in German, is a special type of bank account designed for international students. It's a way to demonstrate that you have sufficient funds to support yourself during your stay in Germany.
The Blocked Account must have the minimum amount of money as per the German regulations. This amount ensures that you have enough funds to cover your living expenses.
What Happens if a Student Doesn't Have a Blocked Account?
Visa Application Rejection:
International students must prove they can support themselves financially while studying in Germany. Without a Blocked Account, it might be challenging to provide satisfactory evidence of financial stability, leading to visa application rejection.
Limited Financial Security:
A Blocked Account ensures that students have access to a consistent monthly amount for living expenses. Without it, students may struggle to manage their finances, leading to potential financial instability and stress during their studies.
Potential Legal Consequences:
Failing to comply with the financial requirements set by the German government might also lead to legal consequences. It could affect future visa applications or even result in a revocation of a granted visa.
While a Blocked Account may seem like just another administrative step in the process of studying in Germany, it plays a crucial role in ensuring that international students meet the German government's financial requirements.
Tips for International Students
Here are some practical tips for international students looking to open a Blocked Account for studying in Germany:
Start Early:
Begin the process well in advance of your departure. The opening of a Blocked Account can take several weeks, so don't leave it to the last minute.
Research Your Options:
Compare different banks and services that offer Blocked Accounts for international students in Germany. Look for the one that aligns best with your needs and preferences.
Consider Accessibility and Support:
Choose a bank that provides support in your native language or English and offers accessible customer service in case you have any issues.
Look for Additional Features:
Some banks, like ICICI Bank Germany, offer perks like a free debit card delivered in India at your doorstep, free current account, or online banking services. Consider these features while making your decision to open Blocked Account.
Prepare for Monthly Withdrawal Limits:
Familiarise yourself with the monthly withdrawal limits and budget accordingly to ensure that you live within those means.
Keep All Correspondence and Documentation ready:
Maintain copies of all communication and documentation related to your Blocked Account. It will be useful for both visa application and future reference.
Update Address After Arrival in Germany:
Upon arrival in Germany and securing permanent accommodation, remember to update your address with the bank. This is essential for completing KYC.
Following these tips can help ensure that your journey and transition to Germany is smooth , efficient and handled correctly.
Why ICICI Bank Germany Should Be Your Ideal Choice for a Blocked Account?
Selecting the right bank for obtaining a German Blocked Account is crucial, and ICICI Bank Germany emerges as the best option for several reasons.
ICICI Bank Germany's Blocked Account complies with German visa regulations. The bank's trusted reputation and alignment with legal requirements ensure a smooth and compliant process.
Furthermore, offering additional services such as prepaid forex cards, instant money transfers, and loans at preferential rates makes ICICI Bank Germany a comprehensive banking solution for international students. The bank also offers a free VISA Debit card before your departure. Receiving your debit card before landing in Germany ensures immediate access to funds. The card's functionality throughout Europe adds to its appeal.
In conclusion, opening a Blocked Account is a significant step in preparing for studies in Germany. Taking the time to understand the process, considering the options, and being meticulous in meeting the requirements will lead to a smoother experience.