ESG Mutual Funds – ESG investing is a new trend. It is a globally accepted concept. ESG investing means considering Environmental, Social, and Governance factors while evaluating an investment. The mutual funds that evaluate companies over ESG and invest in the companies which are sustainable and socially responsible are called ESG mutual funds. In India, we have seven such ESG mutual funds. If you are aware of ESG investing concept – Great. If not, we are here to discuss What is ESG? Why ESG to be considered? Which are ESG Mutual funds and should you invest in them or not?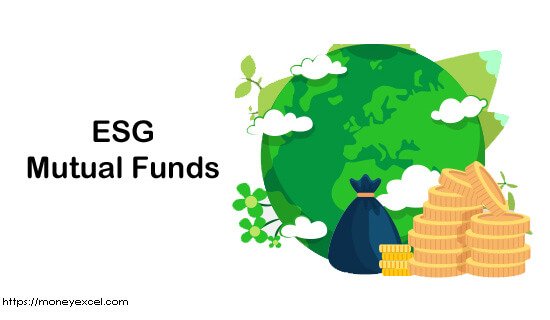 What is ESG?
ESG investing is used synonymously with sustainable investing or socially responsible investing. While selecting a stock for investment, the ESG fund shortlists companies that score high on the environment, social responsibility, and corporate governance, and then looks into financial factors. So, these types of schemes focus on companies with environment-friendly practices, ethical business practices, and an employee-friendly record.
Environmental Factors –
Action on climate change
Greenhouse gas emission and reduction
Water usage
Social Factors –
Standard of labour
Health and safety performance
Treatment to clients and customers
Governance Factors – 
Tax transparency
Anti-corruption measures
Rules, practice and procedure in place 
Foreign Institutional investors and high net worth individual prefer companies that are following ESG criteria.
Let's try to understand this concept by example. ITC is name of big company that is involved in multiple businesses such as FMCG, Hospitality, Cigarettes etc. As ITC is involved in cigarette business which is related to tobacco and health related issue it will be not be preferred ESG investment.
Second example is Delta Corporation. Delta Corporation is gaming and hospitality sector company. As it is involved in online casino which is against ESG it will not be preferred by ESG investors.
In India, separate Nifty 100 ESG Index is formulated. The companies with valid ESG score are part of this index. Companies engaged in the business of tobacco, alcohol, controversial weapons and gambling operations shall be excluded.
After looking at definition of ESG here is detail about fund that are ESG funds.
Which are ESG Mutual funds in India?
SBI Magnum Equity ESG Fund
SBI Magnum Equity ESG Fund invest in companies with ESG Criteria. This fund invests in 80% in equity and equity related instruments following ESG criteria. It is high risk fund with very good performance. It is one of the oldest ESG mutual fund.
Aditya Birla Sun Life ESG Fund
Aditya Birla Sun Life ESG Fund objective is to invest in diversified companies that follows ESG themes. It is open ended thematic equity fund that have focused portfolio of 40-50 ESG complaint companies with high growth potential. This fund is launched recently in Dec, 2020.
ICICI Prudential ESG Fund
ICICI Prudential ESG Fund invests in the company with high ESG score. The selection process of investing is based on internal research and Nifty ESG. This fund is comparatively new. This fund has given two digit returns to investors in last three months.
In addition to above ESG mutual funds other ESG mutual funds available in India are Axis ESG Fund, Kotak ESG Opportunities Fund, Quantum India ESG Equity Fund etc.
Should you invest in ESG Mutual Funds?
ESG Mutual funds are high risk thematic fund. This is new category of fund. Most of the fund in this category are new with limited or no track record. It is evolving theme in India. Globally this theme is very famous.
Investor with high risk profile can consider investing in ESG mutual funds. Your investment horizon should be at least 5 years. You can invest maximum of 10% of your portfolio in this theme. You can gradually increase your investment in these funds after evaluating.