The Facility of EPF Grievance is to log EPF Complaint. If you have any complaint related EPF, like EPF withdrawal, transfer, updation or claim settlement you can use EPF Grievance Portal. It is an online facility. You require UAN number in order to raise EPF Grievance. It takes approximately 30 days to solve your query. Let's take a look at How to file EPF Complaint Online at EPF Grievance Portal.
What is EPF Grievance Website to file EPF Complaint?
As discussed above EPF Grievance website is for logging a complaint. PF Member, EPS Pensioner, Employer can log a complaint using this system. One can log a complaint in following categories.
Final Settlement or Withdrawal of EPF
Transfer of PF accumulation – Form 13
For Pension Settlement
For PF Balance
Payment of Insurance benefit
Cheque return or misplaced
This portal is also used for sending a reminder in case your complaint is not getting resolved in expected time. You can also track your complaint status by using this website. If you are not getting a satisfactory response you can contact EPF Office or even file RTI.
Also Read – How to Change Mobile Number in EPF UAN Account?
How to file EPF complaint online at EPF Grievance Website?
In order to log a EPF Complaint follow the steps given below.
Visit http://epfigms.gov.in/ and click on "REGISTER GRIEVANCE" link given at navigation menu. You should keep your UAN number ready as it will be required for logging complaint.
You will be taken to "GRIEVANCE REGISTRATION FORM".
First, you need to fill EPF details in the form. Select your status as PF Member, EPS Pensioner, Employer or other.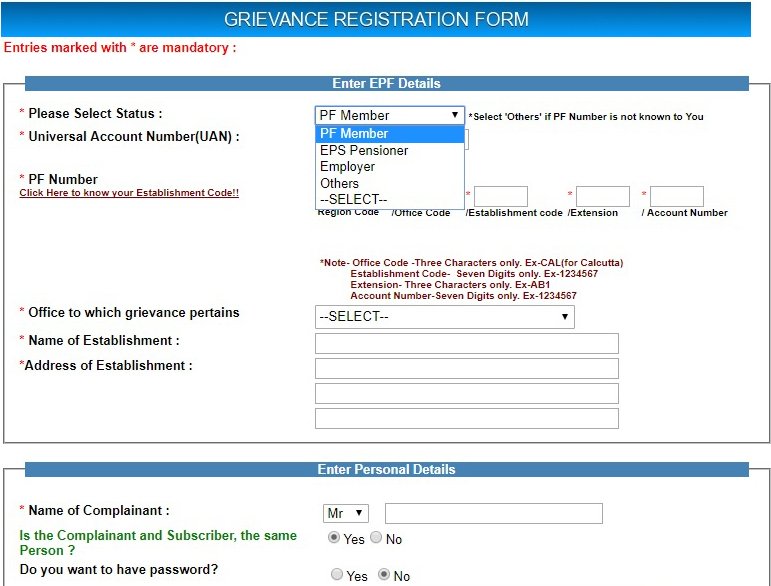 If you select PF member system will ask your 12 Digit UAN Number and PF Number.
If you select EPS Pensioner you need to input PPO Number.
If you select Employer you need to provide Establishment number.
Next is a selection of EPFO and entering Name and address of Establishment.
Once you are done with entering EPF detail you need to move to Personal detail section. In personal detail section, you need to enter your name, select password option.
After that, you need to enter communication detail address, phone number, mobile number and email id.
Once you are done with a personal section you need to move to Grievance section. You need to select a category of your complaint and enter the description.
The system also allows you to upload an additional document of type PDF.
Enter the captcha text and press submit button to register a complaint.
Must Read – E-nomination facility by EPFO on Unified Member Portal
Once a complaint is registered unique complaint registration number is generated and displayed on the screen. In addition to that this details will be emailed to your email Id. Once your complaint is registered it is expected to be resolved in maximum 30 days.
How to check EPF Grievance Status?
You will be able to check EPF Grievance status from the same website.
Click on "VIEW STATUS" link from the navigation menu.
You will be taken to the page where you need to enter Registration number along with password used for logging complaint.
After entering registration number and password enter captcha text and click on submit button. In case you forgot the password used for logging complaint you can use forgot password link.
You will be taken to Action Status form. In action status form you will be able to see the current status of complaint.
If case is closed you can find link where you can see Final Reply. It will also display action date.
You can give your valuable feedback and also enter your comments about EPF Grievance system.
It is very easy to use EPF Grievance Portal for logging complaint. Have you ever used this system? If yes, do share your views and experience in the comment section.