Doorstep banking means banking at your door step. When you avail this facility, the bank representative will visit at your home or business place to provide banking facilities. Doorstep banking is becoming famous nowadays. Many people prefer to avail doorstep banking. This is mainly due to coronavirus pandemic and social distancing norm. Recently SBI and PNB have announced facility of doorstep banking.
So, if you want to enjoy banking services from comfort of your home you should apply for this facility. In this post, I will share key features and steps to register for banking services from your doorstep.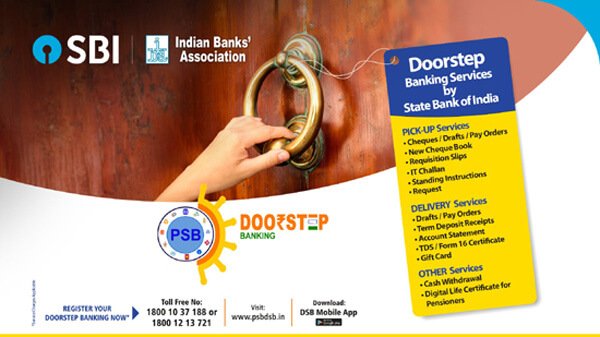 Key features and benefits of SBI doorstep banking
You can avail pick up services for cash, cheque, draft, pay order, form 15G, form 15H, life certificate and KYC documents using this service.
This facility also includes delivery services. You can avail delivery of drafts, non-personal cheque book, pay orders, term deposit receipts, account statement, TDS certificate, gift card. You can also avail cash withdrawal using this facility.
The facility of DSB (doorstep banking) is available only to KYC-complaint customers.
Cash withdrawal and cash deposit amount using this service are limited to Rs.20000 per transaction on a working day.
Cheque book and passbook is mandatory in order to avail cash withdrawal facility.
The minimum cash pickup (deposit) and cash delivery (withdrawal) limit is capped at Rs.1000.
These facilities are not available for the account that are jointly managed.
The service request for this facility can be register by dialing toll-free number 1800111103 from 9 am and 4 pm. The service request can be processed only at home branch.
The mobile number should be registered with account in order to use this facility. The facility is available only within 5 km distance from the home branch.
The service is not available for non-personal and minor accounts.
How to Register for DSB?
The facility of registering DSB is very easy. The facility of DSB is available for following 12 different public sector banks.
Bank of Baroda
Bank of Maharashtra
Bank of India
Indian Bank
Canara Bank
Indian Overseas Bank
Central Bank of India
Punjab National Bank
Punjab & Sind Bank
State Bank of India
UCO Bank
Union Bank of India
Follow the method given below to register for Doorstep Banking.
Download the Doorstep Banking app from app store for iOS and play store for Android. Open the application and input the mobile number to register.
OTP will be generated from System and sent to Customer mobile. You need to enter OTP in DSB App Step. Once you give confirmation input your name and password PIN. Now, accept terms and condition. You will get welcome SMS from the system. You can select add address option to enter additional address. You can add, edit or delete address any time.
Applicable charges for SBI doorstep banking
 
Services
Service charges per request/ per visit
Financial Services
Cash Deposit
Rs.75/- + GST
Cash payment or withdrawal
Rs.75/- + GST
Non – Financial Services
Pick up of Cheque or Instrument
Rs.75/- + GST
Pick up of Cheque Book Requisition Slip
Rs.75/- + GST
Term Deposit Advice & Statement of Account (Savings Bank Account)
Free
Statement of Current Account (Duplicate)
Rs.100/- + GST
How SBI Doorstep banking works?
There are two ways to generate service request for DBS.
Via Toll Free Number
You need to dial toll-free 1800111103 from your registered mobile number between 9 a.m. and 4 p.m. on working days to reach the doorstep delivery service of this SBI.
Once the call is connected, you need to input the last four digits of the savings bank/current account number for which the doorstep banking service is recorded.
After initial authentication, the call will be sent to the Contact Centre Representative, who will report the request after the second/additional confirmation.
You need to have specifics of the request and the chosen time of service delivery.
Once the request is approved, an SMS with a case ID and request type will be delivered to your registered mobile number.
The request will be answered by the Doorstep Banking Representative, and then he or she will call the customer and schedule an appointment.
Via Mobile App
You need to login on Doorstep Banking App. to initiate request for Service. Select State Bank of India.
Input last six digit of Account number and submit.
On validation, OTP is sent to your mobile. Enter OTP in DSB Mobile App and submit 'confirm' button. On successful OTP validation, App displays (Bank Name, Account No. (masked), Name, A/c Type and Branch Name
You need to select service request, no. of instruments and address for pick up
Next step is to select branch, preferred time slot for Agent to pick/deliver the instrument from customer.
Service Request information along with service charges are displayed. Customer verifies and submits.
You will get notification via SMS about the assigned agent with required details (Agent name, Agent photo, contact info, time for Pick up/Delivery & Service Code).
This facility also available with private sector banks like HDFC, ICICI, Axis, IndusInd and Kotak Mahindra.