Financial planning means bringing the future into the present so that you can do something about it now. Financial planning is a process of utilizing available financial resources in the best possible manner to achieve your goals.  It is not just about investing money; it is about investing money the right way, to achieve specific financial goals.
But why do we need to do financial planning and which tools should be used to do it?
Why is financial planning necessary?
Let's try to understand the need for financial planning through a story.
This is the story of  Mr Kumar & Mr S.Kumar.
Mr Kumar is 40 years old. He has a job in an MNC and he earns a decent salary. Like the rest of us, he works hard, earns well & makes sure that he enjoys life off the money he makes. Despite earning well, most of the time, Mr Kumar remains under pressure due to lack of money at the end of every month, not only that he is still living in a rented home & uses public transport for his commute.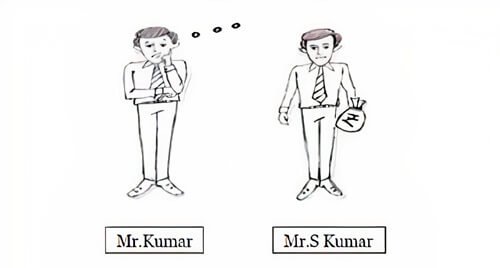 Now let's meet Mr S Kumar, a colleague of Mr Kumar's (Age 35 years) with the same salary structure. Mr S Kumar manages his finances well and by the end of every month, unlike Mr Kumar, has spare money left with him. Not only Mr S Kumar lives in a self-owned house and owns a car, he also has sufficient savings and has done investments in multiple avenues.
Why? What's changed?
It is because Mr S Kumar understands the importance of financial planning.
He knows very well that –
Inflation Kills
Inflation eats away your money. You must have heard from your father that he would purchase petrol at Rs.30 per litre and today petrol costs around Rs.100 per litre. This steady rise in the price of goods and services is called inflation.
Emergency Fund is extremely important
You never know when a financial emergency could come knocking at your door. Whether it is unexpected medical situations, accidents or loss of job. Uncertainty is the only certainty in life.
Retirement Corpus is vital
With pensionable jobs, our parents had it easy. The government used to wholly fund an individual's retirement by contributing to the pension funds. Today, a part of our salary is deducted for the same.
Owing to the increased cost of living, our parent's retirement funds might have been sufficient in the past. But we need to plan better, to live a comfortable retired life with sufficient funds to our name.
Insurance is essential
Insurance is a protection against unforeseen events that can cause financial distress. Insurance provides protection against events such as accidents, unforeseen damage to property, medical mishaps and even death.
Investments are attached to goals
Each investment you make must take you a step closer to your financial goals. Investment without goals is like firing a bullet into the vacuum. Goals could be planning your taxes, a dream holiday, buying a car etc.
Cash Flow management is Key for success
You need to utilize your financial resources effectively. This is where cash flow management – earning and spending money plays an important role in financial success.
Financial Viability is crucial
We need to understand that financial viability is crucial. Financial viability means generating sufficient income and constantly upgrading lifestyle with a growing need.
So, from above it is clear that Mr S Kumar has better financial management & control compared to Mr Kumar. He has planned his finances and invested accordingly to achieve his goals.
Also read – Financial Planning Real conversation – Vaniya Buddhi
So if you want to be like Mr S Kumar or if you are in a situation similar to Mr Kumar's you plan your finances.
There are two ways of managing your finances:
#1 DIY – Free Financial Planning Tools – Recipe
Financial planning done by oneself with limited help of an expert, excel sheet, or tools is known as DIY (Do It Yourself) financial planning. This type of financial planning is preferred by people like Mr S Kumar who understand the basics of financial planning.
Here are the steps to follow while doing financial planning –
Step -1 Know how much you can invest.
Step-2 Set your goals.
Step -3 Invest in line with the goals you set.
Step-4 Keep an eye on your investments. But do not get overly involved with every minute detail.
Step -5 Maintain a prudent emergency fund to be able to cushion possible adverse situations.
If you are interested in planning your own finances, you can use a tool called Recipe by Finology that will help you in managing your finances. Recipe is easy to use, and free from human bias due to A.I. based recommendation.
This tool has four segments, Prosperity Ingredients, Financial Appetite, Goal Planner and Financial X-ray. 
Prosperity Ingredients
It is extremely important to know your current financial status before engaging in financial planning. The Prosperity Ingredient segment helps you in assessing your financial position. This segment has four "ingredients".
Emergency Fund
Under the Emergency Fund section, you can check if you have sufficient emergency funds for the future or not. You need to input your monthly income, details about your bank balance and select 'stability' of your income from the dropdown.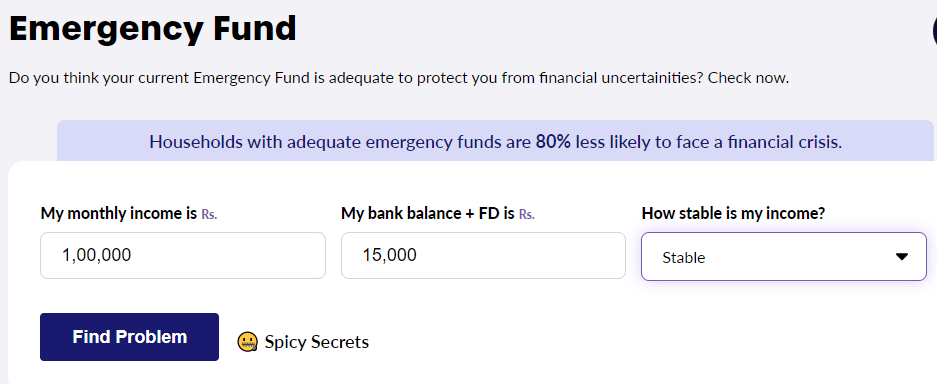 Once you click the "Find Problem" button, Recipe automatically gives you a response about your required emergency funds. It also displays your emergency fund score.
Insurance Planner
Under the Insurance Planner segment, you need to provide information about your current life and health insurance amounts. You will get an instant answer whether you have adequate insurance cover or not.
Debt Diagnosis
The Debt Diagnosis segment is for analysing your debt situation. Here, you need to enter your income, loan, EMI and savings details to get a debt diagnosis.
Spending Habits
The Spending Habit segment helps you gauge your income and expenses. Based on your income as well as spending habits, Recipe will find out for you whether you are overspending or saving.
Also Read – DIY, Salesman or Financial Planner what is your choice?
Financial Appetite
The 'financial appetite' section assesses your financial standing and your attitude towards risk and determines the right investment style that suits your income, goals and risk preferences.
Goal Planner
Goal planner contains readymade goal sections such as child marriage, vacation planning, wealth creation, dream car, dream home, children's education, retirement planning etc. You can plan for each goal by giving simple inputs.
Financial X-ray
The 'financial x-ray' section gives your complete 360-degree financial report. This report will help you in managing your finances and taking clever steps to boost your net worth.
Importance of Investment
As we learn that investing money in the right investment option is extremely important for financial planning, if you keep on investing money without properly analyzing, you may end up in a messy situation. You should have defined financial goals as the knowledge to execute those investments. There is a tool called Quest that offers courses on complete personal finance.
These courses cover the following –
Importance of saving money
Why investing is so important
Why debt funds & insurance are essential
Importance of Goal planning & asset allocation
#2 Hire Financial Planning Services – Paid
You need financial planning services if you –
Don't have time & energy to do your own financial planning
Don't have sufficient expertise in areas of investment, insurance, retirement planning.
Don't know how to manage finances in a better manner
Seeking professional opinion about your financial plan
If any of the above questions apply to you, it may be time to take help from a financial planner to achieve financial success.
Conclusion
Financial planning is crucial nowadays. You should do financial planning for a better financial future. You can make use of DIY financial planning tools or hire financial planning services for financial planning.