Diwali Stock Picks 2020 – IDBI has released the Top 7 Diwali Stocks 2020 for the investment. The list includes stocks from both large-cap and mid-cap space. Diwali stocks 2020 are likely to perform better and generate a very good return in Samvat 2077 as per IDBI Capital.
This time Diwali is on 14th November 2020 and Muhurat Trading will be held on the same day. Muhurat Trading time would be from 6:15 PM to 7:15 PM. Diwali Muhurat Trading is an auspicious time and it is recommended to invest during this time.
If you want to grab the opportunity for investing during Diwali, here are top Diwali Stock Picks 2020 by IDBI Capital.
Diwali Stock Picks 2020 by IDBI Capital
#1 APL Apollo Tubes
APL Apollo Tubes is a leading steel tube manufacturer in India. APL Apollo produces GI pipe, round pipe, hollow sections, etc. The primary usage of these products in construction & infrastructure projects. This company has a pan India presence.
APL Apollo Tubes is likely to outperform over small and unorganized players. APL Apollo Tubes has a strong balance sheet. The revenue and profit of APL Apollo Tube are growing YOY. Despite lockdown, APL Apollo Tubes has strengthened the balance sheet. APL Apollo Tubes has started focusing on rural areas to improve its volume growth. CMP of APL Apollo is Rs.3130 and this stock is likely to reach the target of Rs.3740 in one year.
Also Read – 5 Best Credit Cards for Diwali Shopping
#2 Alembic Pharma
Alembic Pharma is next in the list of Diwali 2020 stocks. The company has diversified products and a presence in domestic as well as international markets. Alembic Pharma drug is leading the US market with very good growth. The domestic business has reduced but it is due to industry slowdown. The company is spending a lot of money on R&D and about to launch 15-20 new products in the days to come. The revenue and profit margin of Alembic Pharma is increasing year on year. The target set for Alembic Pharma is Rs.1360.
#3 Bayer CropScience
Bayer CropScience is a global agrochemical giant. The company is in the business of manufacturing insecticides, fungicides, and herbicides. This company also offers pest management solutions for the household. The agrochemical sector is least affected in the COVID-19 situation. The Atma Nirbhar Bharat is likely to give benefit to Bayer CropScience. This company has a strong presence in the crop protection market. The company is well equipped with technology, processes, and services. The target price set of Bayer CropScience is Rs.6850.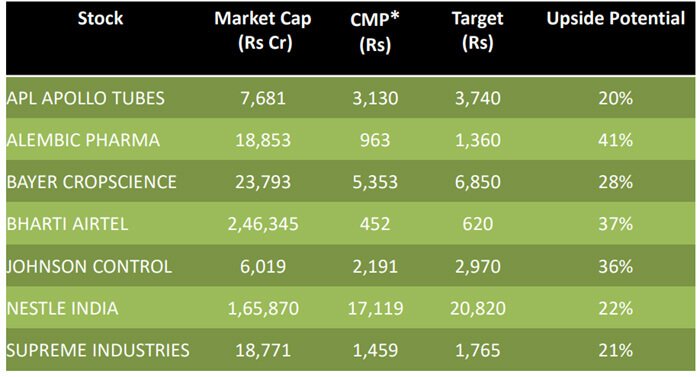 #4 Bharti Airtel
Bharati Airtel telecommunication giant is the next Diwali 2020 stock pick of IDBI capital. Bharati Airtel has a presence across 18 countries. Bharti Airtel provides internet, broadband, fixed-line services & DTH services in addition to mobile carrier services. The company is likely to roll out 5G technology. The revenue of Bharati Airtel has increased. The target price set of Bharati Airtel is Rs.620.
#5 Johnson Control
Johnson Controls- Hitachi Air conditioning India Ltd (JCHAC) is a joint venture between Johnson control, Hitachi Appliances. The company is selling Hitachi Brand Products such as commercial air conditioners, refrigerators, and air purifiers. The government has taken several initiatives to promote the domestic manufacturing of AC and related components which will give benefit to this company. This company has a very good R&D facility and product development capabilities. The financials of this company is strong. The target price set of this stock is Rs.2970.
#6 Nestle India
Nestle India is the next Diwali stock pick by IDBI Capital. Nestle India is in the FMCG business. It is one of the evergreen businesses and comes under the essential product category. Despite COVID-19, the Nestle India business is not impacted. Nestle India enjoys a monopoly in a few products. Innovation and diversified product range are plus points of Nestle India. Nestle India is on expansion. The revenue and profit margin of Nestle India is growing. The target price set for Nestle India is Rs.20820.
#7 Supreme Industries
Supreme Industries is the largest player in Indian PVC pipes. Supreme Industries has a strong product portfolio and domestic presence. They have a competitive edge over their peers. Supreme Industries is on capacity expansion. They have very strong management and full proof plan to grow. The focus of management is on volume and offering value-added products. The company is on a growth trajectory and likely to perform better in the days to come. The financial of Supreme Industries is strong. The target price set for Supreme Industries is Rs.1756.
Download IDBI Capital Diwali Stock Picks 2020
"May this festival of lights brighten up your life with happiness and prosperity."
"Wishing you all a very Happy Diwali"
(The views content and recommendations expressed in this post are of  leading stock market experts and do not represent those of Moneyexcel.com. Please consult your financial adviser before taking any position in the stocks mentioned)