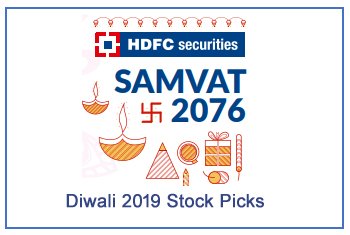 Diwali 2019 – Samvat 2075 is about to end. It was a year of up and down for the stock market investors. A stock market investor was feeling like riding in roller coaster throughout year. Sensex has grown by nearly 15% in a year with respect to last year Diwali. Economic slowdown, liquidity crunch, FII outflow, corporate tax cut were few major factors that have affected stock market in 2019.
 This year, Diwali falls on 27th October 2019 (Sunday). Muhurat Trading session will be held on the same day from 6:15 PM to 7:15 PM. Muhurat Trading time is considered auspicious time for investment. Many stock market investors and trader use this session for making investment in stock market. If you are one of them and looking for Best Stocks for Diwali 2019. Here is a list of Best Stocks Recommended by HDFC Securities.
Also Read – 5 Best Credit Cards for Diwali Shopping
Diwali 2019 – Stock Picks by HDFC Securities
Muthoot Finance
Muthoot Finance is leading gold finance company owned by Muthoot family. The group is taking various marketing initiatives to create awareness and build trust. MFL will continue to benefit from its long standing presence and good knowledge of the gold loan segment. MFL has always maintained a diversified source of funding and never relied heavily on any one particular source of borrowing. Target price set of Muthoot Finance till Diwali 2020 is Rs.751.
Ultratech Cement
Ultratech Cement is India's second largest cement company. Ultratech has capacity of 117.35 Million Tonnes Per Annum of gray cement. The Company is also India's largest exporter of cement reaching out to meet the demand in countries around the Indian Ocean and the Middle East. Ultratech has strong sustainable financials. Target price of Ultratech cement is Rs.4980.
Amber Enterprises
Amber Enterprises is a component manufacturer for many prominent air conditioner brands in India. In 2019 Amber has announced acquisition of 80% equity in Sidwal Refrigeration through a slump sale. It will defiantly help Amber Enterprises in increasing revenue. Target price set for Amber Enterprises till next Diwali is Rs.1140.
Bajaj Auto
Bajaj Auto is leading automobile company in India. Bajaj Automobile produces two wheeler and three wheelers. The company has presence in India as well as other 79 countries. Currently when domestic auto markets is passing through a slowdown, exports provide cushion to its revenues. The company is also planning to develop electrical vehicle. Target price of Bajaj Auto till next Diwali is Rs.3447.
Garden Reach Shipbuilders
Garden Reach Shipbuilders & Engineers Ltd (GRSE) is a premier ship building company in India under the administrative control of the Ministry of Defence. The company has healthy order book. It has an advantage over global shipyards in securing contracts as it qualifies for the 'Make in India' initiative. Target price for GRSE till Diwali 2020 is Rs.202.
Affle India
Affle India is next Diwali 2019 stock recommended by HDFC Securities. Affle India is Technology Company that uses its consumer intelligence platform to deliver targeted mobile advertising. Increasing online activity and mobile usage has helped Affle India. Affle India has good clientele all over. This stock is fundamentally strong and recommended bet with Target price of Rs.1348.
Fairchem Specialty
Fairchem Specialty is aroma chemicals manufacturing company. A usage of Aroma chemical is growing. FSL has 12 registered product and will be registering 3 more products. A company has recently done restructuring which will help business. As per HDFC Securities it is good stock for Diwali 2019 with target price of Rs.569.
BEML Ltd
BEML is Asia's second-largest manufacturer of earth moving equipment with more than 60% market share in India. BEML has very good order inflow. As of now biggest order with BEML is Metro Rail project which will provide robust growth to this company. Target price till Diwali 2020 for this stock is Rs.1048.
Deepak Nitrite
Deepak Nitrite is producer of fine & speciality chemicals and performance products. Deepak Nitrite is continuously adding new pharma intermediaries and agrochemical products. Apart from domestic market Deepak Nitrite also serve international market.  A stock is trading at discounted price and can be purchased with target price of Rs. 348.
Sudarshan Chemical
Sudarshan Chemical is largest pigment manufacturer globally and the largest in India. Sudarshan Chemical is planning to add 25-35 products annually to its portfolio. R&D facility of this company is strong. China is facing major issue in chemical industries due to stricter environmental norms. Sudarshan chemical will surely get benefit of the same. Target price of Sudarshan Chemical by HDFC securities is Rs.460.
In addition to above stocks, HDFC Securities has also suggested other Diwali 2019 stocks such as SBI Life insurance, Apollo Hospital etc.
For more information refer to HDFC Securities Diwali Picks 2019 research report.
(The views content and recommendations expressed in this post are of  leading stock market experts and do not represent those of Moneyexcel.com. Please consult your financial adviser before taking any position in the stocks mentioned)