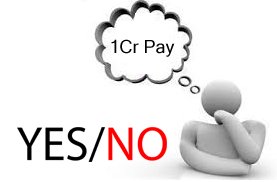 We keep on hearing news that students from IIT and IIM got pay package of crores of rupees in MNC. Recently social networking site Facebook hired three students from IIT Mumbai and two students from IIT Khargapur during pre-campus recruitment. Pay package of these students is in range of 1.42 crore to 2 crore. Do you think Crore Rupee package for IIT & IIM students is it really worth? Let's take a closer look on this matter.
Salary package offered in recent placement season is not range of 1 Cr+. This package is in range of 110K-125K $ including variable components. The rest of the package is in form of Restricted Stock Units (RSU) or Employee Stock Option. This RSU or ESOP is will be given to the candidates over a period of four years. The current valuation of these RSUs is taken in to account while offering pay package, which is not correct.
Average salary offered to software engineer in USA is in range of 90K $ to 115K $. Same salary is offered by USA based companies to hire students from IITs in India. This pay package sounds huge as we convert this package in to Indian rupees. While converting this pay package to INR we forget to consider cost of living at USA, which is very high.
Another big problem which these students face is getting H1B visa to work in USA. If we consider current trends of H1B visa it is purely based on luck. Last year the visa process opened and shut before they could get their degrees, forcing them to work at Indian offices of these companies at much lower salaries than advertised.
Source:- Quora
It is also reported that two three students have rejected these offers. Few reasons for rejecting higher salary job are given below.
Problem of Taxation
First reason reported for rejection of these jobs is problem of taxation. Higher the package higher is tax burden. Tax will be straight away deducted from salary, bringing pay package at lower scale.
Package Includes Stocks
Second reason for rejecting this job is this pay package includes stock option RSU & current valuation of these RSUs is taken in to account while offering pay package.
I don't want to work for money- Want to do Business
Very few students say that they don't want to work for money; they want money to work for them. Yes they rejected job because they want to become entrepreneur by doing business.
Job is right fit?
Few had problem that this job is right for them or not.  They worried about new location and job position.
Reason of writing this article is to guide you that don't just get carried away by hearing news of IIT and IIM student is getting Crore Rupee package, also check is it really worth?
What is your take on above?