Converting Credit Card Bill to EMI– Credit Card EMI is one of the most popular methods used nowadays for shopping. You might have seen an option on shopping site to convert your credit card payment to EMI. Converting a credit card bill to EMI means clearing credit card dues by EMI (Loan). You must be aware that there are two options to pay a credit card bill. You can either pay a full bill before the due date or you can pay minimum amount due. If you have difficulty in finding options to pay credit card bill, you can go through the article – 10 Methods to Pay Credit Card Bill Online and Offline. If you clear full fill before the due date you need to pay any interest. However, if you clear only minimum dues you need to pay interest amount.
EMI Conversion for clearing credit card due is another method. This method is used to attract the customer who is unable to pay entire bills on time. It is a convenient and easy option.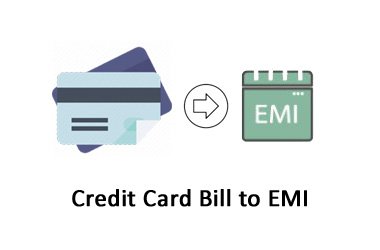 How credit card bill to EMI option works?
In credit card EMI option you need to pay little amount every month. This option is similar to other loan EMI. Here you need to pay a portion of principal dues and interest component every month till the full amount is paid.
The option for EMI is available at the time of purchase or at the time of making credit card bill payment. Bank offers this option based on your card and credit behavior. At the first instance, you may find this option very useful as you can save yourself from paying a lot of money at a single go. However, you need to evaluate this option as a whole before opting.
How to convert Credit Card Bill to EMI Option?
The process of converting your credit card bill to EMI is very simple. You can use net banking, SMS or phone banking to avail this facility. Few banks also provide this facility via mobile app. The step by step method to convert credit card bill to EMI in SBI, ICICI is given below.
SBI Credit Card Bill to EMI
Through SBI Net Banking
Login to SBI Net Banking Account.
Under the Benefit Menu click on Flexipay.
Select the transaction which you want to convert to EMI.
Make selection of repayment period and confirm.
Your transaction will be converted to EMI.
Through SMS
You can also use method of SMS to convert your bill to EMI. You need to send SMS "FP" to 56767. You will receive call from SBI executive asking for detail about transaction which you want to convert to EMI. On sharing details your transaction will be converted to EMI.
ICICI Credit Card Bill to EMI
Through ICICI Net Banking
Login to ICICI Net Banking account.
Go to My Account and select credit card option.
Select Convert to EMI option from Menu.
Select credit card detail, EMI tenure and transaction.
On submission your transaction will be converted to EMI.
Through iMobile App
Download iMobile App and Register with your account.
Go to Cards section and select the credit card.
You will be able to see recent transactions.
Select the transaction and click on convert to EMI option.
Provide required detail for conversion.
Points to consider before taking credit card due to EMI option
You should consider following facts before converting your credit card dues to EMI.
Interest rate
The conversion to EMI is not free. You need to pay interest on the due amount. The interest rate range between 12-18% per annum. This rate of interest is lower compared to credit card interest rate which is in the range of 30-40% per annum.
Processing Fees
In order to convert credit card dues to EMI, you need to pay processing fees. The processing fees vary from bank to bank. Few banks do not charge any processing fees for the conversion of a credit card bill to EMI. The processing fees can be negotiated with bank.
Credit Limit Reduction
Once you opt for this facility your credit limit will be reduced by amount which you have opted for converting EMI. Your credit limit will increase by the amount you pay in EMI. Suppose your initial credit limit is Rs.150000 and you have opted for EMI facility for the amount Rs.40000. Your credit limit will be Rs.110000. It will increase every month with payment of EMI amount.
Over to you
Converting credit card bill to EMI is costly option as you need to pay additional interest cost on the goods purchased. It is recommended to use this option only in emergency when you are unable to pay your dues in time.
Do you use this facility? Do share your experience with us.