Term insurance plans – Let me start this post with the famous saying of Michael J Fox – "Family is not an important thing, it's everything". So, if you care for your family, you should buy an insurance policy (term plan). Term plan provides financial assistance in case of an unfrozen event.
Term insurance policies are very popular now a day. Premium rates of such policies are very low, companies are advertising term plans in a big way.
Financial planner also advice that term plan is best for insurance, as it covers high risk at low price. The premium of term plan is lowest compared to ULIP, endowment or money back plan. Term plan policy is purely for risk cover.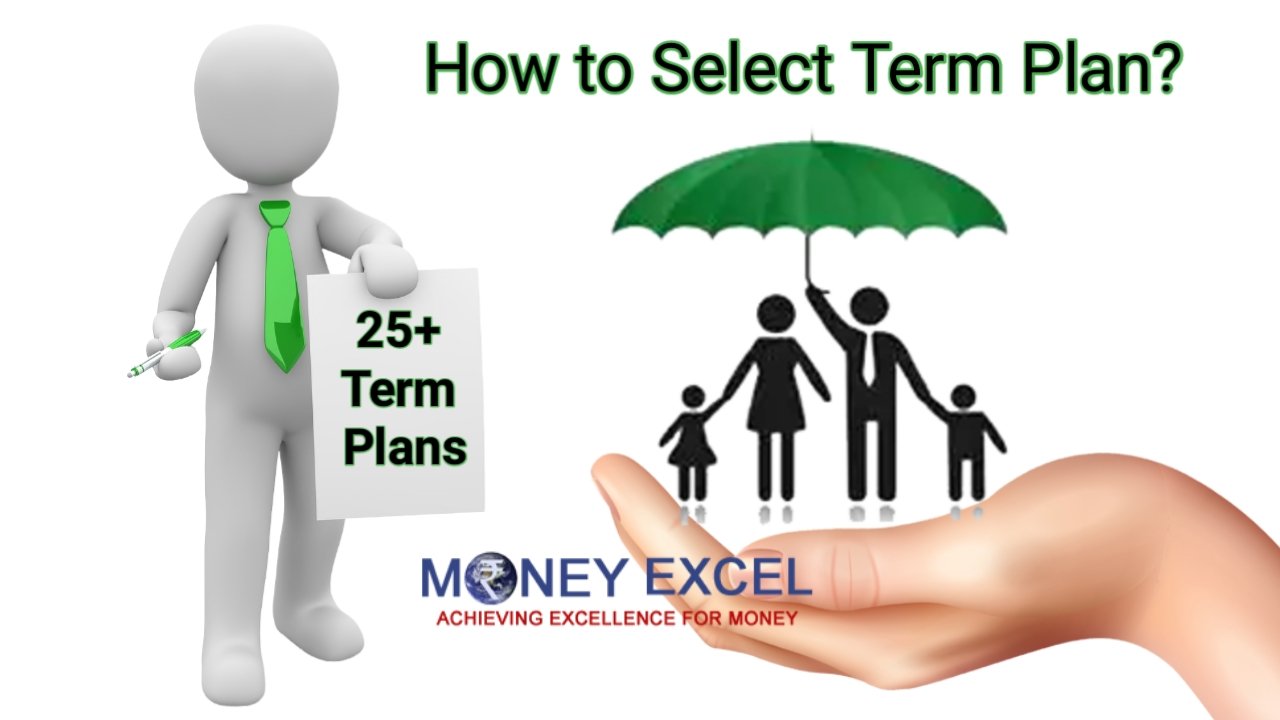 What is Term Insurance Plan?
Term Insurance Plan is a pure life insurance policy. Term Insurance means an agreement between insurer and policyholder. In this policy, the insurer will pay the fixed sum assured to the nominee on the death of policyholder. If policyholder survives policy term insurer will not pay anything.
In certain term plan, policyholder can select how death benefit will be paid to the nominee. The payment could be either lump sum or monthly.
What are benefits of Term Insurance Plan?
There are multiple benefits of Term Insurance Policies. Details are given below.
A term insurance policy provides higher risk coverage at a lower premium.
Your nominee will get lump sum amount in the event of sudden death.
You can opt for an additional sum assured benefit in case of accidental death.
Term insurance plan takes care of the family in case of disability or critical illness.
One can get a lump sum amount if diagnosed with a critical illness.
You can avail tax benefit for the paid premium amount.
If opted, one can get supplementary income in case of loss of income due to accidental disability or illness.
An online option is available. It can be purchased easily without the help of an agent.
There are many term insurance plans in India, but all of them have different features and premium rates which confuses a prospective customer to choose the best term plan. Look at following comparison chart and Important features before purchasing term plan.
Term insurance plans – Comparison
Important Features of various term plan:-
Aegon i Term:-
Pure Term insurance plan with an inbuilt terminal illness cover
Option of 3 riders – accidental death benefit, waiver of premium and women critical illness
Longer policy term – up to the age of 75 years
Completely online process
Bharti AXA Life eProtect :-
This plan has only Death Benefit and no Maturity Benefit
The minimum Sum Assured is Rs 25 lacs
This plan has the Family Care Benefit option, where a cheque of Rs 1 lac is paid immediately within 48 hours of claim submission to take care of immediate expenses before verification
 HDFC Click 2 Protect:-
Click 2 Protect is a pure protection plan which pays benefit only on the death of policy holder
Special premium rates for non-tobacco users
Can be purchased online without any agent intervention and at a low premiums
Future Generali Smart Life:-
Standard rates for smoker and non-smokers
No medical test required up to age of 45 for sum assured up to Rs.30 lacs
Provides large sum assured rebates
Available only online
Edelweiss Tokio Life- Protection:-
Large Sum Assured rebate is available
Limited Premium paying Options available
Discount for non-smokers for a sum assured of Rs 25 lacs and more
Metlife Met Protect Plan:-
Its a purely online plan which can be purchased and managed online
Low cost pure term plan for high sum assured
Non-smoker and women discount available
Kotak e-Preferred Term Plan:-
It is a pure Term Insurance Policy can be purchased online without any agent intervention.
Option to move to other non-term plans of Kotak Life Insurance.
Option to Step Up the life cover on any event without any medical underwriting with an additional premium.
On Marriage- 50% of the Sum Assured can be increased.
House Purchase- 50% of the Sum Assured can be increased.
Birth or Legal Adoption of a child- 25% of the Sum Assured can be increased.
On 1st, 3rd and 5th policy anniversary- 25% of the Sum Assured can be increased.
This option can be exercised at one or more of the events listed above, provided your total revised Sum Assured is not more than 3 times your original Sum Assured.
The policy can be Stepped Down also if further increase in sum assured is not required.
Aviva Life Shield Platinum plan:-
Good rider options for the customers like Accidental Death Benefit and Dread Disease
Option of scheduling a monthly payment for the nominee in case of death of insured
Option to pay off outstanding liability like personal loan or home loan in the event of death of insured
Kotak Preferred Term Plan:-
It is a pure Term Insurance Policy with Death Benefit only and no Maturity Benefit
Non-smoker and Women discounts are available in this policy
3 additional riders are available
Option to move to other non-term plans of Kotak Life Insurance is also available at any time except the last 5 years of the policy.
ICICI icare:-
Can be exclusively purchased online without agent intervention and at a low cost
Comes with High non-medical limits
Offers a choice of accidental death benefit rider where additional sum assured is paid to the nominee in case of death due to accident
Bharti AXA Elite Secure Plan:-
Long Term cover available till the age of 75 years
Additional Accidental Death and Disability Benefit Rider and Critical Illness Benefit Rider available
Metlife Met Suraksha Plus Plan:-
There are options for single and limited pay along with regular payment options.
Additional cover with riders is available and Special discount is given for Non-smokers.
High coverage till 70 years of age and 35 years of policy tenure.
Aviva Life Shield Plus Policy:-
The plan offers high levels of cover at lower premiums.
You get discounts on premiums if the sum assured is higher than 25 lakhs
Lower premium rates apply for women
HDFC Term Assurance Plan:-
Provides a large sum assured discount for sum assured more than Rs 25 lakhs.
Unique feature of covering joint life
Aviva Life Shield Advantage:-
High levels of insurance cover for your family
The premiums paid by you are paid back to you at the end of the policy term, if you survive the policy term
Lower premium rates for higher amounts of cover
There is a variant of the plan, called Option A, in which the premiums offered will not be returned. The details mentioned in this page are for Option B which is with return of premium.
Reliance Term Plan:-
It has inbuilt Waiver of Premium rider for Total Disability and Accidental Benefit and Total and Permanent Disability riders.
The rider can be added at inception or any other policy anniversary.
Discount is provided to woman policyholders
ING Term Life Plus Plan:-
There is Mid Term benefit available, which is not available in any other similar policies in the industry.
Additional rider benefits of Accidental Death and Accidental Death, Disability and Dismemberment benefit.
Single and limited premium payment options available.
ICICI Life Guard Level Term With Return of Premium:-
This is a plan where the sum assured is paid to nominee if life insured dies within the policy term and the premiums are returned to him on maturity if he survives the entire tenure
 There is a unique feature of availing 5 years of extended cover post maturity of the policy without any additional payment of premium at 50% of the original sum assured
There is a guaranteed surrender value available for this policy.
Max Life Platinum Protect Plan:-
It is a pure Term Insurance Policy with Death Benefit only
After paying for 15 years, if customer chooses not to pay any more, then also reduced life coverage continues till the end of the policy term.
Discount is provided for female and non smokers and amazing discount for healthy non-smokers above Rs 50 Lakhs Sum Assured.
Additional benefit of Accidental Benefit and 10 most common Dread Disease Benefit available as rider.
Premium Applicable for various Term Plans:-
Following premium is for Age -30 Year, Sum Assured – 50 Lakh
Few Recommendations before buying Term Insurance Policy
Go for Online Term Plan instead of offline term plan. Online term plans are much cheaper as no middleman agent is involved in between.
Claim settlement is one of the leading indicator don't rely too much on claim settlement ratio.
Fill up the complete details given in the form without hiding anything. Never allow someone to fill up the proposal form.
I would not advice to go for any type of riders while buying term plan.
Review your insurance requirement regularly and make changes with growing needs.
Over to you –
Looking at above term insurance comparison  you must have got fair idea about various term plans.
So, Which term plan do you have currently ? If you are planning to buy one, which one you will you buy & why? Give your suggestions in comment section!
You may also like :- Comparison of 40+ Health Insurance Plan