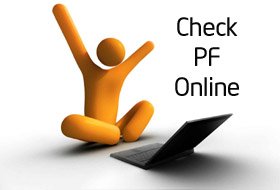 Check PF Balance -EPFO provides option to check PF balance online.You just need to enter your details, you will get PF balance via SMS on your register mobile number.
You can check PF balance online with a single click. Whether you want to check PF balance for the EPF office Delhi, Mumbai, Banglore, Hyderabad, Gujarat, Pune, Kolkata etc, you can follow steps given below to get PF balance via SMS.
In order to use this facility, your organization must be registered with EPFO office. Some big organizations have their own PF trust and they don't keep money with EPFO office. In such cases, you can not check PF balance online on a portal, you need to contact HR to know your PF balance.
Also Read – Check PF Balance via SMS
You can check your PF balance online using following steps.
Steps to check PF Balance Online
Step-1 – To check your PF balance you need your PF account number. You can find this PF account number on your salary slip.
PF Number will look like – MH/BAN/0000424/023122
Check that your establishment code is new or old. Recently EPF has revised some PF establishment code. You can search for new establishment code from following URL.
http://search.epfoservices.in/est_search.php
Step-2 – To check your PF balance visit EPF website http://www.epfindia.gov.in/click on "Know your EPF balance"
Step-3 – Now select state of your PF office from Drop down menu.
Also Read – PF portability and UAN Number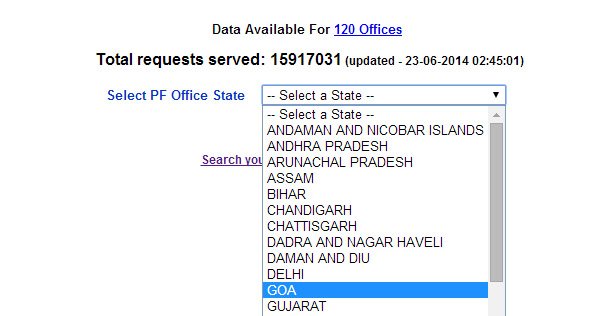 Step-4 – Once you select state system will prompt you to select appropriate EPFO office. Based on your PF number you need to select this office. E.g If your PF number is MH/BAN/0000424/023122 than you need to select BANDRA as office. Once you are through with selection of EPFO office another page will open where you can check your balance.
Step-5 – Fill your PF account number, your name as appearing in EPF Slip and your mobile number. Once you press submit button you will receive an SMS in less than five minutes with your EPFO account balance.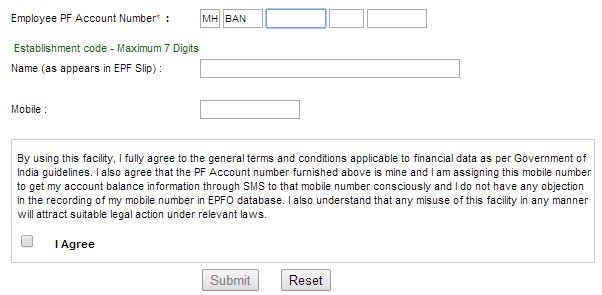 How to Download EPF E-Passbook?
Apart from just checking PF balance online now you can register online to download your EPF Account Passbook. You can download this e-passbook multiple times.
You can register online to avail this facility. The facility at present is only for the members for whom the employer has uploaded the Electronic Challan Cum Return for the wage month of May 2012 onwards.
Also Read – EPFO mobile app launched – Check EPF balance on the move
Register Online-
To register on EPF portal you need to input your mobile number, date of birth and your email id. For this facility you need not to create any user id you can use any of your identity such as PAN, AADHAR, Bank Account, Voter ID, Passport, Driving  License or Ration card number.
After adding your name and EPF account number, you need to click on 'Get PIN'. The PIN is sent by SMS to you. This PIN authorization is required every time you download the e-passbook and check your EPF balance.
This facility helps you in viewing and downloading all transaction history at finger tips. This will save lot of time. EPF also sends alert SMS to the members when the e-passbook of EPF is available to download.
If you have any query in getting information about your PF balance, pls comment below.