Now no need to worry about Aadhaar card misuse. You can easily find out where your Aadhaar is used from Aadhaar Authentication History. The website of Unique Identification Authority of India (UIDAI) has launched facility to check Aadhaar Authentication History. This facility helps you to track where your Aadhaar is used for authentication. This is to spread awareness and prevent potential misuse of Aadhaar Authentication Services.
If history shows misuse of your Aadhaar you can even lock your biometric data from UIDAI portal. Follow the step by step method given below to check your Aadhaar Authentication History.
How to Check Aadhaar Authentication History?
Step 1 – Visit UIDAI official website – https://uidai.gov.in/
Step 2 – Under Aadhaar Services Tab, you need to click on "Aadhaar Authentication History" link.
Step 3 – You will be redirected to a page where you need to enter your 12 digits Aadhaar Number. After entering Aadhaar, enter a security code (image digit shown in photo) and press Generate OTP button.
Step 4 – You will receive OTP on your mobile and you will be redirected to the new page. Make sure your Aadhaar is linked to your mobile number.
Also Read – New eKYC EPFO Portal – Link Aadhaar and Track EKYC
Step 5 – On the new page you need to select a type of authentication for which you want to check authentication history. This includes various options like Biometrics, Demographics, OTP, Demographic & Biometric, Biometric & OTP and Demographic & OTP options. If you want to know information about all authentication type, select "ALL" option.
Select the date range and number of records. Maximum record supported as of now is 50. This system is currently designed to provide data of last six months.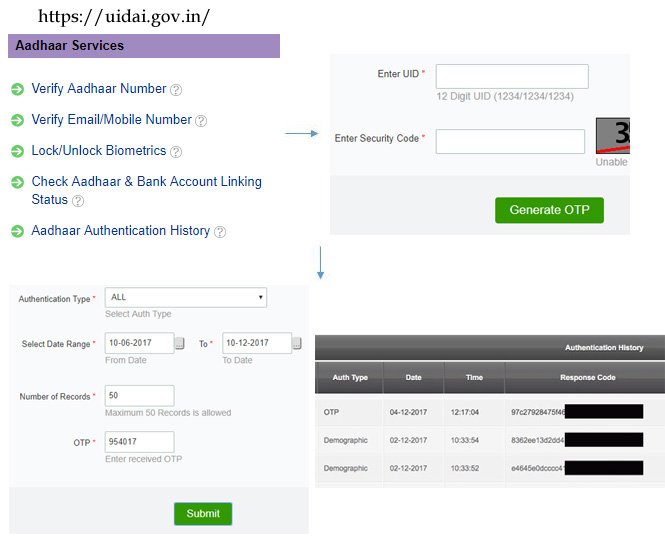 Step 6 – Now enter the OTP received on the mobile and click on the "Submit" button.
You will be able to see result from date along with a type of authentication used against your Aadhaar.
If you find any misuse of your Aadhaar Authentication you can lock your Aadhaar Biometric. Once your biometric is locked Aadhaar authentication cannot be used unless the lock is opened.
As per me, it is an excellent facility to track your Aadhaar Authentication history. However, few shortcoming of this facility is given below.
This system shows data up to last 6 months only. This means if you want to find out data older than 6 months this system will not help.
Maximum 50 authentication record history is kept.
A system is very slow and it also generates error that "Your request cannot be proceed due to some technical issue".
Do you find above facility useful? Do share your feedback and queries in the comment section.