ChatGPT is the talk of the town. Everyone has been talking about open ai's chat GPT and for good reason its ability to generate any requests in human-like text is remarkable. ChatGPT is an example of what AI could be. The implication that this technology has for us in the next decade is exciting. 
ChatGPT has opened up a lot of blue ocean opportunities for the business. So I am gonna share 5 different AI & ChatGPT-based business ideas that anyone can start with OpenAI. Well, Open Ai and chat GPT isn't just the text output. This tool also provides a new API. If you don't know what an API is it's called an application programming interface which allows developers to create applications that can access and make use of the information or data provided by chat GPT.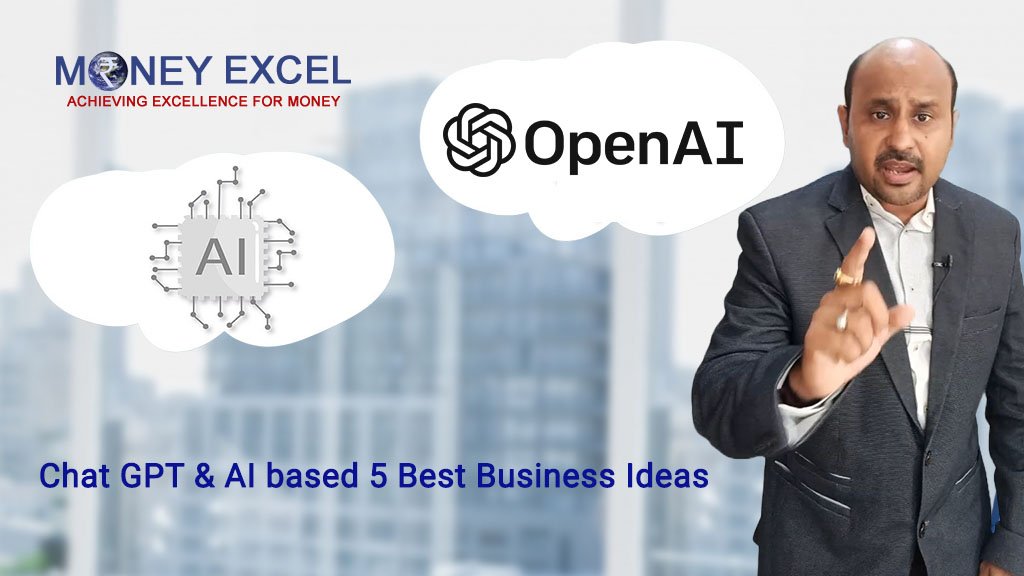 ChatGPT & AI based 5 Best Business Ideas 
#1 Sales Copy
The first business is a very big industry and that is called sales copy. Before knowing about sales copy first let me tell you about Copywriting. Copywriting is persuasive words. Say, if you're trying to sell a product on Amazon, now persuasive description words are called copywriting. Copywriting used for sales is also called sales copywriting. Sales copy helps the company to make money and if you can help people make money you're going to make money.  
I have a friend who's making over seven figures a month using this website called copy.ai. He is just helping people to create high-quality sales copy quickly and making a lot of money. He sends this copy to the client for products and services. He is Using copy.ai and quickly producing results for the client.
So a copywriting company is a perfect company to start. If you want to utilize ChatGPT then you can build a website like copy.ai using the API of ChatGPT and charge customers based on the subscription model. 
#2 Search Summary Website
The next ChatGPT and AI-based business is creating a short description website. Let's look at perplexity.ai. They describe any subject in about four sentences. When you ask something the AI engine displays output that is scrapped from various other websites. It also gives you reference points. 
When you search for something on Google, you will get multiple results. You need to pick and choose the right search/answer for you. Where perplexity is going to go through literally hundreds of Articles and summarize any Topic in four sentences very simple but very useful. You can also make use of ChatGPT API and create your own search summary website where you charge money for the subscription.
#3 E-mail Writer
You can make use of ChatGPT API to generate e-mail for the customer. For example, I have given input as "Write an e-mail to sell digital marketing services" and ChatGPT has written a very good e-mail draft for me.
Rytr.me is the website that makes use of AI and ChatGPI API to provide e-mail writing services. The best part of this service is they offer services in regional languages also. It is a very good business opportunity to launch subscription-based services around e-mail writing.
#4 AI Thumbnail Creator Service
AI Thumbnail Creator Service is the next very good AI-based business idea. Many YouTubers and digital creators require Thumbnails for the content. Lensa is AI-powered image editing software that helps to apply image correction, filter, and special effects to images.
You can make a similar type of tool that helps the user in making Avatars automatically. It is like mimicking the output of human-predicted data.
 #5 ChatBot
Customer Support ChatBot is the next AI-enabled business idea. A chatbot can be trained using ChatGPT-3, which allows you to answer customer questions and provide customer support. This microniche is very powerful. Still, many companies are looking for powerful and readymade ChatBot solutions. 
The solution of AI-Powered readymade ChatBot is a wonderful blue ocean opportunity to explore.
Over to You
I hope you have started making use of AI-powered tools and technologies. If you explore ChatGPT and AI further you can find many growth opportunities related to business communication and automation. For more information get in touch with us on info@moneyexcel.com