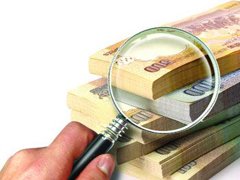 Planning to buy house in Gujarat? Want maximum Loan to get Tax benefits? Sorry dude! You are at wrong place. Except for very few builders' schemes, you need at least 50-60% cash of the purchase price to afford a house.
We live in information age, we all talk about RTI, but anyone of us ask builder why they are asking for cash money?  Government is not even bother about these black money transactions. I don't know why government is not checking cash transactions in home/office/land purchase. If they check they will defiantly get 1000 times more revenue for state!
The way black money is flowing clearly shows that how much corruption is happening in daily life. To stop black money government should send all these builders to jail or fined them heavily.
Mr.Narendra Modi Chief Minister of Gujarat talking about black money, CM said: "I'm going to bring in a new law on black money. Nobody will be able to contest an election in Gujarat unless he gives a declaration that he has no investments and money stacked away abroad."
This rule is ok for black money outside India but what about black money inside India?
Now Lets look at a scenario now when you visit builder to buy a House in new scheme. You will know the Land Area and Construction Area from the advertisement, number of rooms, locality, etc.
Let's assume that flat you want to buy is 1800 sq.feet. When you go and check with the builder, he will give you a price like this. Our property starts at Rs. 81 Lakh + Legal, Stamp Duty, Dastavej, Maintenance.
You go and check out the sample flat and think that the house looks smaller than 1800 sq.feet. You then ask what is built up area. The builder will say that you will get 40% less as 1800 Sq.feet is super built up area.
Super Built up is a way to loot people. It basically says that you pay cost for common facility and common construction area. But do you think that 40% area is reasonable loading we know builder is cheating us but we don't have any alternative.
Lets look at other expenses:-
Stamp Duty – 4%
Dastavej – 6%
Legal fees
Lets say you have 3 working members in family drawing income of Rs. 8 Lakhs each per year. You should each be able to get loan of Rs. 25 lakhs easily. So you hope to get Rs. 75 Lakhs worth of Loan on hous. And then you have to manage Rs. 6 Lakhs. This is what you would be hoping.
Assuming that the House is for Ready Possession and you ask the builder – Do you offer 100% loan papers and do you take 100% money by cheque?
You will get answer – "Well – we can give you loan papers for Rs. 25 Lakh and balance you have to pay by Cash. Cash Component has to be finished first".
Banks usually give sanction for 85% of Loan Papers. i.e 21.25 Lakhs is what you can get from Bank Loan. That means you have to pay Rs. 59.75 Lakhs CASH! Not only that you are not goanna get any receipt for this payments. Its huge risk!
If you do this transaction they only way you can do it with Rs. 59.75 Lakhs Cash and Rs. 21.25 Lakhs Bank Loan! And what if you want to sell it tomorrow? Well, you only have Papers for Rs 25 Lakhs!
Do you think this is good deal ?
Lets look at what government loses in the transaction
Stamp Duty – Rs. 2.36 Lakhs (approx)
Dastavej Fees – Rs. 3.5 Lakhs (approx)
And the worst thing is they created Rs. 59.75 Lakhs Black Money.
This is a way millions or billions of black money transaction is happening daily.
Do you know how builder record this black transaction?
They provide you small diary to note down this transaction if you pay 1 Lakh cash they write 100 received, if you give 10 Lakh they write 10000 received. They record transaction like:-
Take small spy camera with you, File RTI challenge government to stop this dirty cheap game of black money & make government enforce the builder to do 100% white transactions.
Black money is killer for our economy. Everyone talks about black money parked outside India in swizz bank but no one bothers to make rule so that black money transaction does not take place within India.
Government is also aware about this fact but they somehow fail to remove black money and corruption from India.