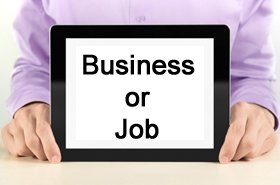 Today everyone is running after money. Everyone wants to build wealth, but very few know how to build wealth. Wealth is not about how much money you earn. Wealth is about how much money you keep. Today we keep on hearing one question  I should start business or continue with my job.
To answer this let me share with you interesting story of Building Pipelines or Hauling Bucket. This story I have read in book "Rich Dad Poor Dad" written by Robert Kiosaki.
Story of Building Pipeline or Hauling Bucket
Story goes like this – Once upon a time there was a village. It was very good place for living except problem of water. In order to get water villager needs to go to river. River was bit far away from village.
In order solve this water problem on permanent basis villagers called meeting. In meeting it was decided to give contract to someone for delivery of water to villagers. Incidentally they found three contractors for delivery of water to villagers.
Job Mind Set:-
First contractor has hired person for hauling bucket and delivering it to villagers.  The person who joined him as worker was from mentality of doing Job. That worker started hauling buckets from early morning. Till evening he was hauling buckets. At the end of month contractor was paying small amount of money to him as salary and rest contractor was keeping with him.
This is what is happening today for job class people. People with mindset of doing Job are hauling buckets on daily basis to make other wealthy.
Self Employer Mind Set:-
Second Contractor was of opinion why to share money with other. He started hauling bucket on self. Early morning he use to start hauling bucket and was delivering bucket till evening. He used to enjoy money earned by doing this job.
This is what self employer people do today. They own job as they don't want anyone else to participate in their job.
Business Mind Set:-
Third contractor was of business mindset. He came up with idea to build pipeline. He invested money to build pipeline with water filter facility. On the day of inauguration he announced to give 24×7 clean water facilities at doorstep with low cost compare to first and second contractor.
Soon he got business from majority of villagers. In order to compete with him first and second contractor had to deliver bucket in penny.
That penny story continued and both of them worked hard for the rest of his life and had financial problems forever after.
Third contractor with business mindset replicated this idea in other village also and lived wealthy life.
Moral from Story
Million dollar question you need to ask yourself is:-
Am I building a pipeline or hauling buckets?
Am I working hard or am I working smart?
If I stop working from tomorrow would it affect my income adversely?
Have you ever wondered how are you going to pay your bills when you stop working today?
Is it possible to earn more money by giving less time?
What am I doing today and what should I do for future?
To inspire you we are herewith 40 Small Business Ideas with low investment