Blue Chip Stocks are high-quality stocks of well establish and financially sound companies. The fundamentals of blue-chip companies are very sound. They have large market capitalization and these companies are in operation for several years. One such example of blue-chip stock in India is Reliance Industries.
In simple language, blue-chip stocks mean highly valuable stock.
Blue chip stocks = Highly valuable stocks
The term blue chip is taken from the card game Poker. Blue chip in this game represents the highest denomination. In the stock market, this term was coined by Oliver Gingold, who was an employee at Dow Jones in the 1920s.
Let's try to understand blue-chip stock by example –
I invested in the stock of Reliance (Blue Chip Stock) in 2014-15. My average cost of buying this stock was Rs.450. In the five years, Reliance has emerged as the biggest wealth created and generated 78% CAGR returns.
Also Read – Bluechip Stock – Should You Invest in Bluechip Stocks?
From the above example, it is clear that It is always recommended to keep Blue Chip stocks in your portfolio for the long term for earning money. Here is a complete guide explaining what features to look into Blue Chip stocks and which are top blue-chip stocks for investment in 2020-21 and beyond.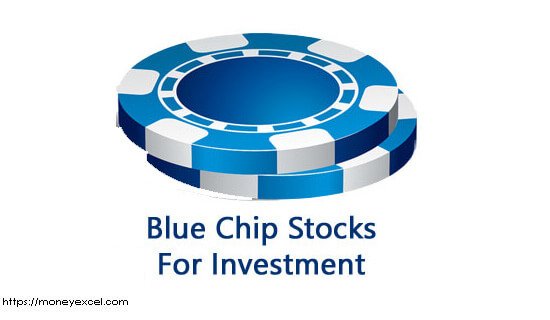 Features of Blue Chip Stocks
Large Companies
The companies with big brands, large scale operation, and a vast market generally fall under blue chip category.
Well Known Industry Leaders
The well-known companies with an excellent reputation with industry leadership. The company should hold expertise in the business where they are operating.
Consistent Performance 
Consistent performance and growth are a must for blue chip companies. The company should have future earning potential and good earning track record.
Regular Dividend Payout
The company should regular dividend payout to the shareholders even in bad times. Regular dividend payout makes these companies reliable and trustworthy.This is why stock investors focus on blue chip investments for 2023.
Good Performance in Bad Times
These types of companies are in business for many years. They have a track record of providing good performance even in bad times.
Creditworthiness 
The blue chip companies have high creditworthiness. They have capacity to pay off debt and other financial obligations quickly.
Blue Chip Stocks for Investment  
#1 Reliance Industries 
Reliance Industries one of the largest private sector company of India. The prime reasons for investing and holding this stock for long term are given below. 
Diversified product portfolio with multiple revenue streams.
Proven Track record and strong financial with increasing profit margin.
Trustworthy company. FII is constantly increasing stack in the company.
Investing in technologies and becoming future ready.
Expanding business and adding continuous revenue stream by Jio and JioMart.
Company is regularly paying dividend.     
#2 Nestle India 
Nestle India is FMCG Stock. It is one of the oldest company with multiple products range. The reasons for investing in Nestle India are given below.
Multiple evergreen food products with good market share.
Nestle India is Industry leader with very good historical record.
Revenue and profit margin are increasing year on year.
Company is on expansion track and investing money for expansion.
The company is debt free and maintaining healthy dividend payout. 
#3 TCS 
TCS is leading IT sector company of India. TCS is one of my favorite blue chip stock. The reasons for investing in TCS are given below.
TCS has diversified and growing client base with wide range of services and operations.
TCS has strong financial balance sheet with revenue growth and strong liquidity.
Presence across diversified verticals and proven execution track record.
Company is performing good even in the bad time.
Dividend payout of the company is good. 
#4 HDFC Bank 
HDFC Bank is market leader in housing finance industry. Key reason of investing in HDFC Bank as blue chip stock are given below.
Offering wide range of banking and financial services including retail banking and wholesale banking.
Valuable stock with proven track record.
Increasing profit margin and revenue year on year.
Less Gross NPA ratio.   
#5 Asian Paints 
Asian Paints is largest manufacturer or paints and related product. The prime reasons for investing in Asian Paints are given below.
Asian Paints enjoys more than 50% market share in domestic market.
Company is in leadership position and enjoy healthy operating margin.
Strong financial track record with increase in revenue and profit.
Debt free company with healthy dividend payout year on year.
Good Future potential with expected growth in residential and infrastructure.
Tips for Identifying and Investing in Blue Chip Stocks
Invest in cash-rich companies or with low debts. The company should have a strong balance sheet to fight bad situations.
Carry out proper research before investing in the stock. Check the track record of the company up to the last 5 to 10 years.
Find out companies that are fundamentally and technically sound. The company should have sound management.
While selecting a stock you should diversify your portfolio and select stock from various sectors for maximizing returns.
If required hire an experience portfolio manager or expert broker before investing in the stock.
Over to You 
How do you identify blue chip stocks?
Have you invested in any of the blue chip stocks mentioned above?
I hope you liked this post, Share this post with your friends, relatives on Facebook & WhatsApp group. Please comment below and let me know which topic you would like me to write on.
Happy Investing!