Bharat Bond ETF is India's first debt-based ETF. The government of India has recently approved this fund proposal. Bharat Bond ETF will have a fixed maturity period like a fixed deposit. Retail investors will see this fund as an alternative to a fixed deposit.
As it is a new product, most of the investors are not aware of this product. Here is a complete guide explaining What is Bharat Bond ETF? Features of Bharat Bond and important tips about investing in this fund.
Also Read – 20 Best Mutual Funds for Investment in 2020-21
What is Bharat Bond ETF?
Bharat Bond Exchange Traded Fund is a mutual fund that invests your money in the bonds issued by the Government of India owned companies as well as corporate unit bonds. It will be a diversified fund consist of various public sector company bonds. The main objective here is to give facility to the retail investor to invest in bonds & to provide liquidity in the corporate bond market. It will also serve as an extra source of funding for government-owned companies.
This fund will be managed by Edelweiss Asset Management. This fund will have two maturities – three years and ten years. Key features and benefits of this ETF are given below.
Key Features and Benefits of Bharat Bond ETF 
This Fund has a maturity of 3 years and 10 years and it will be traded on the stock exchanges. It will be like close-ended funds.
This maturity period is known as a series. This means funds have two maturity series. Each series have a separate index for tracking.
This fund will invest money in the bond of state-run companies and other government entities.
ETF to have basket of CPSE Bonds.
It will initially have all AAA rated bonds.
This fund will be available in the small unit size of Rs.1000.
The fund has a low expense ratio of 0.0005% which is lowest in the industry.
As the expense ratio is very low we can say that it is the cheapest debt product in the world.
Bond ETF will provide safety, liquidity and predictable tax-efficient returns.
Long term capital gain holding period of 3 years and above will be taxed at 20% after indexation.
One can get periodic live NAV during the day for transparency.
The portfolio holding of the fund will be disclosed online on the website. This will help investor in knowing fund investment.
Bharat Bond ETF will invest in AAA-rated companies and bonds.
ETF will track the underlying index on a risk replication basis.  
How to invest in Bharat Bond ETF?
To invest in this ETF, you will require a demat account. You can buy/sell bond ETF using the following methods.
As a retail Investors can directly purchase this fund via exchange during trading hours using an online platform.
If you are a large investor you can buy & sell funds via AMC. The transaction value will be 25 Crore or above. 
Bharat Bond ETF – Comparison 
Let's compare this ETF with Bank FD, Open-ended Debt mutual funds and Fixed Maturity Plans.
A fixed deposit has varying maturity and taxation is as per tax slab one can expect a very low return in the fixed deposit. Whereas in Bharat Bond maturity is fixed 3 years or 10 years. The return is slightly higher. As far as risk is concern Bharat bond is slightly risky compared to FD.
If we take a look at open-ended debt fund, this fund has no minimum tenure or maturity. The return and risk are comparable in open-ended debt funds as well as Bharat Bond. No difference in a tax benefit.
A fixed maturity plan has a maturity of 3 years to 5 years whereas in ETF maturity is 3 years or 10 years. The return can be slightly higher in the Bharat Bond.
The comparison table of Bharat Bond ETF with other products is given below.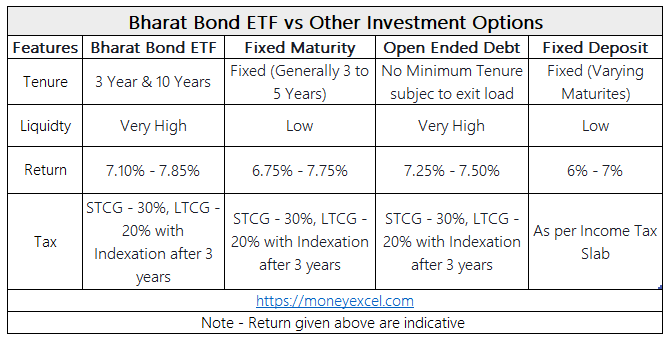 Should you Invest? – Review 
First of all, the Bharat Bond ETF is a unique fund launched by the government with the lowest expense ratio. It can be purchased with a small amount of Rs.1000. This fund is expected to provide higher returns compared to a fixed deposit.
The investment in this fund is safe as underlying bonds are issued by the government-owned companies and CPSE. This fund provides tax-efficient returns and it can be traded on the exchange easily. So, the liquidity of this fund is higher.
Bharat Bond ETF is a very good investment option for conservative investors. If you are planning to invest in the fixed deposit you should look at this fund for the investment. However, it has fixed maturity and it's prone to interest rate change risk. If you are a low-risk investor, you can allocate a small portion to this fund.