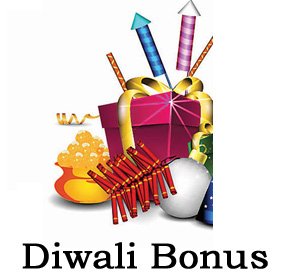 It is Diwali time and with the grace of goddess Lakshmi, you must have got good Diwali Bonus. The additional money received as a bonus brings a lot of joy and happiness to you. However, if you have not built an effective strategy about how to spend this Diwali bonus, you may likely to spend entire Diwali bonus on impulsive buying. Here are few ideas and tips on how to spend Diwali bonus.

15 Best ways to spend Diwali Bonus
Make List 
You should prepare a list of item to purchase this Diwali in order to prevent impulsive buying. Make sure to include only essential gift or purchase items. This will bring a lot of saving from the diwali bonus.
Make Budget
It is very good idea to make a budget on how much amount you need for this Diwali. Offers during the diwali season are alluring and you may end up spending more money if you don't keep limit or cap.
Look for Discount offers
During Diwali times, the majority of companies offers discounts. It is good idea to do a survey and find out what they are offering this Diwali. Make a comparison of discount offers before making a purchase decision.
Also Read – 11 Tips to spend your annual Bonus
Take maximum advantage of online shopping sale
You should take maximum advantage of online shopping sale. You may get a good discount and can able to save a lot of money from the diwali bonus.
Use specific Credit card to get extra discount
You can use a specific Credit card or debit card in order to avail extra discount. The Certain online portal gives more than 10% cash back on usage of a specific card for online purchase.
Don't get carried away by EMI offers
You should not get carried away by lucrative EMI offered on products. These EMI offers are for the benefit of dealers. Interest on EMI will be high; it is good idea to be careful.
Jewellery Offers
In Diwali, you must be thinking to buy jewellery. You should check out a gold price and offers given by Jewellery shop before making any purchase.
Bulk Buying
You can adopt bulk buying technique, especially for the Diwali gifts. You will be able to get a good discount by doing bulk buying.
Plan in advance about Travel on Diwali Vacation
If you are planning to visit some place on Diwali vacation make sure you plan that in advance. Instead of going ahead with Travel Company you can think of organizing stuff on your own to save money from the diwali bonus.
Negotiate well
Negotiation is a skill which can bring a lot of savings. If you don't know how to do negotiation involve your partner in doing negotiation.
Avoid highly cost Branded Products
You should avoid highly cost branded products this Diwali. Be simple and adopt low-cost products to save money from the Diwali bonus.
Pay off Your Expensive loans
It is a good idea to pay off some of your expensive loan from Diwali bonus to reduce loan burden. This will defiantly give you an extra boost in saving more money in long-term.
Home Loan Repayment
Try to spend some amount from the diwali bonus for the home loan repayment. It is a good idea to do home loan repayment.
Increase your Insurance coverage
If your risk coverage is you can purchase good term plan by spending some money from the diwali bonus.
Invest for Tax Saving
Another idea is to invest Diwali bonus for tax saving purpose. You can explore Best ELSS for investing your money.
Over to You –
You should make a balance between your immediate gratification and long-term financial needs while spending Diwali bonus.
Make sure that your diwali bonus serves the overall purpose of managing your financial life prudently.
Hope festival of light diwali brings a lot of lights and love in your financial life.
Happy Diwali in Advance!