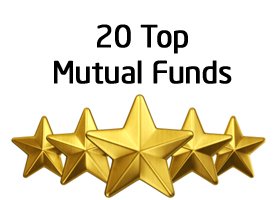 Mutual funds are one of the best investment options for wealth creation in India. But, the biggest pain is to find out best performing mutual funds that will help you in fulfilling your financial goals. There are thousand numbers of mutual funds schemes available in the market, which makes Investor confused about which mutual fund they should select for investment. So, if you are a confused investor and looking for the good mutual fund for the investments you are at right place. In this post, I will be sharing information about Top 20 Best Mutual Funds for 2016.
Methodology to Identify Best Mutual Funds –
I have followed methodology given below to identify best mutual funds.
Historical Return – I have short- listed these mutual funds based on historical performance. Last 5-year return is considered in order to decide best performing fund. This return is compared with peer funds in the same category.
Age of Fund House and Credibility – Another important selection factor is the age of fund house and credibility. I have considered mutual funds from oldest fund house with good credibility.
Risk Factor – Higher the risk, higher the return considering this philosophy in mind I have selected mutual fund High and Moderate Risk factor.
Fund Manager – I have considered Fund Manager Expertise and experience for the selection of these mutual funds.
I have checked investment portfolio of these funds.
Last but not least I have also checked rating of this fund by CRISIL and Value Research.
I have tried to identify mutual funds from all major categories like Large Cap, Small Cap Mid Cap, Balance, ELSS etc.
All information given here are taken from Value Research and Money Control.
Read – How to Invest in Direct Mutual Funds Plans?
20 Top Performing Mutual Fund SIPs in India for 2016
Top 4 Best Performing SIP Large Cap Funds
Equity mutual funds that invest more than 75% in CRISIL defined Large Cap stocks for six months or above is known as large cap funds. Average return given by this category in 1 year is 17.1%. Top 4 best performing fund under this category are SBI Blue Chip Fund, UTI Equity Fund, UTI Top 100 Fund and ICICI Prudential Focused Bluechip Equity Fund.
Top 4 Best Performing Large & Mid Cap Funds
Equity Mutual funds that invest their money in the large cap as well as mid-cap stock is known as large & mid cap fund. Average return given by this category in last 1 year is 15%.Top 4 Best performing fund in this category are Franklin India Flexi Cap, BNP Paribas Equity, Franklin India Prima Plus and ICICI Pru Value Discovery fund.
 Top 3 Best Mid and Small Cap Funds
Funds that invest their money in a mid cap and small cap stocks is known ad mid cap small cap fund. Average return given by this category in last 1 year is 29%. Top 3 Best performing mid & small cap funds are SBI Magnum Mid Cap, Franklin India Smaller Companies Fund and BNP Paribas Mid Cap fund.
Top 3 Best Balance Funds
Mutual Funds that invest 65-80% amount in equity and rest in debt are known as balance fund. These types of funds are suitable for new investors. The Average return provided by this fund category in last one year is 14%. Top 3 Best balance funds for investment are HDFC Balance Fund, SBI Magnum Balance Fund and Tata Balance Plan A.
Top 3 Best ELSS Funds
The main objective of this fund category is to provide income tax benefit to the investor under section 80c. The Average return provided by this fund category in last one year is 21%. Top ELSS funds are Axis Long-term Equity fund, Franklin India Tax Shield Fund and IDFC Tax Advantage fund.
Top 3 Debt Income Funds
These types of mutual funds invest their money in debt instruments like government bonds, fixed deposit, corporate deposit etc. These types of funds are for conservative investors. Top 3 debt income funds are ICICI Prudential Long-term fund, Franklin India Income Opportunity fund and Tata Dynamic Bond Fund Plan B.
Also Read – Best Balance Mutual Funds in India
Points to Consider before making Investment in Mutual Funds –
Before making any investment, you should be clear about time horizon expected return and investment objective. Build your mutual fund portfolio based on your financial goals.
I have given some of the top performing best mutual funds here. It is not necessary to invest in each category mutual funds to build your portfolio. Select only four to five mutual funds as per your investment goal.
Always select SIP route for investment rather than doing lump sum investment. Invest in mutual funds for the long term at least 5 years or above. If you are a conservative investor you can start building your portfolio by investing in debt or balance funds.
Please do not invest in any mutual funds based on tips. Carry out proper research before making an investment. Take advice from expert or Certified Financial planner.
Review and balance your mutual fund portfolio at regular interval. Consider STP (Systematic Transfer Plan) for switching from one mutual fund to other.
If your mutual fund portfolio is generating negative returns, do not panic. Don't redeem or Stop SIPs. Avoid taking any decision based on short-term market movements. Continue your SIPs for the longer period.
Invest in Growth based mutual funds over dividend based mutual funds. Stay away from New Fund offers (NFOs).
Please Remember "Mutual Funds Investments are subject to market risks. Please read the offer document carefully before investing".
You might have already invested in mutual funds. You may or may not find your funds in above Best performing mutual funds that does not mean that your selection is wrong. Remember that there are thousand number of mutual funds scheme and selection terminology selected by every individual is different.
Stay invested in your mutual funds and monitor performance of the funds closely.
Do share your queries and comments.
Subscribe to our blog and get latest updates in your inbox.