Best Performing Stocks – COVID-19 Outbreak and lockdown have created a crisis in the economy. The Indian Stock market is down nearly 20%. Coronavirus pandemic has shaved off the market cap and created a panic situation in the market. Uncertainty and panic situation in the stock market is likely to continue till the time Covid-19 is completely controlled. This could be done only by an effective drug or Covid-19 vaccine.
Despite of Covid-19 outbreak and uncertainties few stocks have surged to new heights and given very good returns. Here is a list of 10 Best performing stocks despite of Lockdown and Covid-19 crisis. So, if you are planning to covert crisis into the opportunity you can think of investing in the mention stocks.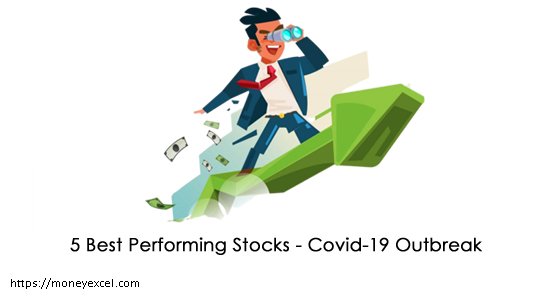 5 Best performing stocks despite Covid-19 Outbreak
Reliance Industries
Reliance Industries is the best performing stock despite the Coronavirus outbreak. During lockdown Reliance – Jio has done three major deals which include Jio Mart deal with Facebook for delivering grocery on the doorstep. Reliance Jio has become future-ready for new business. From Lockdown to today (8th June 2020) the stock of Reliance has grown by 83%. The stock was trading at Rs.875 and today the stock of Reliance has crossed the level of Rs.1600.
Alambic Pharma
Alambic Pharma is a leading pharmaceutical company in India. The stock of Alambic Pharma has grown to a new level due to robust profit and volume growth declared in the quarterly result. The company is also done a joint venture with Aleor Dermaceuticals. The stock has surged by nearly 70% from lockdown.
Also Read – Stock Market Crash – Should you exit Stock Market now?
Adani Gas
Adani Gas has also turn out to be the best-performing stock during Covid-19 Lockdown. Adani Gas has posted very good profit and revenue growth in the quarterly result. The stock of Adani Gas has given 66% CAGR return during lockdown.
Britannia 
Britannia is a leading company in the package food industry. The demand for packed food and essential food item is grown in the lockdown. Britannia has launched WhatsApp based store locator facility. The stock of Britannia has given 61% returns to the investor in during Covid-19 LockDown.  
Bata India
Bata India is next in the list of best-performing stocks during the Covid-19 lockdown. Bata India has shifted its focus to online sales due to lockdown. Bata India is raising e-commerce footprint. Bata India has launched a new product anti-bacterial school shoes. The demand has been rising for anti-bacterial school shoes. The stock gave very good returns of 31% during Covid-19 Outbreak and lockdown.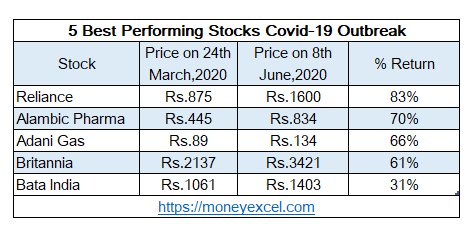 Best Performing Sectors during Covid-19 Lockdown.
Despite the Covid-19 lockdown and downturn in the stock market, few sectors are least affected. You should pick a stock from such sectors.  
The best performing sectors are agriculture, FMCG, Health, Pharma, Chemical, IT, food, auto, and e-commerce. You can also invest in fundamentally strong blue-chip stock with reasonable valuations.
In domestic consumption and food, you can take a bet on Nestle, Asian Paints, Pidilite Industries, Britannia etc. You can also purchase stock in the auto sector such as Bajaj Auto, TVS motors.
Other bluechip fail-safe stocks where you can invest money are Titan, Eicher, M&M, Bajaj Finance etc. 
Remember the stock market always follows a cyclical route. Up and down are part of the stock market. You should find out quality stocks and add them to your portfolio. The market is likely to see V-shape recovery after coronavirus infection comes under control. 
Happy Investing!