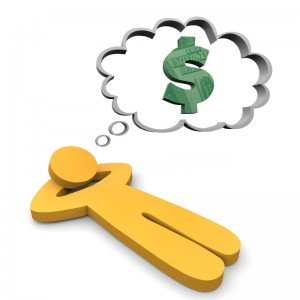 Passive Income. Everyone today desires for a passive income. Everyone wants to make money without doing anything. But, most of the people don't have a mindset of making passive income. Let's try to understand this by doing one simple exercise.
Think for two minutes and answer one simple question. In the future, how you visualize your cash inflow? In other words, what will be your main source of earning in the future?
I am 100% sure that maximum people have answered either job or business. Some smart people might have thought to earn money via both job and business. Good, I appreciate this approach. Whatever will be your approach, but one thing will be common – You need to work for earning money.
You work for money = Active Income.
Today, I will share a new approach – Earn money without doing work or Work only for once and get a regular income. Sounds interesting right! It is called as a Passive Income.
Your money works for you = Passive Income
Also Read – How to earn Passive Income?
What is Passive Income?
A passive income is an income which does not require active involvement. E.g Earning from rent, passive partnership, or other sources of income where the earner does not take an active part.
Passive jobs are spare time income sources that help you in bearing the extra expenses of your family. A decent passive income source might allow you to lead a lavish life.
So, if you are interested in earning passive income, please continue reading. In this post, I will share 25 different ways to automate your cash flow. All these passive income ideas are proven and tested. So, if you have extra time and desire to build extra income in free time here is Best Passive Income Ideas.
25 Best Passive Income Ideas
There are three different ways to generate passive income.
By Investing Time
By Investing Money
By renting out things
Here, I have included all ways to generate passive income.
Passive Income Ideas by Investing Time
Insurance Agent
Insurance agent is very good career opportunity. You can earn very good passive income via this profession. All you need to do is sell insurance policies to people. You will earn commission income year on year. You require good marketing skill to become insurance agent.
Multilevel Marketing
Multilevel marketing or network marketing is very good passive income idea.  This idea requires lot of time at initial stage. The income level in this business depends on your marketing and convincing skill. In this business, you need to create members under you for selling products and services of MLM Company. You need to be careful in selecting MLM Company. Amway is recommended MLM Company to start with.
Start Video Channel
Youtube Video channel is another passive income generation idea. In this idea, you need to make and upload unique videos on YouTube. You will be paid advertisement share on these videos. People are earning $1000 to $10000 by making video channel.
Affiliate Marketing
Affiliate marketing is next passive income generation idea. In this idea, you need to recommend a product to others. You can use email, WhatsApp or SMS marketing for this. If someone buys a product via you, you will be paid a commission. Mostly all online store including Flipkart, Amazon offers affiliate marketing membership. Your commission level depends on commission rate.
Write Blog and Earn from Adsense
The next passive income generation idea is to create a blog and sell a space for the advertisement. It is a very good way to generate continuous income. To generate income from blog you need to be very good at writing content. Once your blog is popular you can apply for Adsense Program by Google. There are many people who are earning $1000 to $5000 per month from a blog.
Write a Book
If you are knowledgeable and good at writing you can write book and earn lot of money. You have to write book based on your area of interest. Once your book is ready you need to contact various publisher for publishing book. Once your book is publish, you will get royalty as commission income on sale of every book.
Create an App or Game
The next passive income generation idea is from app or game. If you have a skill you can create an app or game and sell it online for generation of income. There are many people who are earning regularly by selling app and game.
Sell Photographs Online
If you have skill to click good photograph you can covert this skill to stream of passive income. You need to click photograph and sell it online for generation of income. There are many companies looking for unique photos for advertisement.
Make your Music Album
The next passive income generation idea is making your own music or song and selling it online. In this idea first you need to gain popularity. You can use social media for the same. Once you become popular you can launch your music video and generate royalty income.
Online Course or Tutorial
With the emergence of online tutorial platforms, making money through online courses has become a more accessible source of income and thus one of the best passive income idea.
Once you are done with creation of online course you can publish it online at blog or third-party online learning portal. This portal notify potential customer. If customer purchase your education course you will get money.
Also Read – 10 High Profitable Business Ideas
Sell your unused products online
Selling unused products online is next in the list of passive income generation idea. In this business, you need to sell your unused products online for money. This idea works only if you have lot of unused products.
Design Customized Products
Another passive income idea is designing gifting merchandises such as t-shirts, coffee mugs and photo frames. Creativity is important for this idea. After designing product you can sell it online or open offline store for customized products.
Online Market Place
 Opening online e-commerce store or online market place is another best passive income idea. In this business, you need to approach distribution and ask them to sell their product on your market place. Once your portal gets popular you can make money from every sell.
Passive Income Ideas by Investing Money
Peer 2 Peer Lending
Peer 2 Peer lending is becoming popular business option. You can use Peer 2 Peer Lending for generation of passive income. In this business, you can lend your extra money to someone else and enjoy the interest income. There are multiple P2P lending portals available online. This idea requires a lot of investment.
Stock Market Trading
Stock market is another very good way to generate extra income. In this business, you need to buy shares from the market at lower price and sell at higher price. It is also known as share market trading. There are many people who earns regular income from stock market trading.
Dividend Income
Dividend Income is another best passive income idea. In this idea, you need to invest your money in stock market or mutual fund. You need to select high dividend paying fundamentally strong stock for the investment. These stocks will generate regular dividend income for you.
Invest in Mutual Fund
Mutual Fund is one of the best investment option. In mutual fund you need not worry about selection of stocks. A mutual fund manager invest money after doing careful research. If you are looking for regular income from mutual fund, you should invest in MIP.
Create a Business System with Franchise Concept
Next best passive income idea is earning from the franchise of business. If you are good at doing business you can start your own business and offer franchise with fixed commission. It requires lot of time and money to establish business and start franchise business concept.
Invest in business as a silent partner
If you don't have time but if you have enough money for investment, you can invest in the business and earn income as a silent partner. You need to be careful in the selection of business.
Interest Income
The next best passive income generation idea is interest income. There are two ways to earn interest income, first is by putting money in the fixed deposit and second is by lending to your friends and relative to generate extra interest income.
Passive Income Ideas by renting out things
Rent Income from residential property
Once you have residential real estate property, you can sell it or put it on rent. A residential property leasing and renting is lucrative option of earning money. The investment required for this idea is very high. It is recommended option only for High Net worth investor.
Rent your vehicle
One of the best ideas for passive income generation is buying a car and giving it on the rent. You can give it on rent to private companies or to car renting companies. There are many local business who opt for vehicle on rent.
Renting other items via online platform
When it comes to renting apart from residential property, you can rent other items such as furniture, appliance, bike, TV etc on rent. There are website like rentmojo that allows you to rent items and earn monthly income.
Rent Income from commercial property
A demand of commercial property is very high. If you have money you can start commercial property rent business. It is one of the best passive income generation idea.
Advertisement Initiatives
One of the simplest passive income idea is advertisement initiatives. You might have seen advertisement hoardings on road or at roof of the property.  If you have empty space in front of your house or at roof you can rent this space for advertisement.
Conclusion – At the end, I would like to conclude the discussion by saying that everyone should work towards establishing a passive income for the future. All passive income ideas mentioned above are best from the lot. However, it will take a substantial amount of time and money at the initial stage.
You need to pick passive income Idea, make a plan and dedicate yourself till you become financially free.
If you need any help or guidance for building passive income, feel free to share it via comment section.