Online Business Ideas – All types of businesses are affected badly due to Covid-19 but this pandemic has given a positive impact on online business where terrific growth is seen.
As per data, the growth taking place in 5 years of online business has been seen in last year -2021 (This is as per American Ecommerce data). 
The main reason for this is Digitization and massive growth in the internet users in India and all over the world. According to statistics, 60% of the earth's population is present on the Internet, which is going to be even more in the coming years!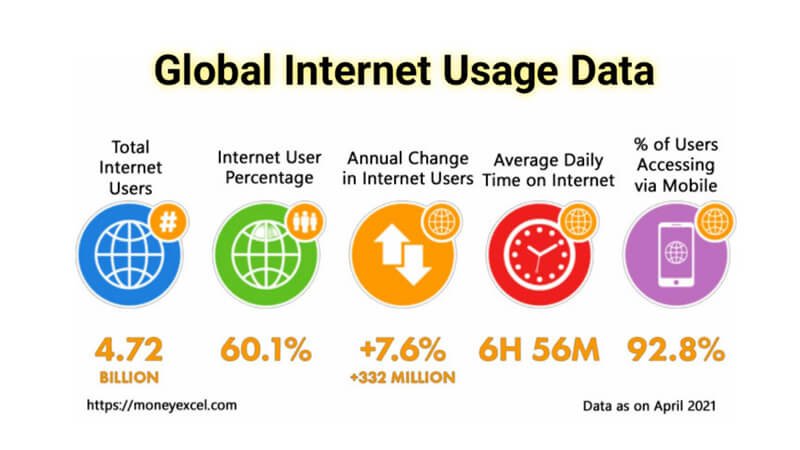 Most of the work has gone online in today's date, which includes
Shopping
Teaching
Banking
Investment
Marketing
Services
Social Networking & etc.
The only thing that comes out from all this is that more than 80% of things are going to be online and if you are not able to take your business or work online by joining this online boom, then you will lose a huge opportunity.
Check out the video given below that will help you to set up your online business.
You can grab this opportunity by starting your own online business. In order to help you here are Best Online Business Ideas, by starting which you can earn a lot of money.
What is an online business & how does it works?
Business Model of Online Business
Before we know which are the best online business ideas, we should understand how online business works?
There are three parts to any online business.
#1 Product or Service
The most important part of any business is the product or service, for example
Google offers Search Engine & YouTube Videos.
Amazon provides delivery services at the doorstep at reasonable rates.
Moneyexcel provides quality content online
#2 Customer Connect
Now it comes to how you deliver your product and service to the customer i.e. Marketing.
The main way to reach the user in online business is –
Website
Social Media
E-mail Marketing
Advertisement
Apps
#3 Revenue Model
Revenue Model means how you will make money from your product and services online. Following are some popular revenue models.
Revenue from subscription access to content
Affiliate Revenue by selling other product online
Revenue from Sponsorship of site sections or content types
Online e-commerce sales transactions
Digital Service Subscriptions
Advertisements from various other companies
For example, Google offers multiple products and services free of cost. However, more than 80% of Google revenue comes from advertisements.
5 Best Online Business Ideas to make money in 2023
#1 Make Money by Blogging
Starting a blog is one of the best online business ideas. You can build regular income sources via blogging. Blogging means sharing your knowledge online by creating content about a specific topic (niche). Once your blog traffic grows you can make money via various options such as advertising, affiliate marketing, product promotion, and other avenues.
How to Start Blogging?
Step 1 – Select a Topic on which you will be blogging.
Step 2 – Purchase a Domain Name and Hosting Space.
Step 3 – Install Content Management System (Word press) & install a theme.
Step 4 – Start Creating content and publishing it online.
Step 5 – Go for Product promotion or Opt for the Advertisement revenue model.
#2 YouTube Channel
Starting your own YouTube channel and making money from advertisement and paid content is another best online business idea. You have to be creative or knowledgeable on the topic on which you are making videos. Follow the steps given below to start a YouTube channel for making money.
How to Start YouTube Channel?
Step 1 – Decide channel topic based on your talent, interest, or passion. Try to select a unique topic where competition is less. Alternatively, you can go for a general topic such as finance, travel, beauty tips, etc.
Step 2 – Create a YouTube channel.
Step 3 – Decide on camera using which you will be recording your video. You can make use of a mobile camera also.
Step 4 – You will need good audio and video editor. You can make use of Audacity (free audio editor) and Camtasia or Filmora.
Step 5 – Grow your subscriber base and apply for the YouTube Channel Partner program for generating income from advertisements.
#3 Creating Booking System
One of the best online business ideas is creating a multi-vendor booking system to make money with low investment. This can be an online booking system for appointments of classes, salons, fitness, spa, law, and more. Multi-vendor booking system, Booknetic SaaS, will help you to launch the business and earn money by automating their scheduling.
How to Create a Booking System?
Step 1 – After installing Booknetic SaaS, choose plans with desired permissions.
Step 2 – Create a price table for your platform.
Step 3 – As a next step, the Tenant (customer) logs into the system and creates the desired service from the booking panel. And Booknetic SaaS gives a link to your customers so that they can book your staff at your service from that link.
#4 Freelancing
Freelancing is a very good online business idea in 2023, from which you can earn money by working according to your skill.
There are many such jobs in which people are hired for only one particular online job rather than on a permanent job and they are given money in return for work like –
Content Creation
Graphic Designing
Voice Over
Video Creation & Editing
Language Translation
Virtual Assistance
SEO Services
How to Start Freelancing?
Step 1 – Find out your talent and interest. You have to decide in which field you can do well.
Step 2 – Sign up for freelancing websites such as Fiverr, Upwork or Freelancer.
Step 3 – Start promoting your profile with a testimonial.
You will get work based on your experience and ratings.
#5 Internet Marketing (Digital Marketing)
Internet Marketing or Digital marketing is one of the most popular and best online business ideas for making money online in 2023.
In Internet marketing (digital marketing), you market the products and services of many different companies or brands. In digital marketing, you can earn money from affiliate marketing (commission), product promotion, online advertisement etc.
How to make money via Digital Marketing?
Step 1 – Learn digital marketing using online free video or you can join a small course for digital marketing.
Step 2 – Create an online presence (Blog, YouTube other social media).
Step 3 – Connect with a brand and promote their product with your online presence. Once someone purchases a product or service from you, you will get commission income.
BONUS Idea 
#6 Become Online Seller
You can become an online seller by registering yourself on e-commerce websites like – Flipkart, Amazon, Ebey, etc. On these websites, you can earn money by selling your or someone else's product by listing it as an Online Seller.
You can list your products or you can source products from others and sell them at these online stores at a good price.
How to become an online seller?
Step 1 – Decide the product which you will be selling online.
Step 2 – Register on e-commerce websites. You can create your own online store also.
Step 3 – Sell your product online and earn money. 
Final Words
I hope you like these online business ideas for making money online.
So, what are you waiting for start your own online business right now?
If you have any doubt about starting an online business you can post it in the comment section. If you have any other best online business ideas that you want others to know, post them in the comment section.