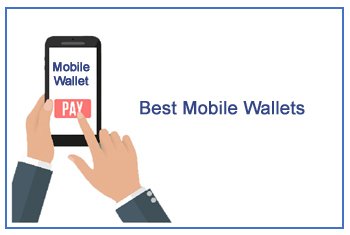 Mobile wallets are growing popularity in India. A mobile wallet is a mobile application where one can store money virtually for making online and offline payments. Mobile wallets are classified in multiple types such as open, semi-open, semi-closed and closed. This classification is based on the type of usage permitted by the wallet. You should always prefer an open system wallet. An open wallet can be used for buying goods and services, withdrawal of cash or transfer of payments.
Here is a list of 7 most popular Mobile Wallets in India and their key features.
Also Read – 5 Best Mobile Banking App in India 2019
7 Best Mobile Wallets in India
Paytm is the best mobile wallet in India. It is my favorite mobile wallet. Paytm mobile wallet is a semi-closed wallet. Initially, this wallet was launched with basic wallet services at a later stage it was converted to an e-commerce store where shopping can be done for clothes, electronics, furniture, home-appliance etc. Key features and benefits offered by Paytm wallet are given below.
You can link your bank account to create BHIM UPI ID & UPI PIN. You can use your bank account or create saving account with Paytm Payment bank.
A security feature of locking app via screen lock/passcode/pattern/voice lock etc.
The Paytm charges 1% on payment via credit card, 0.9% for debit cards and Rs.12-15 via net banking.
One can generate QR code for the acceptance of payment.
Monthly transaction up to 1 Lakh is allowed via this mobile wallet.
You can use this wallet for money transfer from wallet to wallet and bank account to bank account.
Utility bill payment and mobile recharge bill payment are additional features of this app.
You can also do online shopping at e-commerce store available at Paytm.
Buying gold to paying toll, Loan payment, investment and forex everything is available in Paytm.
G Pay or Google Pay is the best mobile wallet in India. Google Pay was earlier known as Google Tez. This wallet allows you to use any bank for making a transaction. Google Pay make transaction fast and super easy. You can quickly pay and receive payments using a mobile number, email id or by QR code using this app. All transactions carried out via Google Pay is secure. You need not go for KYC for using Google pay. Features offered by Google Pay are given below.
Send and receive money from your bank account. G Pay works with all banks and supports BHIM UPI.
Protected wallet via phone PIN or pattern. Each transaction via G Pay is secured using UPI PIN.
Pay to anyone with or without G Pay.
Book IRCTC tickets with a click of a button. It supports Tatkal bookings and instant refunds.
You can pay bill and recharge your mobile, DTH using this wallet.
G Pay allows you to buy and sell gold online with a click of a button.
Google Pay also offers referral program where you can earn money for referring to your friend.
ICICI Pocket
ICICI Pocket is VISA powered wallet that can be used for recharge of mobile, send money, shopping etc. ICICI Pocket allows you to pay anyone on mobile number, Whatsapp contact, Google+ or Facebook ID. It is a secured app that requires a login username and password for login. You need to fund this wallet before using it. You can use a debit card, bank account or NEFT for doing a transaction. Benefits offered by ICICI Pocket are given below.
Dashboard for all relationship and favorite people in one place.
Transfer money to your contact easily using UPI.
Bill payment, utility bill payment and recharge of DTH and mobile.
Exclusive deals and cashback benefits from various brands.
Split bill with friends.
You can send gift to your loved ones.
PhonePe
PhonePe is a semi-closed mobile wallet. PhonePe allows you to transact up to 1 Lakh 24×7. PhonePe works on UPI. You just need to link your bank account for transactions. This app provides a seamless payment experience. In addition to UPI, you can use options like a debit card and credit card to make payment. It is a multilingual app. Features offered by the PhonePe app are given below.
Send and receive money to anyone anytime.
Pay Utility bills such as electricity bill, gas bill, water bill etc.
Check your bank balance and manage multiple bank accounts.
Split fund facility to divide payment among friends.
Get Instant refund or cashback from merchants.
You can't transfer cashback rewards to bank account.
HDFC PayZapp
HDFC PayZapp is a mobile wallet by HDFC Bank. It is a complete payment solution in a single app. HDFC PayZapp allows you to perform all money-related transactions on the move. You can link your debit card, credit card, bank account to HDFC PayZapp for performing transactions. Features and benefits of HDFC PayZapp are given below.
Security of App using PayZapp PIN.
Send and receive payment to mobile number via HDFC PayZapp.
5% cashback on recharge, bill payment, movies and grocery purchase.
No need to load money to wallet.
Secure transactions using proprietary technology.
MobiKwik
MobiKwik is next in the list of Best mobile wallets. It is an impendent mobile app. Initially, this app was launched as a mobile recharge app. However, at a later stage, multiple features such as bank account transfer, shopping, investment are added. Features supported by MobiKwik are given below.
Mobile recharge, bill payment, recharge facility.
Transfer money from credit card to bank account, bank to bank and wallet to wallet.
Small and instant personal loan facility.
Insurance and mutual fund investment facility.
Investment in digital gold.
Expense manager for tracking expenses.
Reward points and redeem facility.
BHIM Axis Pay
BHIM Axis Pay is one of the best mobile wallets. BHIM Axis pay allows you to do an instant money transfer, mobile recharge, utility bill payment etc. This app can be used by the axis bank customer as well as non-axis bank customers. Features and benefits of BHIM Axis Pay are given below.
Transfer money from your mobile app to any bank account using UPI ID without knowing bank account details.
Online recharge and utility bill payments.
Multiple account can be added in this app. You can check balance of linked account.
No transaction fee for sending and receiving money.
QR code generation and payment.
Over to you –
Which mobile wallet is used by you and why? Do share your experience in the comment section given below.