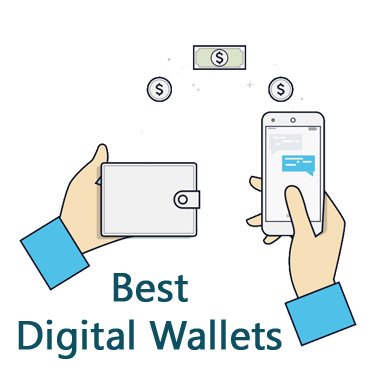 Do you know which are Top 15 Best Digital Wallets in India? If not, here is something interesting for you. Here is a list of Top 15 Best Digital Wallets in India. Gone are days where cash was required to perform any transaction. Now it is an era of digital money where everything happens online with a click of a button. A need of physical wallet is nearly removed, people are well acquainted with digital wallets. They use smartphones, smart watches or tablet for making payment.
A digital wallet is a wallet where you can store money digitally. You can do online or offline transactions using a digital wallet. A digital wallet is also known as mobile wallet or e-wallet. Millions of people in India are doing a daily transaction using digital wallets. The primary reason for using digital wallet is the ease of performing transaction and discount offers and benefits provided by wallet service providers.
Also Read – 10 Best Cashless Payment methods
How to use Digital Wallets?
It is very easy to use Digital Wallet. Follow the steps given below to use e-wallet.
Download the digital wallet app from the app store on the mobile device.
Register using your email id & password. Some wallet also offers registration using a mobile number.
Once you are logging to your account you can select various payment options such as credit/debit card, net banking transfer, ATM transfer, etc.
After adding money, you can perform a transaction such as online shopping, mobile recharge, DTH recharge, send/receive money etc.
Most of the online website offers integration with e-wallet. Most of the e-wallet offers discount or cashback for making payment online.
Type of digital wallets in India
As per RBI guidelines, three types of digital wallets are available in India.
Closed Wallet – Closed wallet does not support withdrawal of cash or redemption. This types of wallets are used for specific goods, product, and services of specific companies. Few examples are MakeMyTrip, Jabong wallet etc.
Open Wallet – The wallet that allows users to withdraw as well as redeem cash are known as open wallets. Vodafone Powered M-Pesa, SBI buddy and HDFC chillar are examples of open wallet.
Semi-Closed Wallet – Semi Closed Wallet are like closed wallet only. You cannot withdraw or redeem cash from these wallets. However, these wallets allowed purchase of goods and services at multiple companies. Few famous wallets in this category are Paytm, PayUMoney, MobiKwik, Oxigen etc.
Advantages of using Digital Wallet
Instant cashless payment, no need to swipe a credit card or debit card.
No need to access your bank account for making e-payment.
As e-wallet is prepaid account no chance of declining payment.
Get extra cashbacks for every amount spent using wallet.
Get reward and discount offers on every purchase using wallet.
The money will be refunded in case of failure in the transaction.
Wallet to wallet money transfer benefit
Drawbacks of using Digital Wallet
You cannot redeem your money back from the wallet you need to make purchase to use this money.
If you lose your mobile your wallet is lost.
You can use wallet till your mobile battery lasts.
It may be possible that you will end up spending more money using wallet.
Also Read – Best e-wallet for maximum discount and cashback
Top 15 Best Digital Wallets in India
#1 PayTm
PayTm is one of the most popular and best digital wallets in India. It is very easy to download and use PayTm wallet. It is semi closed wallet. Best part of PayTm is it offers multiple cashback and discount. Paytm is user friendly application. You can do e-commerce transactions using Paytm for mobile recharge, bill payment, transferring money and much more.
#2 Mobikwik
Mobikwik is one of the oldest mobile wallet in India. It is a semi closed wallet which allows user to load money using debit card, credit cards and mobile banking. This wallet is famous for doing utility payment and mobile recharge. You can also use this wallet for transferring money from one wallet to other.
#3 PhonePe
PhonePe is mobile wallet app by Flipkart. PhonePe is semi closed wallet which support multiple merchant payment. It is UPI based app. It also allows you to make payment using QR code. It offers multiple mode of payment including debit card, credit card and wallet.
#4 Airtel Money
Airtel Money is next in the list of best digital wallet. Airtel money provide best online experience. You can earn cashback & discount on movies, bus, flight ticket and hotel bookings. Airtel money allows you to send money to bank, friends or relatives.
#5 Jio Money
Jio Money is latest edition in mobile wallets. Jio Money is semi closed app. Jio Money allows transaction to some fixed set of merchants. You can get multiple cashback benefit on using this wallet.
#6 Payzapp
Payzapp is mobile wallet by HDFC Bank. It is complete wallet. It allows you to do online shopping, recharge, buy movie tickets, grocery purchase and many more things. You need to link your debit card or credit card for using Payzapp.
#7 Amazon Pay
Amazon Pay is semi closed wallet. Amazon Pay is primarily designed for Amazon online purchase. However, now amazon pay allows transaction to selected merchants. Amazon pay offers multiple benefits such as cashback and discount. It is best wallet for Amazon Online Shopping lovers.
#8 Freecharge
Freecharge is one of the best mobile wallet in India. Freecharge allows you to make prepaid, post-paid, DTH, bill payment and many more things in one click. You can also donate money using frecharge. You can use credit card, debit card or net banking for loading money on this wallet.
#9 Oxigen
Oxigen is one of the most preferred wallet for online shopping. Oxigen is one of the most secured mobile wallet. Oxigen allows transfer of money from wallet to bank account. Oxigen has tie up with all popular online merchants like ebay, shopclues, jabong etc.
#10 SBI Buddy
SBI Buddy is open digital wallet. You can add money to SBI buddy by debit card, net banking or IMPS. You can send money, ask money, recharge mobile, pay bill, book movie ticket and perform many other things. If you are SBI customer you should use this wallet.
#11 PayU Money
PayU Money offers mobile wallet services in India. This mobile wallet offers rewards point on every transaction. The best thing about this wallet, it gives PayUMoney Buyer Protection.
#12 Vodafone M-Pesa
Vodafone M-Pesa is next in the list of best digital wallet. It is open wallet. This wallet permits redemption or cash withdrawal by its users. It is easy to use and user friendly mobile wallet.
#13 ICICI Pockets
ICICI Pocket is mobile wallet by ICICI bank. Using Pockets, one can send/receive money, make online recharge, book tickets, shop and pay online, and share gifts with friends. It offers fast, convenient and secure mobile transaction.
#14 LIME
LIME is mobile wallet by Axis Bank. LIME is wallet that provides banking and online shopping facility on the move. You can pay your shopping bills, mobile recharge, buy movie tickets and many more things using LIME.
#15 Chiller
Chillar is one of the best mobile wallet. Chiller is launched by HDFC Bank. Chiller has tie up with multiple banks. You can manage your all account at one place using this wallet. You can do mobile recharge, send/receive money, book flight, hotels at discounted rate using Chiller.
Over to You –
Do you use Digital Wallets?  Do you find it useful?
Do share your experience with us.
Hope you find this post useful. If you have any query doubt related to e wallet feel free to share in comment section.