Best Digital Marketing Career Options – Building a career in Digital marketing is like dream come true. With Covid19 more and more businesses every day they are going online.
Maybe they have an offline business and Covid19 forces them to pivot online or they're thinking about – 
How do I virtualize and digitize? 

What do we do?

How do I sell it to a bigger audience?

How do I not just serve a local market but a global market?
Now, what does that mean to you that means there's more money flowing toward online marketing, and all these businesses all these companies what do they need a digital marketer, they need someone with experience they help them with different aspects of digital marketing maybe is to manage their social media profiles maybe it's for building funnels maybe it's for copywriting maybe it's for driving paid traffic.
There are so many ways that you could help these businesses in digital marketing.
So, if there's one career path that's worth doing yet, in 2023, and still worth doing in the future, it's digital marketing.
One of the main reasons for that is how big the market has become in the last 10 years and is continually growing.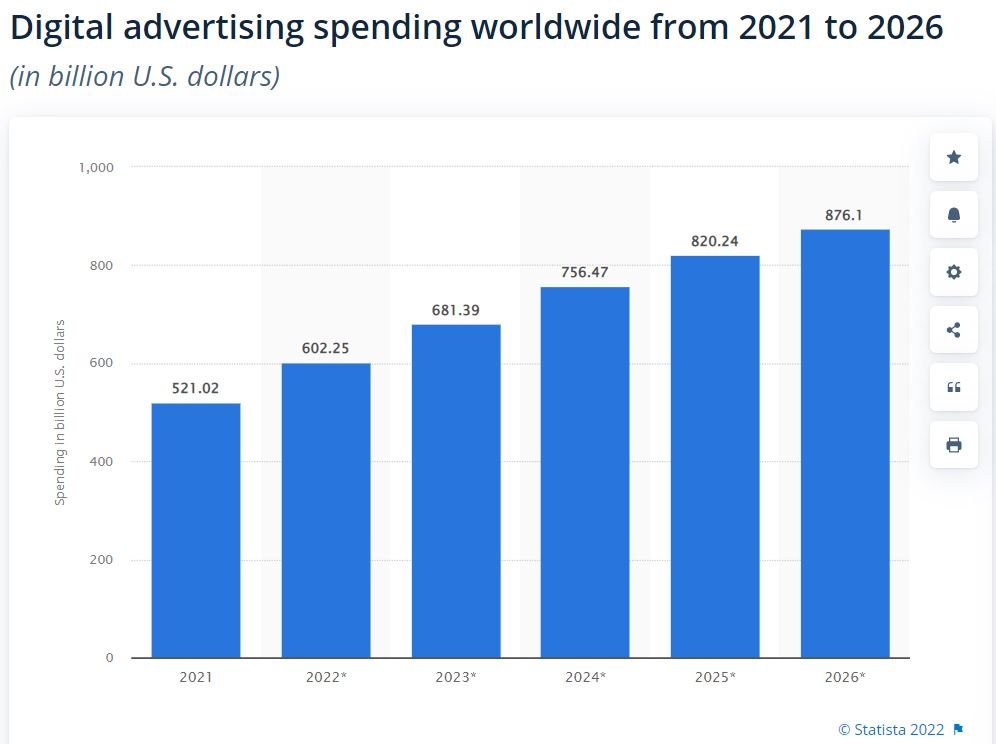 The global digital marketing market reached a value of nearly USD 305 billion in 2020, and 521 billion USD in 2021. The market is projected to grow at a CAGR of 17.6% between 2021 and 2026.
The digital marketing market is expected to reach a value of around USD 807 billion by 2026 – EMR Research Report.
That's huge!
There are a lot of opportunities right now and you can expect more and more opportunities that will come in the upcoming future.
So let's take a look at careers that are on the rise today and are expected to grow even more aggressively soon.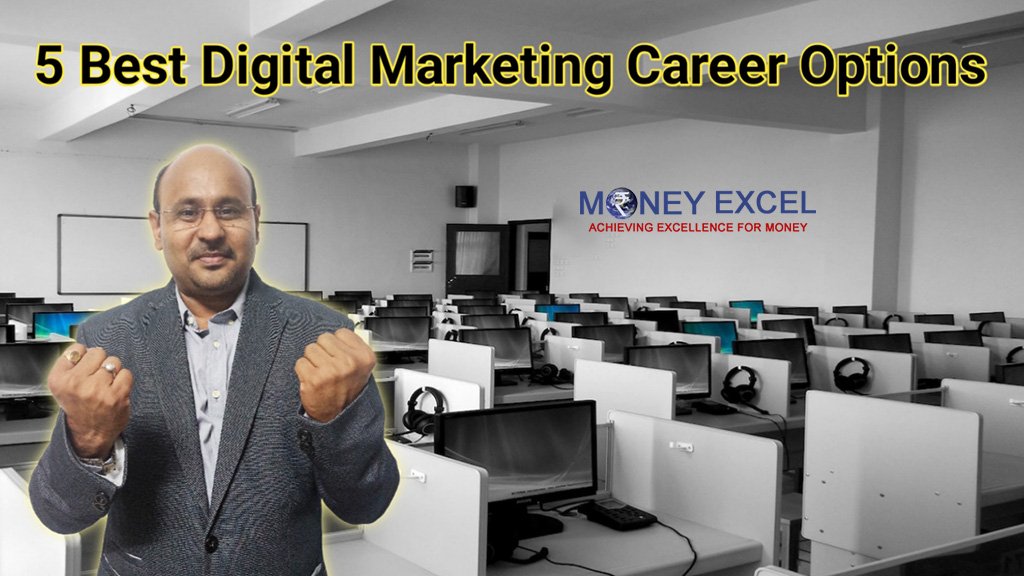 5 Best Digital Marketing Career Options in 2023 and Beyond
#1 Artificial Intelligence Specialists
Recent research with The Economist Group showed that recruiting for data and analytics talent is one of the most difficult out there for all marketing disciplines, according to 39% of senior marketers.
So becoming an expert in this area will provide you with a great career opportunity in the future.
The average salary for AI Specialist in the US is $162000, while the top 10 % can make $100000, more than that.
An AI specialist is someone who is familiar with the major AI technologies and platforms and knows how to implement them. They can build services such as chatbots, do image recognition and/or natural language processing.
#2 UX Designer
Ping Pong research site says the average annual salary for a UX Designer in the U.S. is $97000 but here's the kicker, those starting with zero to three years of experience typically earn $76000.
UX design focuses on the interaction between real human users (like you and me) and everyday products and services, such as websites, apps, and even coffee machines.
It's an extremely varied discipline, combining aspects of psychology, business, market research, design, and technology.
#3 Digital Marketing Managers and Directors
If you are full of creativity and have tons of experience you can become a digital marketing manager or director.
CMOs and VPs can expect to earn over $100000, a year, as can creative directors.
Digital marketing managers and directors can expect to earn similar sizes as other marketing managers with an average of roughly $109000, according to salary.com, and it soars up to $148000, for the most experience.
A Digital Marketing Manager is a professional who is responsible for maintaining a brand's online presence and sales by working on various marketing campaigns. This includes organic and paid options. It also covers social media FB ads, Insta Ads, Google Ads, YouTube Ad campaigns, and a lot more.
#4 Marketing Analytics
Look, data is becoming incredibly important, but it's only as good as your ability to interpret it and make sense of it.
If you have all this data and you don't know what to do with it,it doesn't really matter. It's kind of useless.
Marketing analytics is a valuable skill set. And what you need to do is get really good at analyzing the data and tell people, hey, here's what you need to do with the data to hit these goals in the business or within the market.
You need to use tools like Google Data Studio or Google Analytics and even Google Search console and a lot more to do analytics.
Marketing analytics gets $92480 per year as per salary.com data.
#5 Sales Funnel Builder / Specialist 
Sales mean business. So if you help a company increase sales or establish converting sales funnel that brings business you will be in demand.
So, sales funnel builder or specialist is the next booming digital marketing career option. Sales funnel is a marketing term where you journey potential customers towards purchase. A sales funnel specialist is also known as a lead generation specialist. The sales funnel builders/specialists will be in demand continuously in the future.
Over to You
I hope now you are also ready & excited to start your career in digital marketing. If you are looking for help to start your career in digital marketing here is a link to join my free 4 Hours Live webinar – 
https://tinyurl.com/digital-marketing-webinar 
In this webinar, you will learn Digital marketing, SEO, Social media, and online business.
For more information get in touch with me at sk@moneyexcel.com.