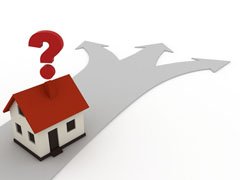 When big boom was going on in real estate market my friend has purchased property for the price that was 30% less than prevailing market rate. His prime purpose of buying this property was to make investment in real estate market to get good return. Only mistake he made while purchasing property is he has overlooked slum area present beside this property, as no buyer was available, he could got this property 30% lower than market rate. After 5 year still this property has not appreciated much.
Remember when you are buying property for investment you are doing most expensive decision of your life. So before buying property for investment you need to consider various factors that affect price appreciation of your property.
Location of property:-
Location of property is most important aspect in deciding future price appreciation of property. You should avoid mistake like my friend has done. Property near workplace hub or property surrounded by schools, colleges, market areas, or hospitals in its immediate vicinity appreciates much faster than others. Most of people prefer to stay at location where they can get all these facilities nearby.
Apart from above placement of property also matters. Property facing park, swimming pool or property placed at corner with more open side may fetch more value than others.
Simple example is property at Marine Drive, Mumbai "Queen's Necklace". As queen's necklace is beautiful place to live hence price appreciation seen at much higher rate than other place.
Infrastructure nearby property:-
Any infrastructure project like fly over, bridge that is schedule to come up in the area increases value of property, as this will become unique selling proposition for property owners.
In some cases it is found that property price went up by 50% just be announcement of new infrastructure project.
Simple example is property price appreciation at Surat in Pal area due to announcement of "Cable Stayed Bridge" project.
Connectivity:-
One should avoid location which are far away or place where public transport is problem. Place close to railway station, air port of other good transport system is preferable. Price appreciation will be higher and faster at these places.
Simple example is "Noida Extension" project for Metro Connectivity to Noida Extension is announced this place will see price appreciation once this connectivity is established.
Locality:-
Some area commands premium in price just due to locality of people. Locality where upper middle class people or upper class people are living may appreciate in value faster compare to other. These areas are called as posh area.
Like "Nariman Point" is one of the posh areas of Mumbai and the business hub of Mumbai. You will see price of property will be appreciating faster here.
Extra Amenities & Quality of the Building: –
Many people prefer extra amenities in the project like garden, swimming pool, gym, security system, intercom, recreational areas, parking place & auditorium these extra facilities may fetch higher return.
Many people while buying property in resale look for quality of building structure. Occasional painting, renovation or revamp in building can help you to bring better price.
Size of property also matters you should not purchase too small or too big house. Generally 2 BHK flats are more in demand compare to other.  Apart from this many people consider factor such as Vastu while purchasing home so if possible one should look from that prospective while making investment.
Places to avoid while doing property Investment: – 
If your prime purpose of buying property is for investment you must avoid following:-
Property nearby Slum Area: – This is very common sense that one should not make investment nearby slum area. Still many people make mistake like my friend has done and later stage they don't have any option. Either they have to wait till property price appreciates or make losses.
This area may have high crime rate where people do not like to live. Apart from this this places may be unhygienic due to garbage dump or sewage area. You should avoid place like this for investment.
Property near by Religious places:- Buying property nearby temple or mosque is not advisable. The reason is that regular prayers during odd hours on loud speaker may disturb people. If it is popular religious place than it may cause problem related to parking or traffic.
Apart from this you should avoid area where price are already raised extensively. It may be possible that price has reached to peak when you purchase and you have to wait for longer period to witness price appreciation.
In short you must take extreme care before buying property for investment.
Do share your comments about my thought on said topic.
You may also like :-