Ayushman Bharat Yojana is new initiative under National Health Protection Mission. It is an affordable health insurance scheme for the Indian citizen. It is a step towards providing social security to the poor people of India. The scheme announcement was made by PM Narendra Modi on Independence Day speech. The second name to this scheme is Modicare.
It is generally seen that poor people suffers a lot due to unavailability of social security especially when it comes to healthcare. To solve this problem, new scheme called as "Ayushman Bharat Yojana" is launched. The prime objective of this Yojana is to provide quality healthcare insurance coverage to poor people in India. Key feature and details about Ayushman Bharat Yojana are given below.
Ayushman Bharat Yojana  
Insurance Coverage – Maximum 5 Lakh sum assured per family per year
Type of Insurance –  Family floater type insurance policy
Premium – Premium amount will be reasonable and will be fixed by the state health agencies
Also Read – Buying a Health Insurance – 15 Key Factors to Consider
Key Benefits of Ayushman Bharat Yojana
Hospitalization expense benefits
Cashless benefits from any public and private empaneled hospitals
A defined transport allowance pre-hospitalization will be paid to the beneficiary
Daycare treatment benefits (as applicable)
Follow-up care benefits
Pre and post hospitalization expense benefits
Newborn child/ children benefit
Pre-existing diseases conditions will be covered with a certain exclusion
Eligibility Criteria of Ayushman Bharat Yojana (Modicare)
This scheme will be offered to poor people as per data collected under social economical caste census conducted by the government in 2011.
Aadhaar card is not mandatory to avail benefit under this scheme but valid ID is required to get treatment at the hospital.
There is no limitation about family member under this scheme.
Target Audience – Poor and economically backward class people which includes –
Family with no adult member between 16 to 59 years.
Family only headed by female member
SC/ST household
Casual Labor
Primitive tribal groups
Domestic worker/ Street vendor/ Cobbler/Hawker/ Other service provider working on streets
Construction worker/ Plumber/ Mason/ Labour/ Painter/ Welder/ Security guard
Transport worker/ Driver/ Conductor/ Helper
Shop worker/ Assistant/ Peon in small establishment/ Helper/Delivery assistant /
Attendant/ Waiter
Above professions are tentative and subject to change.
How to check eligibility for Ayushman Bharat | PM – Jan Arogya Yojana?
The facility of checking eligibility for Ayshman Bharat Yojana is launched. Follow the process given below to check if you are eligible for Ayushman Bharat Jan Arogya Yojana or not.
The first step is visiting – https://mera.pmjay.gov.in/search/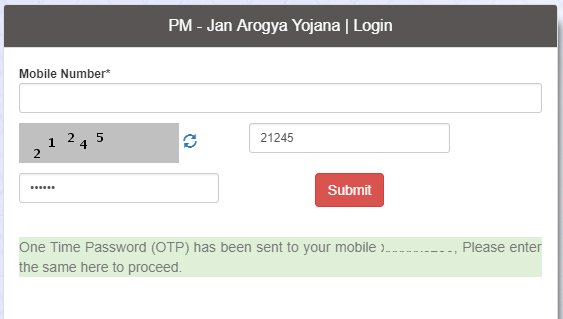 It is AM I Eligible Portal. On the landing page you need to enter an active mobile number (to receive an OTP) and enter the Captcha letters displaying on the screen. Next is clicking on generate OTP button. Once you press that you will receive an OTP as a text message on the mobile number entered. Once you enter this OTP for verification you will be directed to a page where you need enter search details.
Now you can check your eligibility for Pradhan Mantri Jan Arogya Yojna by entering state, name, age, district, village etc.
Medical Treatment Location under Ayushman Bharat Scheme (Modicare) 
It is claimed that like normal insurance scheme, a patient can get treatment in most the private hospital as well as government hospitals. However, it is mandatory for that hospital to be part of Ayshman Bharat network. The treatment given under this scheme will be 100% cashless.
In every hospital one 'Ayushman Mitra' will be appointed. A task of Ayushman Mitra will be to guide patient and family about the process. This is to ensure that patient and family get relevant help.  Apart from that Ayshman Mitra will also check document to verify eligibility and enrolment to the scheme.
Insurance companies like LIC of India, National Insurance, Oriental Insurance, New India Assurance, United Indian Assurance shall be involved in providing insurance under this scheme.
The details given above are from public domain and subject to revision. Updates and Amendment will be added