Atmanirbhar Bharat – On the occasion of 74th independence day 15h Aug 2020, CNBC Awaaz has released Best Buy stock for Atmanirbhar Bharat and Vocal for Local theme.
It is known fact that when it comes to country no difficulty can come on the way. The feeling of taking the country to high altitudes should be in everyone's mind and heart. If country will grow with the self-sufficiency formula, then obviously the stock market will also move. So you should invest in the stock market and select best buy stocks based on Vocal for Local theme. Here is detail about Best Atmanirbhar Bharat stocks for Independence day 2020.
All these stocks are worth buying and surely give you best returns. You can surely become Atmanirbhar by investing in these stocks. In short, these best buy stocks will fill color of Independence in your stock portfolio. So, let's take a look at best buy stocks with good fundamentals.
Atmanirbhar Bharat – Best Buy Stocks by CNBC Awaaz
RVNL
RVNL is railway vikas nigam limited. RVNL works on the development of railways. RVNL works towards Atmanirbhar Bharat. The revenue of RVNL is growing year on year. In last five years the revenue of this company has doubled. The profit of RVNL has also grown significantly in last five years. The valuation of this stock is reasonable. The lot of work is being done and about to happen in India for the development of railways. It is must buy stocks for the long term.
Bharat Dynamics
Bharat Dynamics is leading manufacture of ammunitions and missile systems in India. Bharat Dynamics make high-tech engineering products. More focus is given to defense sector and Bharat Dynamics is beneficiary for the same. The order book value of Bharat Dynamics is growing and will grow further. This stock has given 57% returns to the investors.
Aarti Industries
Aarti Industries is chemical sector company engaged in production of various chemicals like benzene, pharmaceuticals, surfactants etc. Additionally, company also deals in auto, textile & aerospace. Aarti Industries will get benefits of various import restriction. Going ahead the business of Aarti Industries will grow in export segment.
Ashok Leyland
Ashok Leyland is largest automobile company in India dealing in commercial vehicles. In addition to automobile Ashok Leyland also deals in the defense sector. Due to Atmanirbhar Bharat this sector is opening up at large scale. The valuation of stock is very attractive. One can invest in Ashok Leyland stock.
Zen Technologies
Zen Technologies is small arms manufacturing company. Zen Technologies also build training solutions which is used by Indian police services. The company is in one type of monopoly business. Zen Technologies also provide services to para military force. The revenue and profit of Zen Technologies is growing at multifold. The company is also planning to start medical equipment business. Overall it is very good stock for the investment.
Dynamatics Technologies
Dynamatics Technologies is precision engineering company. Dynamatics technologies designs and builds engineering products for Automotive, Aeronautic, Hydraulic and Security applications with futuristic design, engineering and manufacturing facilities. Dynamatics technologies has very good global customer base. The valuation of this stock is very attractive.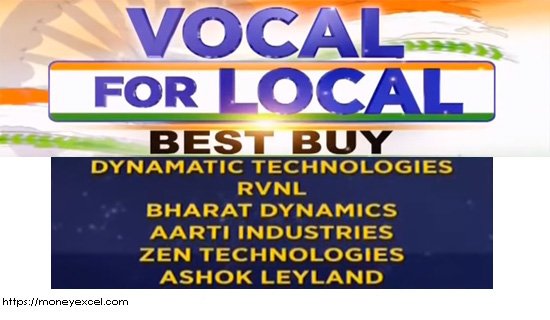 You can watch Youtube Video from here – Vocal for Local Best Buy
Over to you
Do you believe in vocal for local and Atmanirbhar Bharat?
Have you invested in any of the stocks given above?
Do share your views in the comment box given below.
(The views content and recommendations expressed in this post are of  leading stock market experts and do not represent those of Moneyexcel.com. Please consult your financial adviser before taking any position in the stocks mentioned)