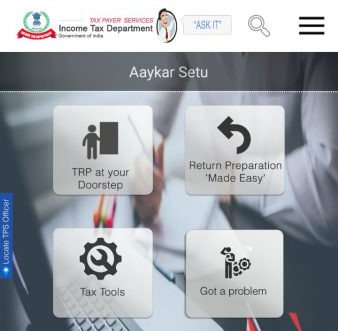 The Income Tax department has launched Aaykar Setu App. The name of app is kept as Aaykar Setu app it means to bridge a gap between taxpayers and Income tax department. The term Aaykar means income tax and Setu means bridge. This app can be used to perform various tasks related to Income tax. It is a free mobile app available to download from Google Play. In this post, we will discuss Aaykar Setu Free mobile app by Income Tax department.
Aaykar Setu App – How to Download/Install?
You can download Aaykar Setu App from Google Play. Alternatively, you can give a missed call to the number "7306525252". They will send you a link for downloading Aaykar setu App. This app is currently available only for the Android users. Once you download this app you need to install this app on your smartphone. Once the app is installed you can explore following features of the app.
Aaykar Setu Key Features
TRP at your doorstep – You can locate TRP (Tax return Preparer) by using this feature. The app will provide name, email address, mobile number of TRPs along with location on Google map.
Tax Tools – Tax tools contain various calculators by inputting basic information. This includes a medical facility, rent free accommodation, transport allowance, education allowance, income tax, advance tax and TDS calculator.
Tax Payment – This section allows you to make a tax payment. In addition to that, you can also calculate tax, file rectification of tax credit mismatch, tax credit statement, challan status inquiry and correction in challan.
Return Preparation – You can file income tax return, take the assistance of TRP, download ITR form, calculate tax and check your Form 26AS.
TDS/TRACES – You can use this section to check the status of your TDS statement, form 16 verification & filing your TDS return.
Tax Gyaan –  This game will help end users to learn about Income Tax. It's a Multiple Choice Question based game to provide knowledge to the users. The game is divided into 4 levels Beginner, Normal, Hard, and Difficult.
PAN/TAN – This section allows you to perform task such as a apply for PAN or TAN, Re-issue of PAN card, correction in PAN, verification of PAN, Linking of PAN with Aadhaar & surrender     of duplicate PAN card.
Live Chat – In case you have any question you can use this tab to get answer of your question. This facility will be available from Monday to Friday between 10AM to 6PM.
Ask IT – It is chatbot that provides answer to the queries raised by end users real time. It is available 24×7, 365 days. It is unique facility based on keyword based searching. In addition to above it also contains a section of FAQ.
Aaykar Setu App – Review
Aaykar Setu is a very good app that will help you to perform an income tax related task. The plus points of this app are given below.
It will boost Digital India initiative of the government.
You can perform all income tax related task on the move.
Chatbot feature will help end users to ask and solve Income tax query real time.
The calculators given in this app are excellent.
The negative points of this app are given below.
The application is working slow even on 4G internet connection.
TRP location on the map takes a long time to load.
The app seems to directing to webpage for every task.
Overall it is a welcome step by the government. However, Aaykar setu app requires a lot of improvement.
Do share your experience about Aaykar Setu app in the comment section given below.