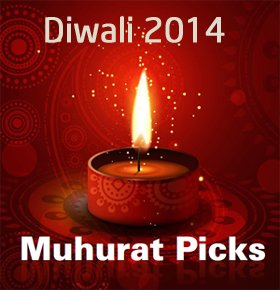 Sensex is shining continuously since last Diwali. YTD return given by sensex since last diwali is 25%. This sensex rally is largely because of formation of steady government and expected reforms by new government for reviving economy.  Government has already initiated certain steps to boost economy like allowing FDI, increasing investment etc.
 This sensex rally is likely to continue in future and equity investor will continue to laugh. If you are equity investor and looking for good muhurat stocks here is 7 Muhurat stocks for Diwali 2014. This stock is recommended by ICICI Direct.
7 Muhurat Stocks – Diwali 2014
State Bank of India
First diwali stock pick is SBI. Considering the large size of SBI, its exposure to stressed sectors is relatively low compared to its peers.
We continue to recommend SBI led by comfort on scale and relatively lower headwinds on the asset quality. ICICI direct assign a target price of 3234 Rs/-.
Ultra Tech Cement
Second Muhurat Stock pick by ICICI direct is Ultra Tech Cement. UltraTech Cement is one of the most geographically diversified and undoubted leader in the Indian cement space. UltraTech Cement is most efficient player in the industry, it has commanded better margins compared to its peers.
With current infrastructure demand and smart city project by government it is expected that cement demands will continue to grow hence future of Ultra Tech Cement is very good. ICICI direct recommend to buy this stock with target price of 3180 Rs/-.
Rallis India
Rallis India is tata group company.Rallies India is dealing in agriculture area mainly in crop protection. Rallis also has a notable presence in the contract manufacturing segment wherein it manufactures chemicals and formulations for other reputed industry players.
In developing country India more emphasis is given on agriculture industry. ICICI direct is bullish on Rallis India and they recommend to buy this stock with target price of 302 Rs/-
Exide Industries
Exide Industries is largest battery manufacturer in India and largest supplier of batteries for motorcycles, passenger vehicles, trucks and tractors.
Looking at potential growth of vehicles growth story of Exide Industries is likely to continue. ICICI direct  recommend to buy Exide Industries with target price of 220 Rs/-
SKF India
SKF India largest bearing manufacturing of India, SKF is leader in bearing space. SKF commands scalability bandwidth coupled with a tip balance sheet and is balanced to capture the opportunity arising from the new demand in the automotive segment.
For SKF India ICICI direct has set target of 1448 Rs/-.
Maharashtra Seamless
Maharashtra Seamless (MSL) is Jindal Group of company.MSL is leading manufacturer of seamless and Electric Resistance Welded ("ERW"), pipes in India. MSL also manufactures higher value-added products, such as drill pipes used in the oil & gas sector.
Target set for MSL is 430 Rs/-.
Kansai Nerolac
KNL is the biggest industrial paint company in India with more than 30% market share. KNL also deals in interior and exterior metal paints like Impressions, Excel, Surkasha, etc. We believe decorative paints would continue to grow strongly with the presence of limited players and strong repainting demand.
For KNL ICICI direct has set target of 2396 Rs/-.
Download Full report on 7 Muhurat Picks Diwali 2014 by ICICI Direct here.
You can get information about ICICI direct demat account here.