Highest Dividend Paying Stocks – When it comes to investing in the stock market or mutual funds, investors give preference to capital appreciation over dividend payment. A capital appreciation means a rise in capital investment. On the other hand dividend payout means the payment of the profit made by a company to the stockholders.
Well, investing money for capital appreciation or dividend payout is a matter of choice. Each strategy has its own benefits.
Capital Appreciation
Capital appreciation leads to capital gain when you sell your stock at a higher price.
Capital appreciation is like making a profit once (capital gain)
Capital gain tax is applicable to the profit earned.
A prediction of capital appreciation is harder.
Dividend Payout 
Dividend leads to regular income when you are holding stock for the long term.
The dividend income is rational and predictable.
For many investors investing money in dividend-paying stock makes sense as they are looking for a generation of regular income source. If you are planning to invest your money in good dividend-paying stocks, this post is for you. In this post, I will share useful information about dividend-paying stocks including highest dividend paying stocks in India.
Also Read – 5 Consistent Performer Stocks of last 5 years (2014-2019)

Dividend Paying Stocks
Dividend Paying stocks are one which pays a good dividend. There are three different factors to evaluate good dividend-paying stocks.
Dividend Yield
The first factor of selection is the dividend yield. The dividend yield is expressed as a percentage of the current share price. It is the estimated one-year return of an investment in a stock based on the dividend payout. In order to compute dividend yield, you need to divide dividend payment to the market price per share and calculate the percentage.
Dividend Yield = Dividend Amount/Market Price per share x 100
You should select a stock with a higher dividend yield.
Consistent Dividend payout
Apart from dividend yield, you should check at the consistency of dividend payout. The stock should be paying dividend payout consistently. It will help if you are a long-term stock market investor.
Consistent increase in the dividend payout
The third factor is an increase in dividend payout. If you can find out stock with a higher dividend yield, consistency in dividend payout as well a rise in payout it will be best. However, it is difficult to find such stock.
How to Find Highest Dividend Paying Stocks?
After understanding the concept of dividends, let's try to find out the good and highest dividend-paying stocks based on the above concept.
Get the latest annual financial statement of the share. Under the dividend section, you will find the dividend payout amount and dividend percentage. Calculate dividend yield.
Find out the last three to four-year results and repeat the same exercise. You will get information on the consistency of dividend payout.
Try to find out stock that provides consistent dividends with an increase in dividend payout.
Another simple method to find out dividend payout is by using the screener website. Where you can find out the readymade filter to shortlist high dividend stocks.
E.g Larsen & Toubro is consistently increasing its dividend payout in 2017 it was 700% which rose to 800% in 2018 and this year 900% dividend is declared.
10 Highest Dividend Paying Stocks in India
Top Dividend Paying Stocks in India are given below.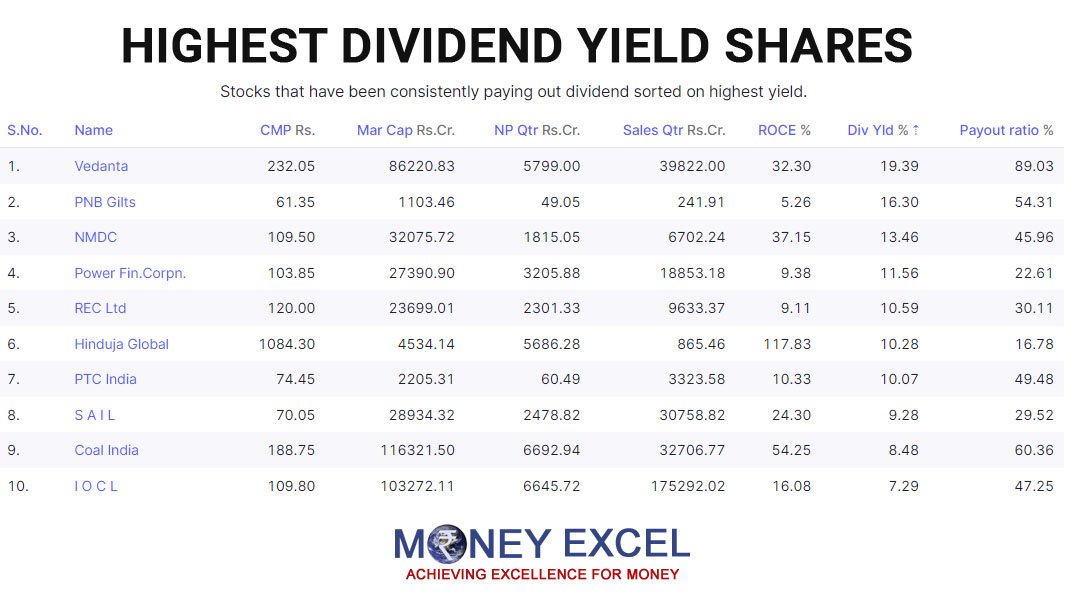 Things to consider while investing in Dividend Paying Stocks
You need to consider the following factors while investing in Dividend Paying Stocks.
(1) Select Low Debt or Debt-Free Companies
The first thing you should consider before investing in any stock is the debt level. Debt is bad for any company.  Many companies pay dividends using debt. You should avoid such stocks. You can easily get information about the debt level from the financial statement of the company.
(2) Know about the sector and company
Another important factor to consider before investing in dividend-paying stock is the business of the company and sector. There are a few sectors that are volatile such as insurance, and finance. You should understand the risk associated with such sectors and avoid investment.
(3) Consistent Dividend Payout
It is important to select a stock with a consistent dividend payout. There is no point in investing in stock where the company is paying dividends only for one or two years.
Over to you
While you are investing in stock, apart from a high dividend you should look at the various other parameters of the stock. You should scrutinize a company's annual reports and factor in the consistency of dividend payouts, fundamentals, earnings growth, profits, etc.
Do you invest in Dividend Paying Stocks?
Which are your favorite stocks for investment?