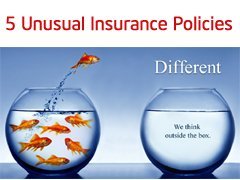 Today everything is possible because impossible also means 'IMPOSSIBLE = I M POSSIBLE". With possibility of impossible increasing, it is very difficult to predict next moment of life, hence insurance come in to picture.
We take insurance from risk management prospective. Insurance is nothing but transfer of risk. People usually take insurance of Life or assets but few days back we had news that Celebrities like Adnan Sami insured his hand fingers. Katrina Kaif insured her beauty. If any disease or accident is faced by them insurance company will pay suck loss.
Today we will discuss similar type of 5 Unusual Insurance policies which you have never dreamt of.
(1)  Wedding Insurance :-
Wedding is auspicious event its beginning of new life. Have you ever thought of insuring your wedding yes you can insure your wedding from uncertainty like cancellation or postponement of the wedding ceremonies due to Fire & Allied perils including Earthquake at the Venue or Theft at the Venue.
ICICI Lombard is one of the insurance company which provide this type of insurance more details can be found here.
(2)  Cover of Misplaced Key :-
Most of us purchase home insurance, motor car and bike insurance but we never think of purchasing policy for cover of misplaced key.
If you have habit of forgetting key somewhere you can purchase cover of misplaced key.
Tata AIG now covers cost of replacing lost and stolen house and vehicle keys. It also pays cost of hiring car in case it takes more than 24 hours to replace the keys.  This cover is only for your primary residence or your private vehicle.
(3)   Kidnap and Ransom Insurance:-
Do you worried about kidnap of you or your family member where you need to pay ransom money. In India we have now Kidnap and Ransom Insurance.
Standard policy like this cover ransom payment, loss of income, medical care cost and other expense like hiring of security consultant or crisis management consultant in this difficult situation.
This type of policy is provided by majority of insurance company like TATA AIG, ICICI Lombard, Baja Allianz.
(4)  Insurance of Body parts:-
Body part and disablement can be covered under insurance. Adnan sami has already taken insurance of body finger. Similarly If you are sport person you can take Oriental Insurance's sports insurance this policy offers a cover for sporting equipment, accessories and sporting apparel, personal belongings, etc.
(5)  Lost wallet ATM Assault & Robbery Cover:-
This category fall under personal identity protection, any loss or liability arise due to misuse of your identity are cover under this type of insurance. This type of Insurance is provided by Tata AIG.
This policy also covers ATM assault like Money withdrawn from ATM that you may lose due to a robbery, or shortly after the ATM withdrawal.
Lost wallet cover policy is also one of the unusual policy which covers cost of replacing a lost or stolen wallet & personal papers and payment cards in the lost or stolen wallet.
If you like this article, please share it with your friends and relatives. Do post your comments and views in comment section.
5 Unusual Insurance Policies