Because of the high number of expat residents in the UAE, there is a great demand for money transfer services. The UAE handles the second largest number of outward international remittances of any nation in the world. 
As well as for business, personal outward remittances to family and friends in Asia, Europe, the USA and elsewhere are common. This means international money transfer services are well-developed, seamless and usually great value for money, wherever your cash is heading.
Here are a few things to know if you are about to send money out of the UAE, whether you wish to transfer money online or in person.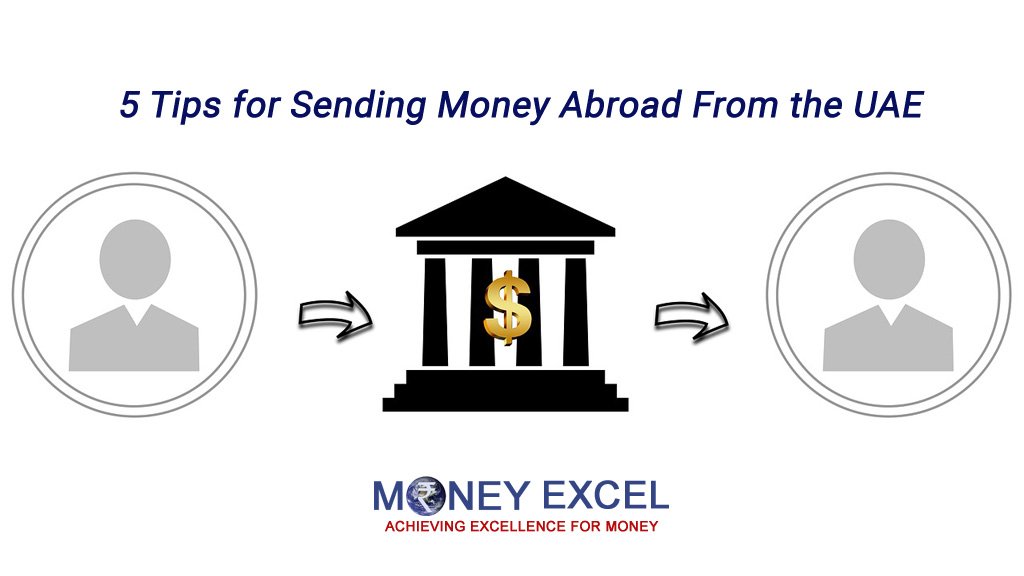 5 Tips for Sending Money Abroad From the UAE
#1 Choose the right service provider
More often than not, an international transfer is not a one-off transaction. If you are supporting family overseas, for instance, a child studying at college, you are likely to make regular payments. 
This means that it pays to do some research and choose the right provider from the get-go. You'll soon see there's a range of factors that will affect your experience. The rest of this guide will help you with a few things to look out for: cost, mode of transfer, reliability, and speed. 
#2 Calculate and consider costs
The cost of each transfer is going to have an enormous influence on your decision, so make sure you shop around. 
In the UAE, there is a universal set charge for outward remittances. According to the World Bank, this fee is one of the lowest in the world, making this a good place to be sending money from. Any difference between fees for sending money overseas is down to the country you are sending money to or the 'corridor' through which you send it. 
The 'corridor' may involve more than one bank. Sometimes one or more intermediary banks are used to handle the money on the way to its final destination. This usually influences the transaction fee. Your recipient's bank may also charge a fee which could be payable by themselves. Be sure to check for this. 
Also, be aware that those banks and institutions that offer free remittance may be overcharging on the currency conversion to make up for the difference. So, your recipient may be worse off if you send money with one of these services. You should be able to check the currency conversion rate alongside any fees before you send. 
Finally, the type of service you use will also influence costs. More on this later.
#3 Use the right type of service
There are several types of service, and each one has its pros and cons.
Online money transfer services are popular. You will recognise some of the big international money transfer companies; they are household names. However, more local companies offer the same service. Transferring money online through one of these companies is usually pretty economical. However, you may prefer to use a company with branches you can attend and more visible customer service.
Sending money directly from your bank is usually an option and often the most convenient way to send funds overseas. You usually have the choice to do so through online or telephone banking or by visiting a branch in person. However, using your own bank could turn out to be a lot more expensive. This is often because banks set their own exchange rates and will charge fees on top. 
A wire transfer service often offers convenience alongside lower costs. Using an expansive network of banks, agents and branches means they offer a quick and easy service. They have a presence in malls and on high streets, meaning you can get in-person assistance. Just turn up with cash, bank or credit card, fill out a form and make your payment.   
Wire transfer services are the most popular option and around 75% of UAE expats use them. Sometimes they offer services banks and online facilities do not. For instance, they can enable you to send cash directly to someone's front door. 
#4 Check for reliability
No matter how much or how little you intend to send, you want to be absolutely sure that your funds will arrive safely and quickly. So, don't look only at the price. Be sure that the service you are using is reputable and reliable.
Whatever service you choose, check online reviews and the guarantees that they offer. You may trust your own bank for everyday banking, but it may still be prudent to check reviews of their international money transfer services, as this is not their specialty service. 
If you plan to use a wire transfer, can you see who they partner with? It could be safer to use services that make use of companies like Western Union.  
#5 Plan for the timing
Transfer times can differ a lot between service providers. The transaction can be completed in less than an hour or take a week. If it is important to get money elsewhere quickly, such as in an emergency, then you will need to prioritize this when you choose an organization or bank.
Be careful to time your transfer well. Try to avoid major international holiday times like Christmas and Eid. There may be national holidays in both the UAE and the destination country you wish to avoid, too. Timing your transfer badly can slow payment down considerably. Be as organized as possible and work out the optimal time in advance if you can.
Keep an eye on exchange rates as well, as these can vary widely. If you transfer money regularly and frequently check rates, you'll soon work out better and worse times for international transfers. 
One final tip is to always ensure that you have the recipient's details 100% correct. You can save yourself a lot of stress and hassle if you make a habit of double-checking every detail of your transaction. 
Sending money overseas from the UAE should be absolutely hassle-free and inexpensive. 
If you haven't had a great experience before now, then be sure to shop around and check out some of the most popular money transfer services, or get recommendations from friends and family.