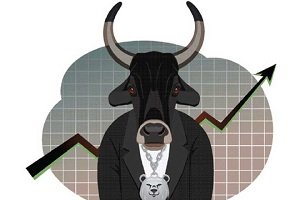 A stock market investment can double your money in the shorter span of time. That is the prime reason that stock market is considered as one of the best investment options. You might be surprised to note that time period required to double the money in the stock market could be less than 1 month. Here is detail about 5 stocks that have generated more than 100% return in last one month.
5 Stocks 100% return in last one month – Double Your Money
1 Kiri Industries
Kiri Industries Limited is one of the largest manufacturer and exporters of chemical and dyes from India. Kiri Industries has given 130% return in past one month. The stock of Kiri Industries was trading at 99 Rs on 29th March 2016 and right now it is trading at 208 Rs. A yearly performance of a stock is also very good. This stock has generated 46% return in past one year. Significant reduction in debt and good fundamental are the prime reason behind an increase in stock price. One can invest in stock with target price of 225 Rs and stop loss of 175 Rs.
2 Oudh Sugar Mills
All sugar stocks are set on fire. This is mainly due to lower production of sugar and increase in sugar price. Oudh Sugar Mills is one of the leading sugar manufacturing mills. A stock of Oudh Sugar Mills has generated 100% return in past one month. Apart from this stock was able to generate 300% return in past one year. Sugar stocks are expected to grow further. You can invest in Oudh Sugar with a target price of 100 Rs.
3 R S Software
R S Software is good midcap IT stock. R S Software is into the business of providing customize e-payment solution to the financial institutions. The stock of R S Software could generate 90% return in past one month. The main reason behind an increase in stock price is receipt of recent government order. Apart from this R S Software will also provide a solution to NPCIL for UPI. This is additional plus point for the investor of R S Software.
4 Excel Industries
Excel Industries is leading chemical manufacturer of India. In last one month, Excel Industries could generate 80% return. However, company performance was negative in past one year. Buying at a lower level could be a possible reason for the increase in stock price. One can buy this stock with target price of 300 Rs.
5 Vadilal Industries
Vadilal Industries is holding a diversified business portfolio of food, ice cream, real estate, chemical etc. Vadilal Industries stock is increasing rapidly along with rising temperature. This stock has doubled its value in past one month. It is expected that this stock will rise further in coming time.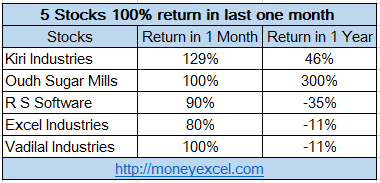 Although stocks mentioned above were able to double the investor money in last one month, it is not guaranteed that these stock will double your money again in near future.
Where should investor Invest now?
If you are a long-term investor you should invest in blue chip stock with good fundamental and future growth. You can invest in a stock like L&T, Bajaj Auto, Eicher Motors, Hero Motocorp, Cadilla Health care, Torrent Pharama or Bajaj Holdings.
These stocks may not double your money in 1 month, however, it is expected that these stock will generate very good positive returns for the investor in future.
What is your take on these stock?
Where are you investing your money?
Do you hold any of the stock mentioned above?