Money can make you money. However, to make more money you need to invest your money. There are multiple known investment options available today. Starting from the stock market, real estate, fix deposits to mutual funds you can invest your money in any known investment option. But there are many alternative investment options where you can invest your money.
What is Alternative Investment?
Alternative investments are defined generally by several sources as investments other than traditional investments. Traditional investments (as distinguished from savings in bank deposits, government schemes, ornamental gold, and residential property for living purposes) are confined to the domain of financial securities such as stocks and bonds from the primary and secondary capital market, purchase of general categories of mutual fund units and Exchange Traded Funds (ETFs). Traditional investments cater to general investors who seek investment options that provide better returns than mere savings schemes.
Alternative investments have evolved over time to cater to the requirements of sophisticated investors such as institutional investors managing pools of funds and High net-worth individual investors (HNIs) who have the higher risk-taking capability and need more sophisticated avenues than traditional investment options. Unlike traditional investments, alternative investments are about investing in opportunities that can potentially generate higher returns but entail higher risk-taking as well. However, given their nature, alternative investments are only meant for risk-taking sophisticated investors. Alternative investments are meant to complement traditional investments for such investors by improving their risk-adjusted returns over the long term
If you are keen to invest in alternative investment and looking for investment platforms here are the 7 Popular Alternative Investment Platforms In India that you must explore.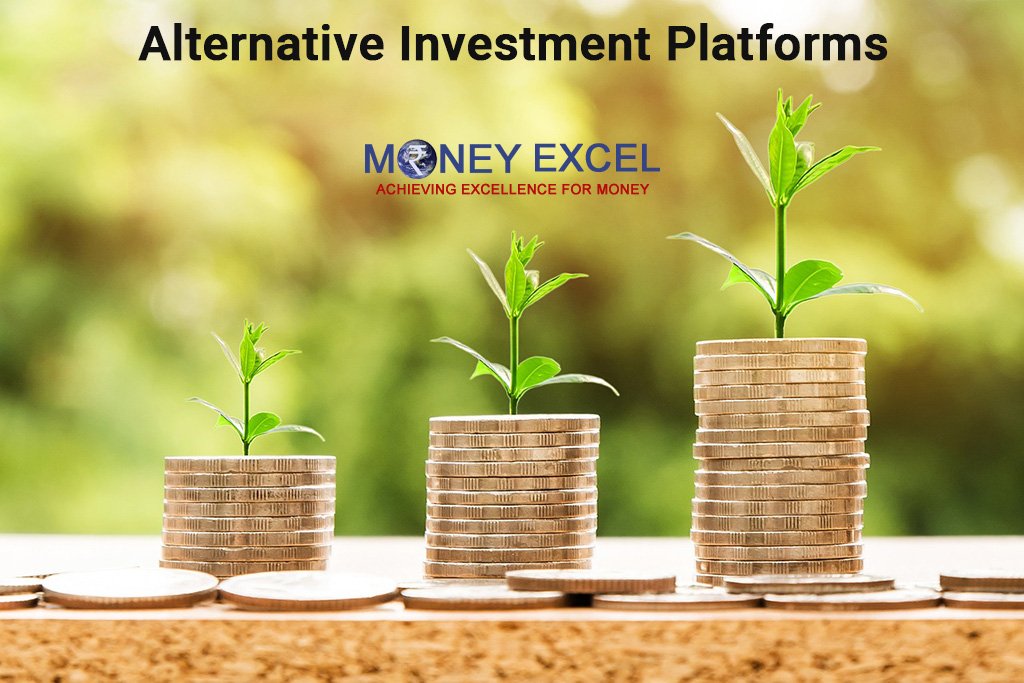 5 Popular Alternative Investment Platforms In India
Grip Invest is an investment platform that provides retail investors with the option to make small-ticket investments in physical assets that earn lease income. This platform provides investment options beyond stocks, fixed deposits, and Gold.
The asset details are curated on this platform. You can invest in the asset after the completion of the KYC process. The minimum investment amount on this platform is Rs.20000.
#2 Tyke
Tyke is a startup investment platform. Tyke allows you to invest your money in the startup company. In other words, Tyke is a could-based alternative investment platform that allows you to invest in private businesses. A startup can raise funds on this platform via equity or debt way. 
You can get access to multiple startups for investment on this platform. You need to register on the platform and complete the KYC process to make the investment. The amount of investment ranges from Rs.5000 to Rs.20000 decided by the fundraising company.  
#3 Tradecred
Tradecred is claimed as India's largest fixed-income platform. Trandecred provides Invoice Discounting, Asset Leasing, Corporate Bonds, and Managed Capital (UHNI) services. You can register on this platform as an investor or partner. You need to complete KYC to invest using this platform. All the deals are curated on this platform. The investment amount required on this platform is high 1 Lakh.
#4 Jiraaf
Jiraaf is also one of the top alternative investment platforms. Jiraaf provides investment options for corporate debt, bill discounting, leasing, and revenue-based financing. You can invest across multiple asset classes using this platform. Jiraaf helps you to diversify your portfolio. 
Investment opportunities are listed on this platform for investors. You need to complete registration and KYC to invest using this platform. The investment amount is variable and listed on the opportunity. 
#5 Wint Wealth
Wint Wealth is next on the list of alternative investment platforms. Wint Wealth is the platform that provides services to buyers and sellers for fixed-income securities – Bonds. You can earn a fixed return by investing in the bond using this platform. You need to signup and complete your KYC process to invest in bonds via Wint Wealth. 
All the bonds are listed on the Wint Wealth portal. On purchasing these bonds, they will get credited to your Demat account. The minimum investment amount on this platform is Rs.10000.
Over to you
These investment platforms allow you to diversify your portfolio beyond traditional assets and unlock great returns. If you have any questions or queries about these platforms you can get in touch with me at sk@moneyexcel.com