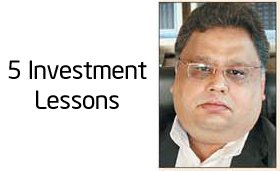 Rakesh Jhunjhunwala is stock guru of Indian stock market. Many people consider him as Warren buffet of India. Rakesh Jhunjhunwala has made 5000 Cr from 5000 Rs in 30 years. Many of us will work for 30 years and retire but can't even make 5 Cr.
So, what we should do to be become crorepati like rakesh jhujhunwala? I am herewith 5 investment lessons from rakesh jhunjhunwala.Following these lessons will surely make you wealthy investor.
5 Investment lessons from Rakesh Jhunjhunwala
Grab Opportunity:-
First lesson from rakesh jhunjhunwala is investor should grab opportunity. Example of opportunity could be purchasing undervalue stock during downfall in stock market or taking advantage of booking profit in recent election stock rally.
In another way rakesh jhunjhunwala explains before purchasing stock one should look at present and future prospects of business conducted by that company. E.g If you look at stock of FMCG Company like ITC you should look at present demand and potential growth in demand for FMCG product.
If you see opportunity in stock and grab it. The way rakesh jhunjhunwala has done in Praj Industries and got 50% YTD return.
Also Read:-  Missing Investment Opportunities by Warren Buffet
Buy for Long term:-
Rakesh Jhunjhunwala always says buy stock for long term. If your stock investment is right you should not react on any negative market sentiments. Always invest for long term patience pays.
Trader or short term investor may get short term gain but for long run they are losing a lot. Long term investor always get multiple benefits like stock price appreciation, stock split, dividend, bonus etc.
Rakesh Jhunjhunwala made lot of money by holding Titan & Lupin Stock for long time.
Also Read:- How to be Successful trader in stock market
Look for Small cap stock with capability to become large cap:-
Another lesson to learn from Rakesh Jhunjhunwala is to select small cap stock carrying capability to become large cap. Scalability is very important.
Rakesh Jhunjhunwala explains that when he invested in Titan when Titan was Rs 500 crore company. He made lot of profit in Titan mainly because growth of Titan. Today Titan is Rs 11000 crore company.
Also Read:- 5 Secretes that Make Rakesh Jhunjhunwala Successful Investor
Look for Competitive Edge/Culture:
Rakesh jhunjhunwala says that investor should try and understand competitive ability of company in market. He says that company cannot make more profit if it is not carrying competitive edge.
Another important factor from rakesh jhunjhunwala's point of view is culture of the company. Corporate culture and management always impact on performance of company.
Also Read: – Rakesh Jhunjhunwala Portfolio 2014
Look for Future demand for the product:
Always look for stock where demand exists says rakesh jhunjhunwala. If product is having future demand company will get future business and make profit.
Rakesh jhunjhunwala has seen product demand and invested in Rallis India and got 26% YTD return. He explains that as India is agriculture economy and pesticides, seeds and fertilizer will be in demand and Rallis is leader in that.
Also Read:-  60 Inspiring quotes by Rakesh Jhunjhunwala
Do follow these investment lessons of Rakesh Jhunjhunwla and grow radically.
All the Best and Happy Investing!