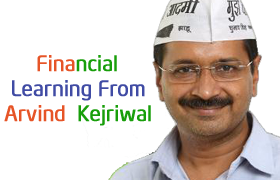 Arvind Kejriwal common man creates history again by winning majority of seat in Delhi assembly election 2015. In 2012 common man arvind kejirwal formulated Aam Aadmi party to fight against corruption and black money. Within short duration of 3 years he brought two time victory to Aam Aadmi party. Arvind Kejriwal common man will be taking oath as new chief minister of Delhi again.
What can you learn from Arvind Kejriwal?
You should take calculative risk
First lesson you should learn from Arvind Kejriwal is that you should take risk in life. You will not get return without taking risk. You should avoid fear of failure. Fear of failure is biggest show stopper in life.
In finance filed everyone says that you should avoid risk where as I say –"NO RISK NO GAIN".
You should never give up
Never Give up. Passion and self belief can overcome any obstacle. You should be passionate about what you are doing weather is business or investment or anything else.
In business best of resources are useless in face of well prepared and determined competitor who is willing to fight back from the worst possible debacle.
"Winner Never Quits. Quitters Never Wins"
You should do planning with all micro details
After resigning on self from 49 days of Delhi government, it is quite difficult to get victory like this. As per me arvind kejriwal got this victory because of micro level planning. He knew that support from common man is mandatory to win in election. To connect to common man Kejriwal addressed 110 Jan Sabha or public rallies across all 70 constituencies of Delhi in short duration.
In financial life also we need to prepare plan which includes all micro level details. Your financial planning should include realistic goal and action plan how to fulfil it.
"A Goal without plan is just a wish"
You should gather resources before you act over plan
Kejriwal knows that ultimate power comes from field force & team because they are the resources who connect to common man every day and know them best. Listen to them and respect their inputs.
Similar to above in financial life you should get consultation from good financial planner or experts. Respect their inputs and make investment on their advice. Apart from this you should keep on enhancing your financial knowledge.
"Remember Information is important resource"
You should be ready with backup plan or strategy
BJP played master stork by introducing ex-police woman Kiran Bedi against Arvind Kejriwal. Everyone believed that step taken by BJP will shake arvind kejriwal, but see reality is far ahead from belief. Learning here is you should grow people from own team instead of bringing opportunist from competitor in the last quarter.
In financial life you should be ready with backup plan. What if you lose your job, what if you meet with accident or sudden medical emergency?  Your plan should consider all these factors in mind.
"Always have a Backup Plan"
Finally, hopes are too high from Arvind Kejriwal. Time will revel weather arvind kejriwal will be able to fulfil expectation of public or not. As he is starting new journey I thank him for inspiring me to learn few lessons from his life.
All the Best Mr.Arvind Kejriwal -Mechanical Engineer to Firebrand Leader