Diwali is a festival of lights. Many traders and investor buys stock on Diwali during Muharat trading. Buying equity shares on Diwali is considered to be favorable.
The market was highly volatile in the last year. The major concern behind volatility was slow down in economy, weak earning growths, global trade war, and liquidity crisis. Although Samvat 2075 was an average year for the stock market, stock market experts feel Samvat 2076 (Diwali 2019-2020) period will be an exciting period for the stock market investor. The stock market is likely to give a better return in 2020. If you are planning to invest in the stock market. Here are 35 Diwali 2019-2020 stock picks by leading brokerage houses.
35 Diwali 2019-20 Stocks Picks
Top Diwali Stocks by IDBI Capital Market
Finolex Pipes
Finolex Pipe is a market leader in the agriculture pipes segment. The company is changing the business model from B2B to B2C. In addition to that company is also adding mix products to increase revenue. Finolex Pipes is recommended stock by IDBI capital with a target price of Rs.770.
HDFC life Insurance
HDFC life Insurance is a leading player in the insurance segment. The large focus of HDFC Life insurance is in term plans and annuity segment. The overall business margin of HDFC life insurance is growing. HDFC life Insurance has lot of business potential. The target price set for HDFC life insurance is Rs.718.
ICICI Bank
ICICI Bank is the leading private sector bank of India. The key focus of ICICI bank is on growth and improvement in asset quality. New management with a new leader is doing well. NPA of the bank is reducing. The target set for ICICI bank is Rs.523.
Indian Hotels
Indian Hotels is a leading hospitality company in India. Indian Hotel is growing and adding new hotels every year. The occupancy level of the Indian Hotel is high. Indian Hotels enjoys a strong position in the domestic market and expected to perform better in the future. One can buy this stock with target price of Rs.225.
ITC
ITC is a leading FMCG company in India. ITC is the biggest cigarette manufacturer. ITC has reported a strong growth in profit margin last quarter. It is good dividend stock trading at a discounted level. One can invest in ITC this Diwali with a target price of Rs.310.
Reliance Nippon Life Asset Management
Reliance Nippon Life Asset Management is a leading life insurance and asset Management Company in India. The company deals in insurance as well as mutual funds. IDBI capital market believes that Reliance Nippon is a good stock for investment this Diwali.
Tata Elxsi
Tata Elxsi is next in the list of Diwali stocks for 2019-2020. Tata Elxsi is a technology Design Company. Upcoming digital projects and 5G has opened up new opportunities for Tata Elxsi. Tata Elxsi is cash-rich company backed by Tata Group. Tata Elxsi is managed by professional management. The target price for Tata Elxsi till Diwali 2020 is Rs.1050.
Also Read – Diwali 2019 – Stock Picks by HDFC Securities
Diwali 2019 Stocks by SMC Global
Infosys
Infosys is the first stock recommended by SMC Global for Diwali 2019. Infosys is a leading IT company in India. Recently a stock of Infosys has crashed due to whistleblowing complain against management. However, this seems to be temporary. A stock is expected to grow due to strong order books. One can invest in Infosys with a target price of Rs.884.
Larsen & Toubro
Larsen & Toubro is the leading infrastructure and engineering company in India. L&T is sitting on a healthy order book. L&T focusing on productivity improvement, capacity enhancement & digital initiatives. The company is posting a good result every year. One can invest in L&T with target price of Rs.1680.
Apart from above following stocks are recommended by SMC Global.
Marico – (Target-Rs.436)
Tata Global – (Target-Rs.325)
Torrent Power – (Target-Rs.348)
Gujarat Gas – (Target-Rs.210)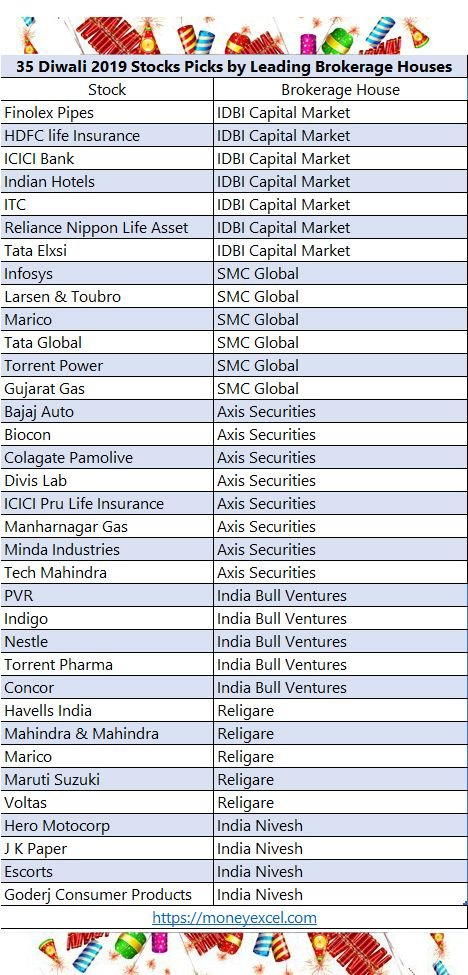 Best Diwali Stocks 2019 by Axis Securities           
Bajaj Auto
Biocon Ltd
Colgate Palmolive
Divis Laboratories
ICICI Prudential Life Insurance
Mahanagar Gas
Minda Industries
Tech Mahindra
Good Stocks to Invest by India Bull Ventures
PVR
Indigo
Nestle
Torrent Pharma
Concor
Diwali Stock Picks by Religare Securities
Havells India
Mahindra & Mahindra
Marico
Maruti Suzuki
Voltas
India Nivesh Diwali Stocks for Investment
Hero MotoCorp
J K Paper
Escorts
Godrej Consumer Products
Over to you 
You must have got a lot of confusion after looking at the 35 stock list given above. You must be thinking that where to invest your money. Well, I am not going to add any comments on the stock selection by the brokerage houses. The view mentioned are their own and I don't have any say on that. However, I must share a few tips that help you in making the right selection of the stock.
Fundamental of a stock is very important. You should select fundamentally strong stock for the investment. To find out fundamentally strong stock you need to check the financial of the stock. Apart from that, you should check about earning potential and performance history of the stock.
You should diversify your portfolio. Make sure to invest in stock from multiple sectors. Putting all your money in one basket would be risky.
Consider the price and valuation of stock before buying a stock. Always buy a stock that is undervalued or low in price. You can stock price to earnings ratio or P/E to know the stock is expensive or cheap.
Don't rely too much on analyst recommendations. Many times recommendations given by analysts may be bias and not proper. You need to check the credential of the person recommending the stock. This may be difficult for you.
"May this festival of lights brighten up your life with happiness and prosperity."
"Wishing you all a very Happy Diwali"