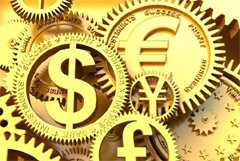 Wealth can be created but you need lot of patience, dedication, determination & hard work. Most of you must be heart throb fans of few of the world's richest billionaires like Warren Buffett, Steve Jobs and Rakesh Jhunjhunwala. Here are few inspirational quotes from wealth creators.
1. Warren Buffett
Warren Edward Buffett is the chairman and CEO of Berkshire Hathaway and an American   business magnate, investor, and philanthropist. He is widely considered the most successful investor of the 20th century. 
Quote: You only have to do a very few things right in your life so long as you don't do too many things wrong.
2. Henry Ford
Henry Ford was an American industrialist, the founder of the Ford Motor Company, and sponsor of the development of the assembly line technique of mass production. 
Quote: A business absolutely devoted to service will have only one worry about profits. They will be embarrassingly large. 
3. Steve Jobs
Steven Paul "Steve" Jobs was an American entrepreneur and inventor, best known as the co-founder, chairman, and CEO of Apple Inc
Quote: "Being the richest man in the cemetery doesn't matter to me … Going to bed at night saying we've done something wonderful… that's what matters to me."
4. Bill Gates
William Henry "Bill" Gates III is an American programmer, inventor, business magnate and philanthropist. A Harvard dropout and founder of Microsoft.
Quote: "I really had a lot of dreams when I was a kid, and I think a great deal of that grew out of the fact that I had a chance to read a lot."
5. George Soros
George Soros is a Hungarian-American business magnate, investor, and philanthropist. He is the chairman of Soros Fund Management. Soros supports progressive-liberal causes
Quote: "Once we realize that imperfect understanding is the human condition there is no shame in being wrong, only in failing to correct our mistakes." 
6. Larry Page
Lawrence "Larry" Page is an American computer scientist and Internet entrepreneur who, with Sergey Brin, is best known as the co-founder of Google. On April 4, 2011, he took on the role of chief executive officer of Google, replacing Eric Schmidt.
Quote: "I think it is often easier to make progress on mega-ambitious dreams. Since no one else is crazy enough to do it, you have little competition. In fact, there are so few people this crazy that I feel like I know them all by first name."
7. Donald Trump
Donald John Trump, Sr. is an American business magnate, television personality and author. He is the chairman and president of The Trump Organization and the founder of Trump Entertainment Resorts.
Quote: "You can't know it all. No matter how smart you are, no matter how comprehensive your education, no matter how wide ranging your experience, there is simply no way to acquire all the wisdom you need to make your business thrive."
8. Robert Kiyosaki
Robert Toru Kiyosaki is an American investor, businessman, self-help author, motivational speaker, financial literacy activist, and occasional financial commentator.
Quote:  "The size of your success is measured by the strength of your desire; the size of your dream; and how you handle disappointment along the way."
9 Dhirubhai Ambani
Dhirubhai Ambani was an Indian business tycoon who founded Reliance Industries in Mumbai. Dhirubhai Ambani was the most enterprising Indian entrepreneur. His life journey is reminiscent of the rags to riches story. He is remembered as the one who rewrote Indian corporate history and built a truly global corporate group.
Quote: "Think big, think fast, think ahead. Ideas are no one's monopoly"
"If you work with determination and with perfection, success will follow."
10 Rakesh Jhunjhunwala
Rakesh Jhunjhunwala is an Indian investor and trader. He is a qualified Chartered accountant. He manages his own portfolio as a partner in his asset management firm, Rare Enterprises
Quote: "Be paranoid of success — never take it for granted"
"Ready for challenges and risks. If you want to win a war, you have to lose many wars."
At last I would like to add remember "There is no easy way to the top."
When you choose to drive, you have to accept traffic jams.
When you choose to be health conscious, you have to forego being tongue conscious.
With income will come income tax. Anything you choose in life comes along with its own positives and negatives.