It takes money & knowledge to build wealth. So to become wealthy you must gain money and financial knowledge. You can get a good amount of financial knowledge from finance books. There are lots of books available in the market, hence sometimes it is very difficult to select the correct book.
To help you out we are herewith a collection of the 10 best finance books. The majority of these books are best-selling books. These books will surely inspire you to gain financial success.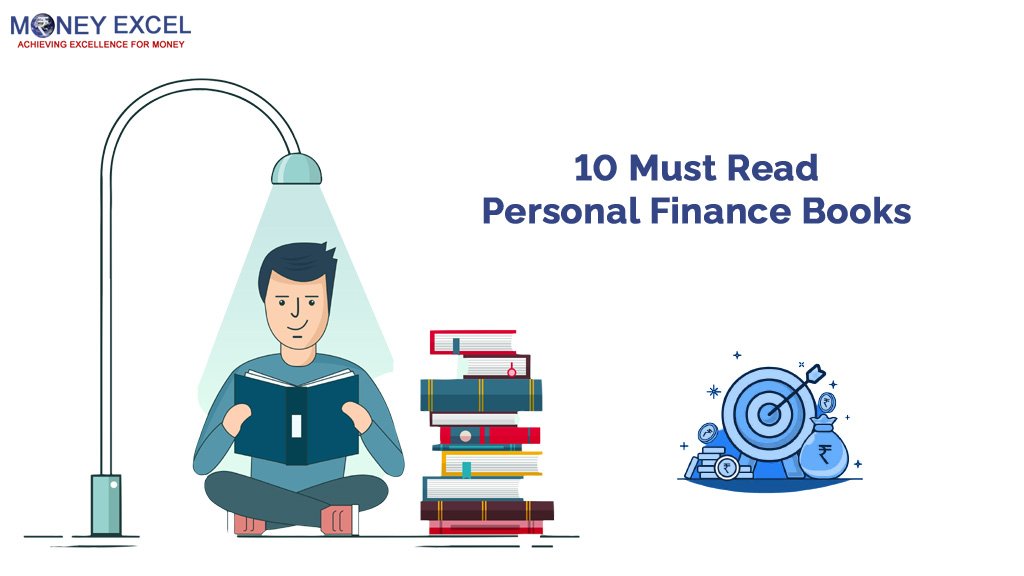 10 Best Personal Finance Books
#1 The Intelligent Investor
The Intelligent Investor finance book is written by Benjamin Graham. This is the best book for the investor as per Warren Buffet. This book gives valuable information about investing especially in the stock market. Underline message given in the book is you should carry out deep and thorough research before investing.
#2 The Millionaire Next Door
The Millionaire Next Door is a book written by Thomas J. Stanley & William D. Danko. They studied profiles of millionaires to find common traits among them. As per the book millionaire does not believes in showing off. They spend within their means. They thought their child to be self-sufficient and prudent in spending money.
#3 Rich Dad, Poor Dad
Rich Dad, Poor Dad is a good finance book written by Robert Kiyosaki. In this book, Robert talks about his rich dad and poor dad's philosophy and way of looking at money. He uses the cash flow quadrant to explain how rich and poor lives. In this book, the author is using simple yet very effective ways to explain things.
#4 Think and Grow Rich
Think and Grow Rich book is written by Napoleon Hill. Before writing this inspirational book Napoleon hill researched and interviewed thousand of successful people including Henry Ford, Thomas Edison, Alexander Graham Bell, John D. Rockefeller, etc. In this book, he captures details of what makes these people successful.
#5 The Money Book for the Young Fabulous and Broke
This finance book is written by Suze Orman. In this book, Suze explains how to be young and fabulous and not broke. In this book, the author talks about credit cards, student loans, credit scores, insurance facts, buying a first home, and many more. This book is a must for today's young generation.
#6 Secrets of the Millionaire Mind
Secrets of the millionaire mind is a book written by T.Hary Eker. This wonderful book talks about the mind and the beliefs of wealthy people. This book also includes excellent strategies and plans for you to change your money blueprint and reach financial success.
#7 Common Stocks and Uncommon Profits
Common stocks and Uncommon Profit is a book written by well-known Investor Philip Fisher. This book talks about the stock market. In the first phase, he talks about 15 points to look for in common stock. The second phase talks about other basics including what and when to buy, as well as when to sell stocks.
#8 How to Get Out of Debt, Stay Out of Debt & Live Prosperously
This book is written by Jerrold Mundis. In this book, Jerrold shares simple and effective ways to free yourself from debt. If you are under debt and want to get out of debt to live prosperously this book is for you.
#9 The Automatic Millionaire
The Automatic Millionaire is a book written by David Banch. He is known as a rich series author. In the book The Automatic Millionaire banch share story of an average American couple. The underline fact of this story was you have to make a plan to pay yourself first automatically. This plan will automatically secure your future and present.
This one little book has the power to secure your financial future. Do it once–the rest is automatic!
#10 Financial Life Planning : Solve Your Biggest Puzzle
Financial Life Planning is a book by Indian Author Mr.Hemant Beniwal. This book talks about financial life planning. In this book author also talks about important topics like financial planning, budgeting, debt, insurance, and investment. 
Thanks for reading the list of best personal finance books.
Please leave your comment and let us know your views about these books.
Please email us and let us know if we missed any book which you feel to be included in this list.
Did you like this article? Share it with your friends on Facebook.