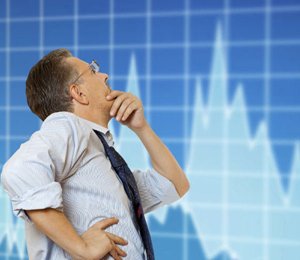 Year 2016 seems to be good year for the stock market investors. In past three months value of Sensex has increased by 8.5%. Investors are expecting similar performance from stock market in year to go. Improvement in economic condition, expectation of good monsoon and investor friendly environment are some of the reason behind stock market boom.
Today I will share detail about 10 Good Banking and Microfinance stocks. These stocks have given returns up to 100% in past one year. So without wasting much of time let's take a look at 10 good banking and microfinance stocks.
10 Good Banking and Microfinance Stocks 
Manappuram Finance
Manappuram Finance is nonbanking micro-finance Company famous for providing gold loan. In addition to gold loan Manappuram Finance also provide money transfer, foreign exchange and commercial vehicle loans. Manappuram Finance is in profit since last four years. From stock price it seems to undervalue stock. In past one year this stock has given 104% return to investor. You can invest in this stock for the period of next 1-2 year.
Capital Trust
Capital Trust is a microfinance company. Capital Trust provides enterprise loans to micro and small entrepreneur in rural and semi urban areas. Market cap of this stock is 600 Cr. Business model of capital trust is risky as it provides loan to new entrepreneur. In last one year capital trust has given return of 87% to the investor.
Also Read – 10 Multibagger Stocks of Jhunjhunwala,Dolly Khanna and Porinju
Ujjivan Financial  
Ujjvan Financial is a micro finance company. Ujjvan Financial provide business loan, family loan, agriculture loan, education loan, home improvement loan etc. Ujjvan financial IPO was listed with Rs 231 and today it is trading with 73% premium value. A profit margin of Ujjvan Finance has increased by 2.3% and income has grown by 81.5%.
Equitas Holding
Equitas holding is next in the list of good microfinance stock. Equitas holding has recently got approval from RBI to convert its subsidiaries in small finance bank. Equitas holding has given returns of 60% since launch. Equitas holding profit margin and income is increasing. In addition to that it is also observed that NPA of Equitas holding is reducing.
SKS Microfinance
SKS Microfinance is last in the list of good microfinance stock. SKS Microfinance provides loan and financial services to poor people to improve their standard of living. Some of the stock analyst doubts on the business model of SKS Microfinance, however if you look at the data SKS Microfinance is growing in term of business and profit margin. In last one year SKS Microfinance has given return of 53% to investors.
Also Read – 40 Multibagger Stocks
Indusind Bank
Indusind Bank is first stock pick in the banking sector. Indusind bank is constantly growing in terms of size. In last one year Indusind Bank has given 35% return to the investor. In future also this stock is expected to give good returns to the investors.
Yes Bank
Yes Bank is next stock pick in the banking sector. Yes Bank is private sector bank. Yes Bank has given 25% return in the past 1 year. You can expect this stock to rise further.
In addition to above Kotak Mahindra Bank, HDFC Bank and SBI are some of the good banking stock where you can invest your money.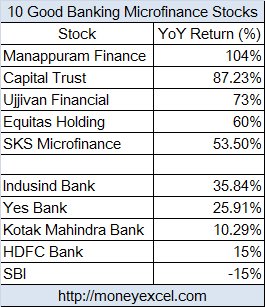 Over to you –
Do you think this banking and microfinance stock will give good returns in future?
Have you invested in these stocks?
Do share your views in the comment section.